The Florida Panthers have advanced to the second round in back-to-back seasons after pulling off arguably the greatest upset in NHL history. Now, they are looking to pull off another upset as they are currently up on the Toronto Maple Leafs by a series score of 2-0. They head back home to Sunrise on Sunday, taking home ice advantage with them.
Related: Maple Leafs Now Underdog Against Panthers After Just One Game
---
Latest News & Highlights
---
Over the course of their last three seasons, general manager Bill Zito has been at the helm of some of the biggest decisions for the team. This includes making blockbuster trades, like bringing in Matthew Tkachuk for Jonathan Huberdeau, and managing to luck out on cheap deals for forwards like Anthony Duclair just a few seasons ago. Because of that, the Panthers have made the playoffs for three straight seasons.
Their last two playoff appearances have one thing in common, that being Carter Verhaeghe was their hero in the first round. Because of how well he's played since he came to South Florida, and how affordable he is, he'll go down as Zito's best free-agency acquisition.
"Swaggy" is a Star
Verhaeghe came to Broward County fresh off of a Stanley Cup win with the Tampa Bay Lightning in the offseason of 2020 on a two-year deal worth $1 million per year. In his first season as a Panther, he had 36 points (18 goals, 18 assists) through 43 regular season games. In his first round appearance against his former team, he scored two goals and assisted on another through six games. Due to his performance, he received a three-year extension that offseason worth a little more than $4.16 million a season.
In his second season, he finished the regular season with 55 points (24 goals, 31 assists) through 78 games. The 2022 postseason reminded Zito why he brought Verhaeghe on board in the first place. In the first round against the Washington Capitals, he scored six goals and tallied six assists, which included the game-winning overtime goal in Game 6 that gave the Cats their first playoff series win since 1996.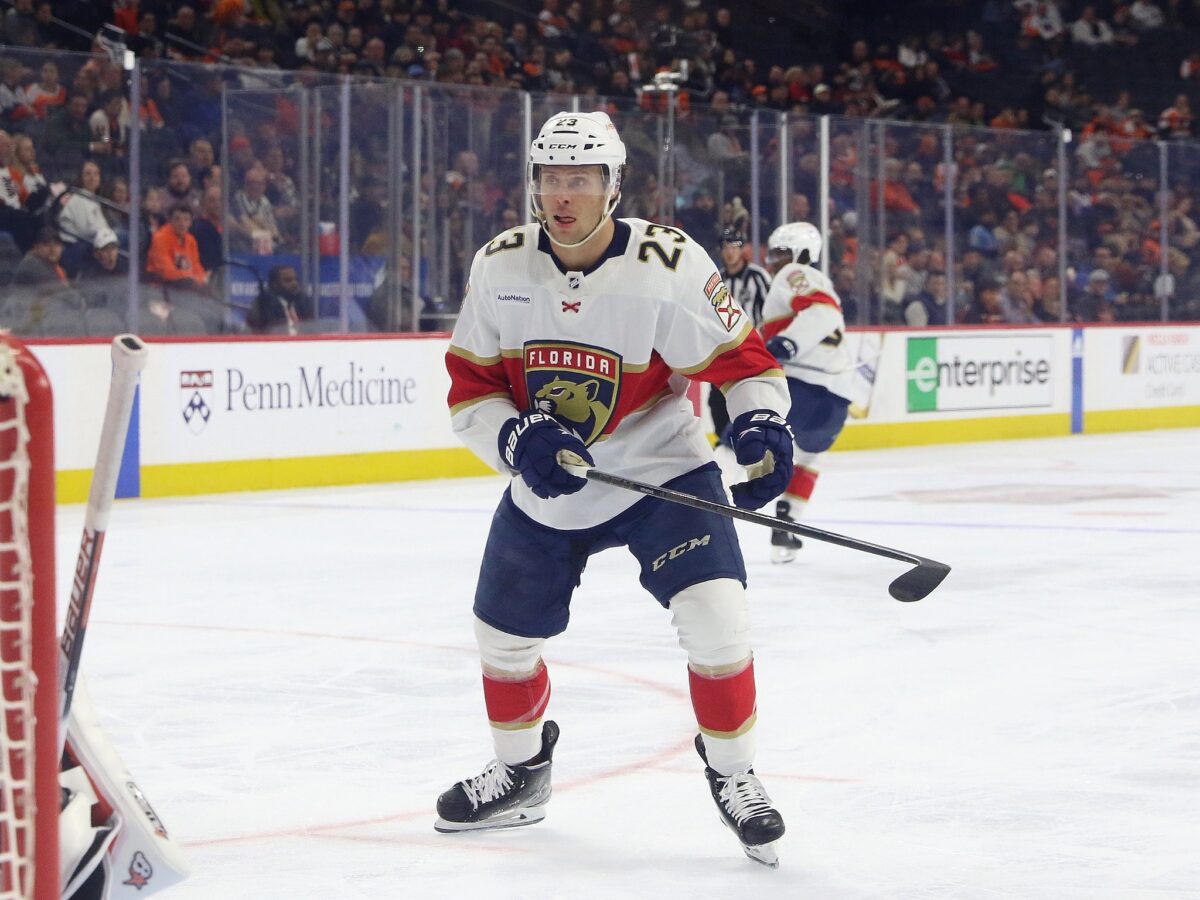 The 2022-23 season was easily the best of his career. He hit a career-high in goals with 42, making him the first 40-goal scorer since the "Russian Rocket" in Pavel Bure did it in the 1999-00 season. In addition, he hit a career-high in points with 73 through 81 games. In the playoffs this season, he managed to be a hero once again. In Game 7, he scored the game-winning overtime goal that completed the upset and sent the Boston Bruins packing after their historic regular season. In addition, he's already found the scoreboard in their second round matchup in Game 1 which was ultimately the game-winner.
Panthers Love What Verhaeghe Brings to the Table
What Verhaeghe brings to the locker room every single night is such a big deal to his teammates. They drive off his energy and his talent.
"He's a gamer…He's got that incredible shot and he shows up in big games at big moments. That's what good players do. He was awesome for us all series."

Sam Bennett on Verhaeghe's performance in the Panthers' first round series against the Bruins
He has zero intention of letting his foot off of the gas pedal, especially since they have a chance to do something magical in front of their home crowd. Especially considering he is playing the team that drafted him back in 2013.
Can Verhaeghe Keep It Going?
All eyes are on the Panthers after their big upset last month as analysts and fans wonder what's next for the South Floridian hockey club. With the series coming back to Florida, and the Cats up 2-0, all the momentum is on their shoulders to get the job done.
Related: Florida Panthers' Sergei Bobrovsky Does the Unthinkable Again
But that does not mean taking it easy. The New Jersey Devils were down 2-0 in their first round series against the New York Rangers and now they're in the second round. All it takes is one game to give a team a chance to take it home. The Cats need to suffocate the Leafs, or a comeback could be in the making for a franchise that has not won a Stanley Cup since 1967.
---
---