It cannot be emphasized enough just how tough of a season this was for the Columbus Blue Jackets. Their first season after signing Johnny Gaudreau was derailed early by injuries of an unprecedented level. They had over 500 man games lost across the 82-game season, which averages to about 24 games lost per player across a 23-man roster. Ouch.
Their play reflected that as they raced for the bottom of the standings, finishing in the penultimate position. One of the few benefits of such an abysmal season is the ability to select high in the NHL Entry Draft. The draft lottery is just around the corner, on May 8, and the anticipation has intensified with so many high-caliber players at the top of the 2023 draft class.
Related: 2023 NHL Draft Guide
For the Blue Jackets, there are four scenarios based on how the balls fall on Monday, with them picking in any slot from first to fourth overall. We're going to have a look at each of those scenarios, the likelihood of each happening, according to Tankathon, and who they're likely to draft in those slots.
Win 1st Overall Draft Lottery
Let's look at the first scenario, which is: If the Blue Jackets win the first draft lottery, they will be picking first overall. This scenario has a 13.5% chance of happening.
Guaranteed Pick – Connor Bedard
So, let's talk about Connor Bedard. There's no overstating it: He is the most important prospect to be drafted since Connor McDavid.
The youngster set pretty much every important record to be set at the World Junior Hockey Championships for Canada this year in a dominating performance. He nearly willed his Regina Pats single-handedly to the second round of the playoffs after the most productive season the Western Hockey League (WHL) has seen since 1995-96. He is a game-breaker.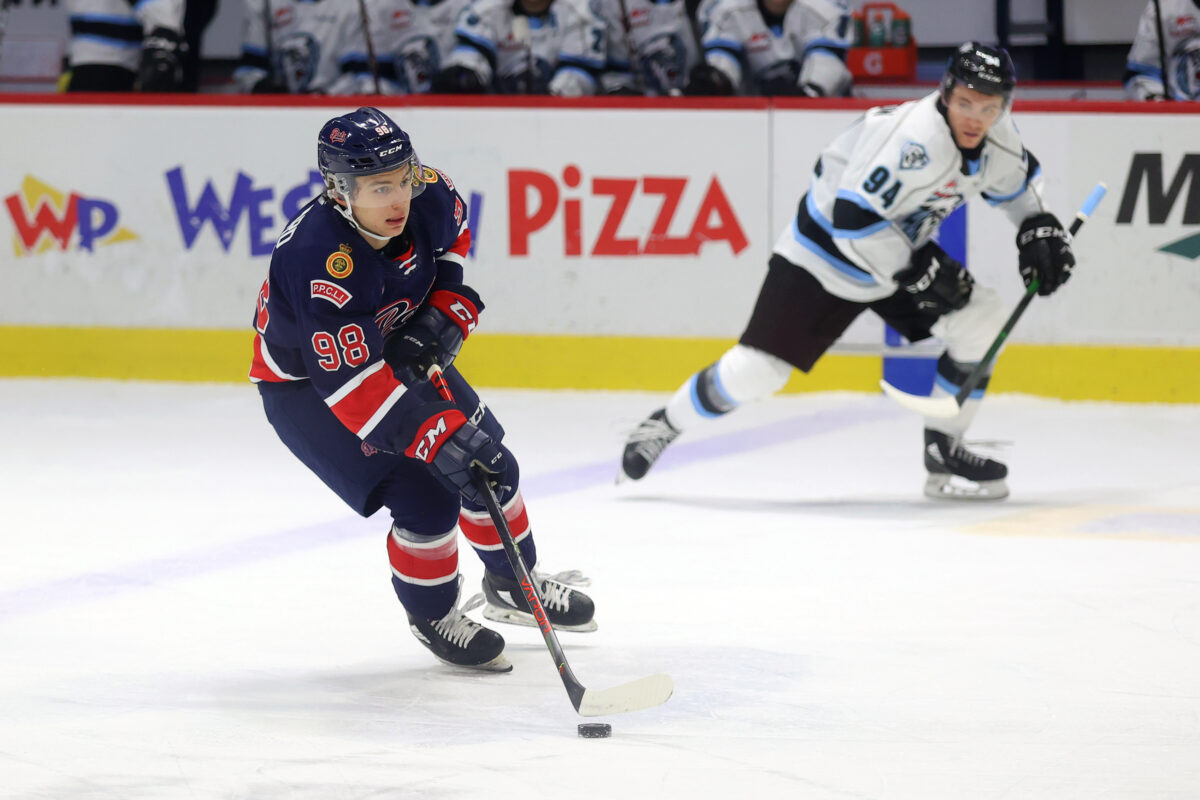 One of my favorite Bedard stories comes from his early teens. He was playing a game and got hit into the boards, breaking his right wrist. Instead of doing what every other kid would do and sitting out for the three months that it would take to heal, he continued to play and only used his left hand on his stick. Working on shooting and passing with only his top hand has to have had some effect on the wicked backhander he now possesses.
This is a player with a dedication level surpassed by few. His shot is compared to Auston Matthews' and his skating is said to be McDavid-like. TSN's Craig Button says he is already looked at as the third-best player to be drafted first overall in the last 20 years, only behind Sidney Crosby and McDavid. Talk about some excellent company.
---
Latest News & Highlights
---
If he winds up on the Jackets, it's not a stretch to expect 80-100 points next season as the pivot between Gaudreau and Patrik Laine. He brings a blend of passing and shooting that would make him an instant star who would instantly accelerate their rebuild efforts. If Columbus wins the first lottery, fans should have the exact same feeling of elation that they got when they signed Gaudreau last offseason because he would have just as much as, if not more of, a franchise-altering effect.
Win 2nd Overall Draft Lottery
Now onto the second scenario, which is: If the Blue Jackets win the second draft lottery, they will be picking second overall. This scenario has a 14.1% chance of happening.
Likely Pick – Adam Fantilli
Now onto the consolation prize, which is also quite significant.
Adam Fantilli is certainly no schmuck. The youngster had an immensely successful freshman season at the University of Michigan. He put up 30 goals and 35 assists in 65 games. That led him to the Hobey Baker Award as the top player in college hockey, which is something only Paul Kariya and Jack Eichel have achieved as freshmen. It's worth noting that he beat out last year's third-overall pick, Logan Cooley, for the award.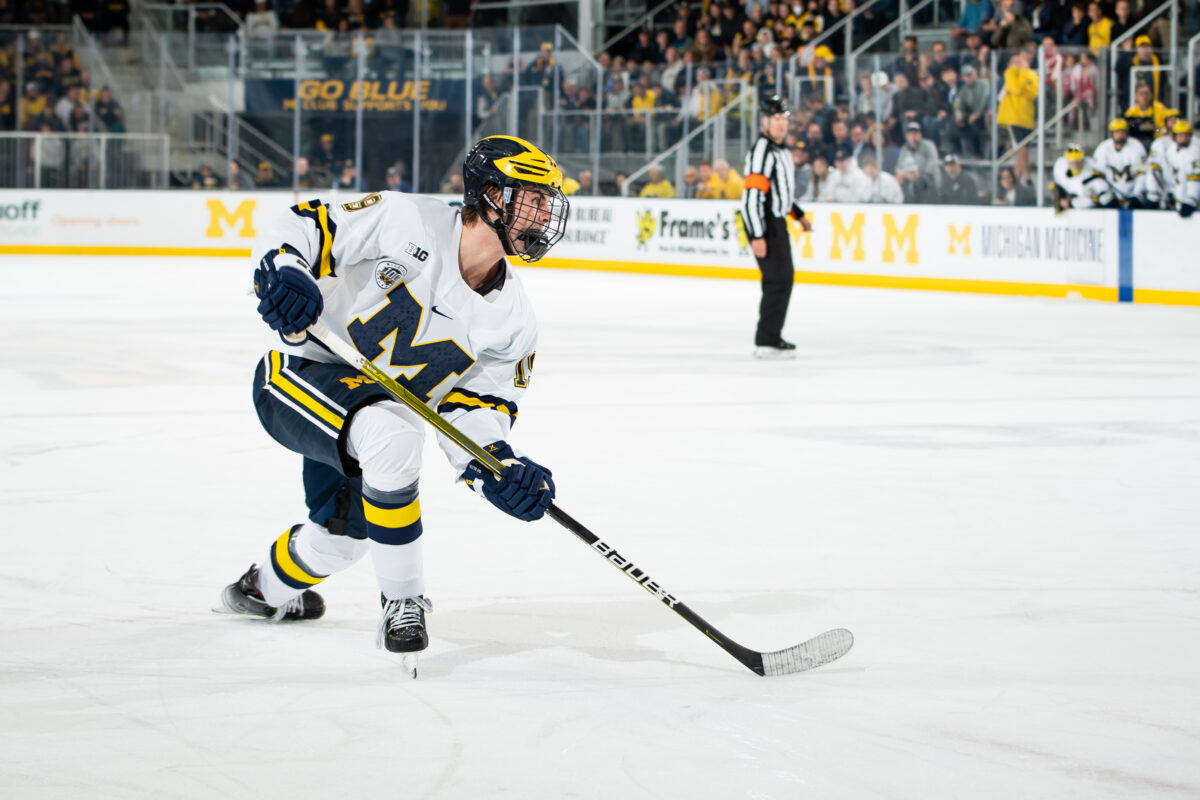 On Fantilli, The Athletic's Scott Wheeler says:
"Fantilli is a big, strong, powerful kid who takes pucks from the wall to the interior with force, and ease, and speed. He can beat you along the wall on the cycle. He can beat you carrying the puck in rotations around the perimeter of the offensive zone. He can beat you by pushing through lanes to the middle third, driving the net, or dropping a shoulder to take space that isn't there. He can beat you flying out wide." (from '2023 NHL Draft top 64 prospects: Scott Wheeler's March ranking', The Athletic, 3/1/23)
Fantilli is a legitimate, elite, number-one center prospect, which is exactly what the Blue Jackets are looking for. He too would be a franchise-altering player, even if not projected at the same level as Bedard. There should be no tears from the fifth line if they miss out on first overall but still wind up picking second.
Win No Lotteries – 3rd or 4th Overall
We'll be combining two scenarios into one because the contingency will largely be the same. For this one: Should the Blue Jackets be leapfrogged by one or two teams that had lower picks, they will fall out of the top two. If they're jumped by one team, they'll pick third overall (30.7% chance), and if jumped by two, they'll pick fourth overall (41.7% chance).
Likely picks – Leo Carlsson, Matvei Michkov, Will Smith
The Blue Jackets are blessed with a deep well of upper-echelon forward talent to pick from this year at picks one through four. So wherever they pick, it will be a good player. Let's get into the next three.
Leo Carlsson is a big-bodied center and the highest-ranked European prospect on many lists. At a hulky 6-foot-3, Carlsson is the biggest of all center options by far. His performance with the Swedish Hockey League's (SHL) Örebro HK was exceptional, recording 10 goals and 25 points through 44 games. That puts him on par with Nicklas Backstrom and ahead of Anze Kopitar and Mats Sundin in their age-18 seasons in the SHL.
On Carlsson, The Hockey News' Tony Ferrari says, "The top Swede in the '23 draft has been a highlight machine, routinely going through defenders with skilled moves and then putting them on his back and driving to the net, showcasing the power in his game."
Matvei Michkov is without a doubt the most interesting prospect in the 2023 draft class. At one point, the conversation for first overall was split between him and Bedard, with some giving Michkov the edge. The two players have tremendously high ceilings.
Related: Blue Jackets Face Long Road Back No Matter Lottery Result
He found his way to many eyes with an eye-popping performance at the 2021 Under-18 championships in which he scored 12 goals in 7 games, besting a record set by Alexander Ovechkin. He has absolutely dominated the Russian leagues since then, including 20 points in 27 games with the Kontinental Hockey League's (KHL) HK Sochi this season.
There are a couple of drawbacks with Michkov, though. First off, he is under contract with the KHL's SKA St. Petersburg until 2025-26, which means the earliest he can come to the NHL is 2026-27. Second of all, he's a winger. That's likely to deter the Blue Jackets from picking him since they are looking for a number-one center, and there will definitely be one available to draft wherever they wind up in the draft order.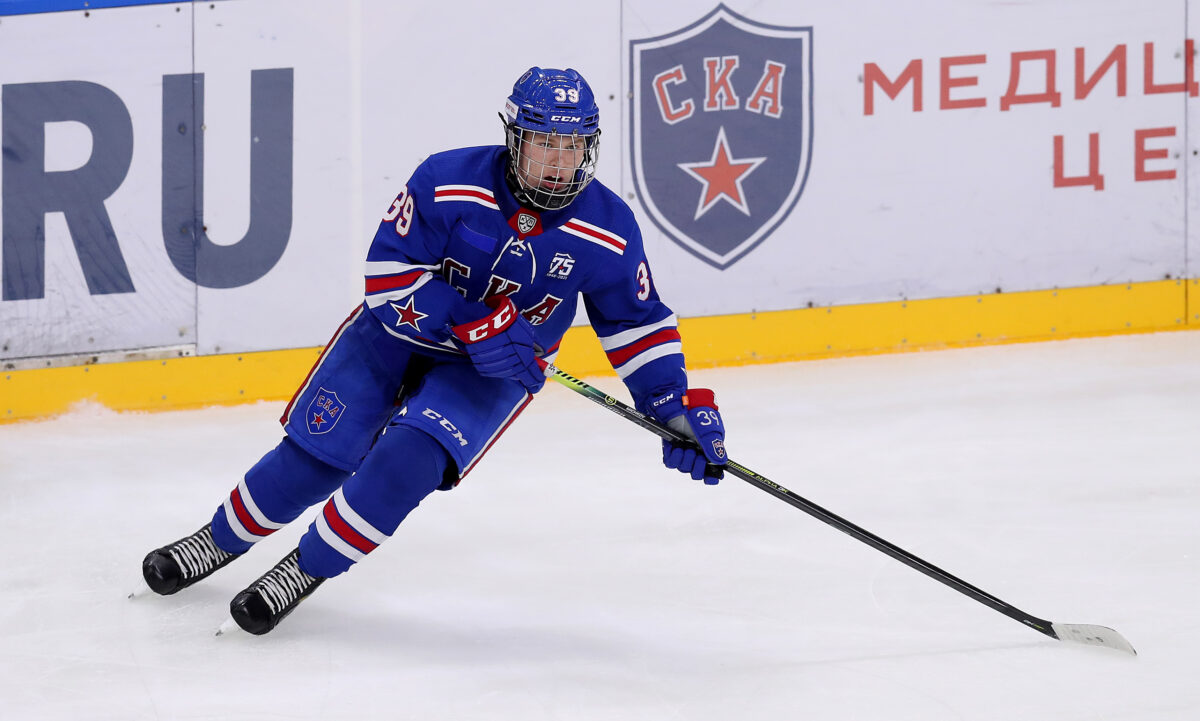 Another one of those possible first-line centers is Will Smith. No, not the guy who slapped Chris Rock. This Will Smith is coming off a dominating performance at the 2023 U-18 Championships, in which he led Team USA to a gold medal. He scored nine goals and 20 points in seven games on a dominant line with fellow prospects Gabe Perreault and Ryan Leonard. That's following an excellent season with the U.S. National Team Development Program, in which he scored 169 points through 80 games. For context, that's the second most in their history and more than players like Auston Matthews, Jack Hughes, and Cole Caufield.
On Smith, Daily Faceoff's Steven Ellis says:
"It doesn't take many viewings to know he's deceptive and handles the puck well on the rush. Smith drives a lot of the play on his line and his confidence to make quick dekes is sky-high. Nothing specifically makes Smith stand out compared to someone such as Bedard or Michkov. Smith isn't the most skilled player out there, and he isn't going to blow you away speed-wise. But there are very few weaknesses in Smith's game, and he can play just about any role needed quite reliably."
In this scenario, the Blue Jackets will go for one of Carlsson or Smith. They've needed a legitimate number-one center for 23 years and now is their opportunity to get one. While Michkov is a tantalizing piece and could wind up having a better career overall, it would make the most sense for Columbus to pick a center. Fortunately for them, they will have solid options no matter where they pick in the top four.
Now we wait for Monday at 8 pm EST to find out where the balls drop. Regardless of where they wind up picking, the Blue Jackets will be getting a very good player and one who will be a massive part of their future. The only question is, which one?