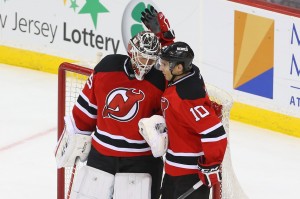 There's no doubt the New Jersey Devils have been an exciting team to watch over the past few weeks. They have been awesome on home ice, and were definitely in the discussion of sneaking into the last playoff spot. However, even with going 7-2-1 in their last ten games, they still find themselves 10 points out of a playoff spot with 16 games to play. This isn't about stating the obvious that New Jersey's chances at making the playoffs are slim to none; but to realize that there are times when the future needs to be addressed over the present. Heck, Buffalo downgraded their goaltenders so they would lose more games, now that's dedication.
Devils starting Kinkaid today is as close as they'll come to admitting they're out of playoff race.

— Tom Gulitti (@TGfireandice) March 8, 2015
Devils Taking Advantage of Bad Situation
On New Jersey's quick trip back to NHL .500, we've learnt a lot of things about the current members of the team. First off is Jordin Tootoo is a keeper for next season. Tootoo is turning into sort of like a Ryan Carter, who New Jersey will see tonight against the Minnesota Wild. No doubt Carter left a hole in the Devils depth chart to start the season, and trying to find that fourth line chemistry was agonizing. However, what Tootoo's done recently has surpassed everyone's expectations, and might put him in the running for the Bill Masterson trophy at season's end.
Another member of the team to put his best foot forward has been Cory Schneider. Now we all know Schneider is a great talent, but we weren't sure how he was going to fair as a number one goaltender. Fair to say that he's proven all his doubters wrong, and if New Jersey somehow got into the playoffs, Schneider would definitely get consideration for the Vezina Trophy. Carey Price is running away with the Vezina with a .936 Sv%, and 1.89 GAA. However, Schneider isn't far behind, as he's second in the league in Sv% at .928, and seventh in GAA at 2.18. Whether a player is awarded at season's end relies heavily on how much he has pushed his team into the playoffs. New Jersey most likely won't be there, however, with those stats, he should still be in consideration.
GM Lou Lamoriello might be taking his talents back to the front-office, as ever since the firing of Pete DeBoer, the tandem of Scott Steven and Adam Oates have done their part in revitalizing an old Devils team. The Devils have gone 17-11-2 since the coaching change, which isn't bad considering the way they were playing. Scott Stevens has gotten Adam Larsson looking like the player they took fourth overall in 2011, and others like Eric Gelinas, Jon Merrill, and recent return Damon Severson have come along nicely. On forward, it's been the grinding types of guys who have benefited the most like Steve Bernier, Adam Henrique, Jordin Tootoo, and even Jacob Josefson has played better. Everything isn't perfect, but at least the players are progressing, and not regressing.
Devils Who Aren't Buying In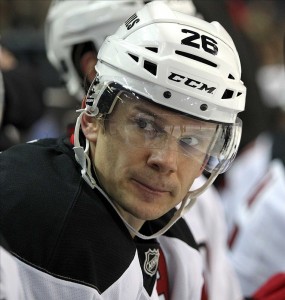 There have been a couple of players who haven't seemed to gel, even with the recent success. A prime suspect is Devils long-time veteran, and franchise scoring leader, Patrik Elias. Yesterday, Elias discussed his thoughts on playing on the fourth line with Stephen Gionta, and Dainius Zubrus, "If they want to play me on the fourth line, I'm not willing to do that." Those are tough words to hear from a guy whose beloved in New Jersey, but it's the reality of a player who simply isn't producing like he used to.
The other Devil whose time is up with the team is Elias' now line mate, Dainius Zubrus. Zubrus has been the prototypical Devil since he arrived in New Jersey during the 07 free agency period. He's in the midst of his eighth season with the team, and has only scored two goals and five assists in 58 games. Zubrus' grinding type of game has worn down his body, and has turned a guy who once posted 57 points in 05-06, to a guy who may not even record 10 points this season.
While Elias and Zubrus haven't has the best of seasons, at least New Jersey already began the transition process by trading away Jaromir Jagr and Marek Zidlicky. Lamoriello will have to make some tough moves this summer, but even though this season is lost, the Devils have to keep moving forward.
Corey Spina lives in Wayne, New Jersey. He is a senior at Centenary College, and is majoring in Communications/Journalism. Corey is in his second season covering the New Jersey Devils for The Hockey Writers, he completed a sports journalism internship with TAPinto, and he is the Host/Producer of the Sports Buzz on WNTI.org.