It was another relatively quiet week for the New Jersey Devils. There were no signings or trades, but there was some news regarding the franchise. They hired a full-time goaltending coach for their AHL affiliate, while some of their prospects continue to perform well while on loans overseas. 
Plus, a look at a Devils' prospect's loan coming to an end and how it may give us a hint as to when NHL training camps for the 2020-21 season may begin. 
Eklund Hired as Binghamton Devils' Goaltending Coach
Earlier this week, the Devils hired Brian Eklund to serve as the goaltending coach for their AHL affiliate, the Binghamton Devils. The 40-year-old previously served as the goaltending coach for Harvard and Boston University. He also had a brief professional career playing in the AHL and ECHL. 
Eklund's hiring may seem like a minor thing, but there's more than meets the eye. Binghamton did not have a goaltending coach last season, nor did they in previous years. He becomes the team's first full-time goaltending coach. Prospect Gilles Senn will be Binghamton's primary starter this season, while prospects like Nico Daws and Akira Schmid should be in the AHL sooner than later. So having a full-time goaltending coach to help in their development should pay off in years to come. 
Sharangovich Turning Heads in KHL
The Devils have a few prospects on loan, but none has been more impressive than forward Yegor Sharangovich. He's totaled 12 goals, 15 points, and 67 shots on goal in 24 games. For context's sake, his 12 goals are fifth-most in the KHL, and it's the most for a player 22 years old or younger.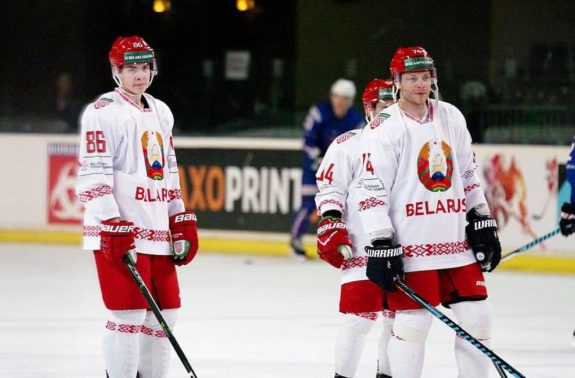 It would've been hard to imagine Sharangovich making the Devils' roster out of camp before his loan to the KHL, but his play has been eye-opening. He finished last AHL season with 14 points in 15 games before COVID-19 brought everything to a halt. His performance in the KHL seems to be a continuation of how he closed out 2019-20. So it wouldn't be a surprise if that lasted into NHL training camp and gets him a bottom-six role with the Devils. 
Boqvist Returning to North America
The most notable prospect news this week wasn't necessarily about a player's performance. Timrå IK of the HockeyAllsvenskan announced that Devils' prospect Jesper Boqvist's loan with the team is over and that he's returning to North America. He finished his loan with 10 points in 13 games but more importantly, it could be a sign that NHL training camps aren't too far away from beginning. 
Related: Devils Should Take a Chance on Granlund
Players returning from Europe will have to isolate for a couple of weeks because of COVID-19, so Boqvist coming back now fits with an early Dec. start to camp. Plus, the Devils will be allowed to begin camp a week earlier than the rest of the league since they weren't part of the league's 24-team, return-to-play format in the summer. We should get some more firm news on this in the coming days, so stay tuned. 
Devils' Prospects Roundup
It was a busy week for Devils' prospects, so let's catch up on their performances. 
Alexander Holtz returned to action after a three-week layoff due to a COVID-19 outbreak with Djurgården. He played in three games and tallied an assist, moving him to seven points in 11 games on the season. 
Goaltender and 2020 draft pick Nico Daws appears to be making the move overseas, at least for now. With the OHL season not expected to start until Feb. 4, he'll get some action with ERC Ingolstadt in the DEL (Germany). The 6-foot-4, 200-pound netminder was one of the best in the OHL last season, so it'll be interesting to see how he handles a pro league in the DEL.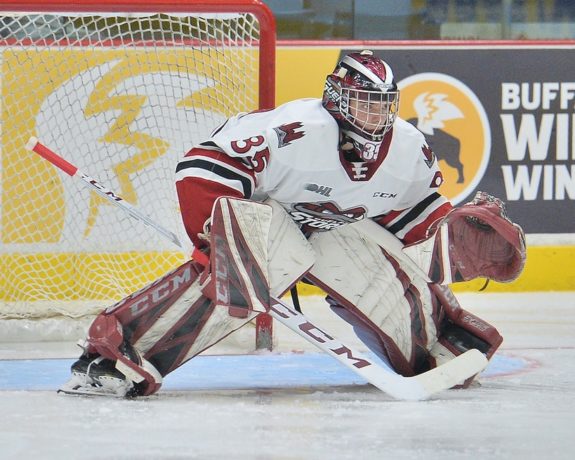 Right-winger Nick Merkley continues to perform well in the Liiga (Finland). He's up to 10 points in 15 games with Ässät, including an assist in three games this past week. He looks to be in a good position to land a spot on the Devils' opening night roster if he continues his play. 
Eetu Päkkilä, a Devils' seventh-round pick at the 2018 Draft, is making progress in the Liiga. He's up to two goals and six points in 10 games and is playing meaningful minutes for Ilves. He's at least a couple of years away from coming over to North America. But his development will be worth watching, as he seems to be on the right trajectory. 
2019 seventh-round pick Nikola Pasic had a good week in the SHL, totaling two goals in three games for Linköping HC. He's up to three goals in 11 games and seems to be gaining a little more confidence in his first season in the SHL. 
Related: Predicting the Devils 2020-21 Opening Night Roster
Janne Kuokkanen scored a power play goal this week and is up to four points in 12 games for Kärpät in the Liiga. 
2020 sixth-round pick Benjamin Baumgartner had a solid week in the NL — the top division in Switzerland — totaling two assists in four games. He's up to two goals and four points in seven games and looks like a solid, late-round value pick. 
Marian Studenic picked up two goals in two games for Slovan Bratislava, which is in the top division in Slovakia. He's up to five goals and six points in eight games while on loan. And like all prospects on loan, he's eligible to be recalled by the Devils when training camp begins. 
* * *
That covers it for this week's edition of Devils news and rumors. Make sure to keep it here at The Hockey Writers, as we'll have any breaking Devils news covered when it happens.
---
---