The New Jersey Devils scored 2.15 goals for per game last season. Just let that number sink in for a second. That number stands for a lot of things, first of which meaning that the Devils finished 28th overall in league scoring. It means that the Devils didn't have one 30-goal scorer from last season. It also means that Jersey's team finished as the 6th worst team in the NHL, while only accumulating 47.6% of the total points they could have had.
The average score in today's NHL is 3-2, with some games needing to be decided in overtime or shootouts to get to that point. When a team only scores 2.15 goals per game, then over the course of a season, that team will be on the losing end on most nights. It's really simple though, the Devils just aren't good enough offensively. Nobody on the Devils had more than 43 points, nobody on the team scored either 30 goals, or had 30 assists, and nobody on the Devils had a plus-minus rating of over five.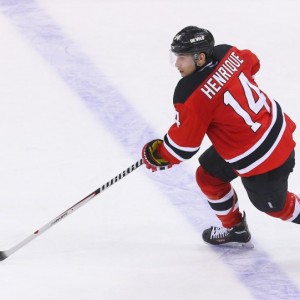 Adam Henrique scored the most points for the Devils last season with 43. Mike Cammalleri had 42, and then the next closest were Patrik Elias and Scott Gomez with only having 34 points each. Over 82 games, at least one of their offensive numbers should at least be in the 50s, if not the 60s given the opportunities to score every night, along with having 18-20 minutes of ice time a game. It's a shame the way this team attempted to create offense last season, but as there always is, there will be optimism heading into training camp.
As with the team's defense, the Devils will finally begin to embrace the young forwards trying to make an impact with the team. At this point we are all aware of Reid Boucher and Stephan Matteau, as they will have the most opportunity to contribute from the get-go.
Some other young forwards who may get a shot at the big club are guys like 2014 first round pick John Quenneville, and newly signed 24-year old center Sergey Kalinin. Quenneville probably won't make the team, but don't be surprised if he makes it down to the final cut before they send him back to juniors. Kalinin is another story, as with a need for another depth center, Kalinin already has experience playing with men in the KHL with Omsk Avangard. In 58 games he put up 12 goals and 25 points before he went down with a gruesome head injury. He's got a good shot of making the team out of camp, but how much of an effect he will have during the regular season is still up for debate.
Other than that, most of the Devils forward corps will remain the same as last year. What the Devils have to hope for is bounce-back seasons from most of their core players. Travis Zajac needs to begin producing points like he was when Zach Parise was on his wing. I get that's easier said than done, but Zajac can't just be known as a guy who can take face-offs and play good defense. Zajac has a solid shot, and he's more of a lanky type of player with a long reach, he just needs to use it. He was a former first round pick (20th overall in 2004), so it's not like he doesn't have the potential of being a 60-point guy, but the difference is that he needs to start making plays himself, and not needing to rely on other players to make plays for him.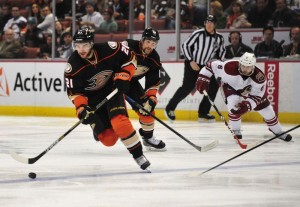 You can go down the list from there. Patrick Elias needs a better season, Tuomo Rutuu needs to actually produce points, Jacob Josefson needs to prove he belongs in the NHL, and, probably the biggest question, can Kyle Palmieri be a reliable top-six player in the NHL. There's no question that he's going to get the opportunity to play in the top-six right off the bat, and as a hometown boy, New Jersey fans will be behind him in full force. He's never scored more than 31 points in a season, and Palmieri scored 29 points last year. He will be a solid player for sure, but we can't have this expectation that Palmieri will be a 60-point guy just because he's playing for the Devils.
The point is that this team needs to score goals. Nobody cares how the puck gets into the net as many time during last season we saw many Devils player squeezing their sticks trying to make the perfect play, or trying to go top shelf when he could have just slipped it five-hole. Lets not get ahead of ourselves though; this offense is not good, and they have a lot prove to not only the league, but to their fans and ownership as well.
Subscribe to our Devils stories to get email updates every time a new story is published.
Corey Spina is a New Jersey Devils staff writer for The Hockey Writers. You can follow him onTwitter, @CSpinaTHW.