It is safe to say the Washington Capitals and general manager Brian MacLellan are all in on contending for a Stanley Cup championship in the upcoming season. They added two prominent veteran wingers in T.J. Oshie and Justin Williams this offseason, while locking up franchise goaltender Braden Holtby on a lucrative five-year contract.
They're tight in terms of the salary cap, with just around $1 million left to spare heading into the 2015-16 campaign. As with many teams in the age where more teams are becoming able to compete, the Capitals seemingly might not have much time left before roster turnover and age plays a significant factor. The biggest names pundits have pointed to in this regard have been in Capitals' star forward Alex Ovechkin and defenseman Brooks Orpik – MacLellan's biggest mishap as GM of Washington in his brief time at his new post.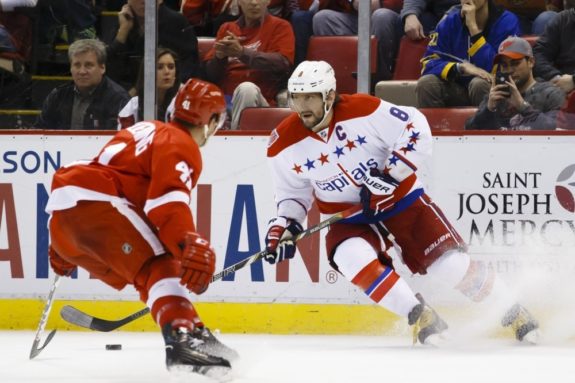 "The defense now more secure, MacLellan moved on to the attack this offseason. And if this summer's moves play out as successfully as the numbers suggest, the Caps may finally get their shot at the Stanley Cup before the window closes on Ovechkin and the core components of this roster." – Neil Greenberg, the Washington Post
Beyond Orpik, pretty much every Capitals defensemen on the roster has above-average skating ability and can aid the forwards in the rush extremely effectively. A potential buyout of Orpik seems likely if he continues to decline, but for now head coach Barry Trotz can survive with Orpik playing under 20 minutes per game on the third defensive pairing.
"But that's all speculation about a low-percentage hypothetical. While the window is indeed closing, I think the Caps will accomplish a lot before it does. I expect a conference final appearance in the next two seasons. If the Caps can pull that off, I wouldn't expect them to do anything we could fairly call a "purge" or even a "rebuild." They would move some guys, sure, but they'd call it a "retool," and they'd be right." –Peter Hassett, Russian Machine Never Breaks
The idea of Washington ever moving Ovechkin if they can't get to the conference finals seems to be a foolish one right now, but probably not that far off base. Washington will have two aging, expensive players in Ovechkin and Nicklas Backstrom near the mid 30s at some point and a decline in production will occur without a doubt. However, I expect Washington to compete for another three seasons as a playoff contender, especially this season as a top team in the Eastern Conference, possibly challenging for the Metro Division crown.
Below are two big reasons why the Capitals' window of being a championship contender could stay open longer than some people expect.
Depth at the Goalie Position
Washington will go into this season with two quality netminders in Braden Holtby and Philipp Grubauer. Both have had great success at varying experience lengths in the NHL and the duo could form one of the best goalie combinations in the NHL during the 2015-16 campaign. Holtby signed a five-year, $30.5 million contract in late July with the Capitals, keeping one of the best young goalies in D.C. for the long-term.
Most shutouts by Canadian #NHL goalies over past 5 seasons

Price 30
Elliott 24
Fleury 22
Holtby 20
Luongo 17
Smith 17
Brodeur 15
Dubnyk 14

— Yahoo Sports NHL (@YahooSportsNHL) August 26, 2015
Grubauer is an athletic, German born goalie who could have the tools to even become an NHL regular on another team in a possible trade down the road depending on Caps' management evaluation of his value. He'll learn from one of the best goalies in the NHL during his time with Washington if he beats Justin Peters for the backup-goalie role this season.
Impact Prospects and Young Talent
Washington is pretty top heavy in terms of forward talent heading into the 2015-16 year, with Ovechkin, Backstrom, T.J. Oshie, Justin Williams, Evgeny Kuznetsov and Andre Burakovsky likely to slot in as their top six. However, there's considerable young-forward talent that should enable Washington to roll out possibly three dangerous forward lines over the next couple of seasons.
Rookie skilled forward Jakub Vrana will likely start the season out in the AHL with the Hershey Bears, but he could be another cheap option for Washington starting with the 2015-16 season. The contracts of Brooks Laich ($4.5 million), T.J. Oshie ($4.17 mil.) and Justin Williams ($3.25 mil.) will all expire after the 2016-17 season and Brian MacLellan could have amble replacements with Vrana, Tom Wilson and Riley Barber set to fill in Washington's top-nine forward group.
The idea that the upcoming season is "Stanley Cup or bust" is fiction, but Washington's franchise cornerstones won't be elite forever.
Matthew Speck covers the Washington Capitals organization for The Hockey Writers. He provides coverage of both Washington at the NHL level and prospect related content. Matthew also covers local sports for the Lebanon Daily News in Central Pennsylvania. You can email him at mspeck21@yahoo.com with any questions or comments.