It's been quite a busy week for the New Jersey Devils. The regular season is less than a week away, and camp is in full gear as the team looks to prepare for meaningful games. While the roster is mostly set at this point, a familiar face returns for his second stint with the team. Plus, a look at Corey Crawford's absence and the effect it'll have on the club.  
Finally, what the Binghamton Devils' relocation to Newark, New Jersey, means for the upcoming AHL season. Let's dive into the latest team news and rumors. 
Vatanen Signs One-Year Deal
Yesterday, the Devils brought an old friend back into the fray when they signed defenseman Sami Vatanen to a one-year deal worth $2 million. He had spent the previous three seasons with the Devils until they traded him to the Carolina Hurricanes at last season's trade deadline. 
Over the last three seasons, Vatanen has collected a goals above replacement (GAR) of 4.4, which is right about on par with his expected GAR (xGAR) of 3.6. That's not particularly good over a three-season stretch, but the Devils asked him to play some of the hardest defensive minutes from their defensemen.
Related: New Jersey Devils Sign Sami Vatanen to One-Year Contract
That should change now, as the Devils have a deeper blue line than they did a year ago. They acquired Ryan Murray in a trade and added Dmitry Kulikov through free agency. That should allow Vatanen to move down the lineup and play in a more suitable role that doesn't ask him to play against teams' top lines every night. 
While Vatanen has his flaws defensively, especially at even strength, he's been effective on both the power play and penalty kill over the last two seasons. He's not an elite puck-mover by any stretch, but he ranks in the 71st percentile among NHL defensemen in controlled zone entries per 60 minutes over the last three seasons, as well as the 69th percentile in shot assists.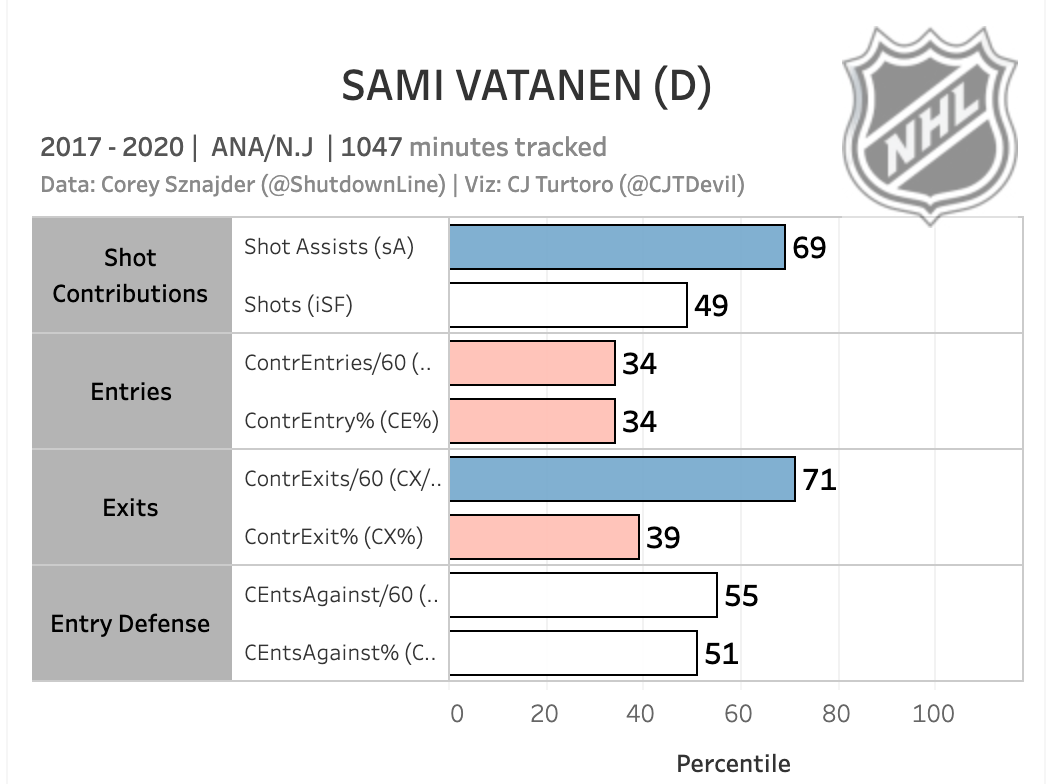 With Vatanen in the fold, the Devils' defensive pairs could look something like this:
Murray – P.K. Subban
Will Butcher – Damon Severson
Ty Smith – Vatanen
Kulikov – Connor Carrick (extras)
It's far from the best defensive core in the league, but it's a capable group that should hold up on most nights. And it's certainly an improvement from a season ago. 
Crawford Taking Time Away
Crawford, who the Devils signed as a free agent in October, has been absent for most of training camp. Per head coach Lindy Ruff, Crawford has been taking a personal leave over the last couple of days. 
When asked about Crawford, veteran Devil Travis Zajac had this to say: 
These are strange times we live in. We're in the middle of a once-in-a-century pandemic, and it isn't slowing down yet. Crawford had spent his whole career with the Chicago Blackhawks before signing with the Devils. It's not the easiest thing to pick up and start over again at a time like this. Whatever time he needs, he should get it, especially if it relates to his and his family's health. Hopefully, all is well for him moving forward.
With that said, the Devils do need a contingency plan in case they don't have Crawford available to them. They signed Scott Wedgewood in the offseason to be their third-string goaltender, and as of now, it appears he'll be Mackenzie Blackwood's backup. 
Related: Devils Must Find Ways to Make Up for Bratt's Contract Stalemate
It also wouldn't be a surprise if Gilles Senn got a look as Blackwood's backup as well. His AHL numbers don't pop off the page — he had a .901 save percentage (SV%) in 26 games in 2019-20. But he did finish last season on a high note, with a .919 SV% in his final 11 starts. He's an athletic goalie who measures at 6-foot-5, 200 pounds and has had close to 10 months to work on his game. So don't rule him out if the Devils need to replace Crawford. 
If the Devils aren't thrilled with their internal options, they could look to make a trade. Jimmy Howard also remains a free agent, and the Devils could check in there if the situation reaches that point. Regardless, this will be something to monitor over the coming days. 
Binghamton Devils Relocate to Newark for 2020-21 Season
At the risk of sounding like a broken record, this NHL season will be unlike any other. And it's forcing teams to rethink their entire operation, including at the minor league level. For the Devils, that means temporarily moving their AHL affiliate from Binghamton, New York, to Newark for the upcoming season.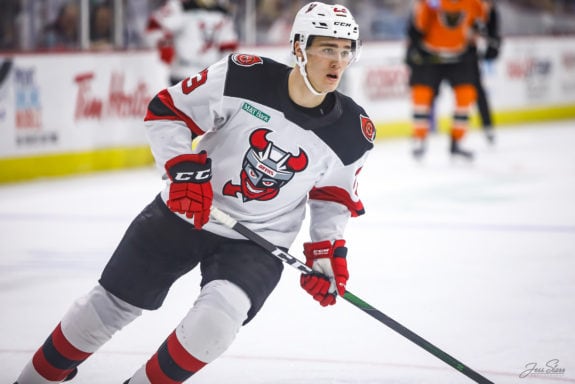 Because the COVID-19 pandemic is still raging, holding AHL games in Newark will allow the Devils to have their minor league players under the same protocols as their NHL club. That means they can do all their COVID-19 testing in Newark, and the team won't have to worry about calling up players from Binghamton in the middle of a pandemic. 
Though the Binghamton Devils will play games in Newark, they won't take place at the Prudential Center. Instead, they'll take place at the Devils' practice facility, which is attached to the Prudential Center in downtown Newark. That should give the Devils' front office and coaching staff an easy look at how their prospects are developing in what is hopefully a 44-game AHL season. 
That concludes this edition of Devils' news and rumors. We'll have plenty more coverage over the next week before the team faces off against the Boston Bruins in their regular-season opener on Jan. 14. Until then, keep it here at The Hockey Writers. 
---
---