In this edition of Calgary Flames News & Rumors, I'll share news from the Flames' training camp. Similar to all NHL teams during this first week of camp, the Flames are engaged in the process of finding out what players are capable of. As well, there are a number of organizational issues in getting the team together for the beginning of the 2020-21 regular season. I'll report some of those movements and issues.
Related: Calgary Flames: News & Rumors: Leivo, Parsons, Kinnvall, Stone & More
Item One: Sam Bennett Didn't Participate in the Flames' Scrimmage
Sam Bennett suffered an undisclosed injury and was held out of Thursday's Flames' intra-squad scrimmage. It doesn't seem as if the injury is too serious because the news was that he didn't play "for precautionary reasons."
It was projected that Bennett would play in a top-six role during Thursday's training camp game. However, at least for Thursday night the 24-year-old forward was a spectator. Because Bennett is listed day-to-day, it doesn't seem that the injury will impact his role for the team's first game of the regular season. Specifically, Flames' fans should expect Bennett to assume an expanded role on the team during the upcoming 2020-21 season.
Item Two: Matthew Tkachuk Didn't Skate on Thursday, But Played on Thursday Night
Matthew Tkachuk wasn't on the ice Thursday morning, but he was good enough to play during the team's scrimmage Thursday night. In fact, he scored a goal. Fans shouldn't be worried, because the word was that Tkachuk simply had a day off practice for the reason of "maintenance," which I think means he was given a rest.
Item Three: Thursday's Flames' Scrimmage Takeaways
As head coach Geoff Ward noted, the intra-squad game was mostly five-on-five for the first two periods and the third period focused on special teams play. Josh Leivo skated on the right wing with Sean Monahan and Johnny Gaudreau during the scrimmage. Leivo made a great pass from behind the net to set up Tkachuk, who finished the play.
Related: One for the Ages: Dave Keon's 1979-80 NHL Season
Leivo seems to be impressing the coaching staff as a good two-way player. There's a chance Leivo might see top-six playing time during at least the beginning of the 2020-21 season. 
Item Four: Coach Ward Is Giving Rasmus Andersson Time on the Power-Play Unit
Flames' head coach Geoff Ward is making no promises to Rasmus Andersson, but he is giving Andersson a chance to show what he can do as part of the Flames' top power-play unit. Andersson practiced on the Flames' first power-play unit on Tuesday. That unit also included Johnny Gaudreau, Elias Lindholm, Sean Monahan, and Tkachuk. (from Rasmus Andersson getting look on Flames first powerplay unit, Daniel Austin, Calgary Herald, 06/01/21).
Andersson scored 22 points in 70 games last season, but only four of those points came with the man advantage.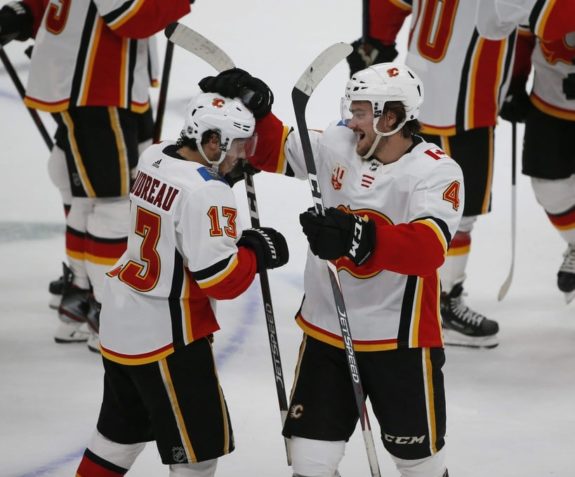 Ward suggested that Andersson "does have a good shot. We'd really like to see a little bit more attack from the top this year as opposed to just dishing off to the flankers all the time, so we feel like he might be able to deploy that for us a little bit from the top. He's smart enough to bring the puck up, usually sees who the open man is. He's a guy we're going to experiment with there and so far for the reps he's got in camp he's done a good job."
Item Five: General Manager Treliving Liked Yan Kuznetsov's Play at the WJC
From what he said, it was obvious that Flames' general manager Brad Treliving liked what Yan Kuznetsov showed him during the World Junior Championship (WJC).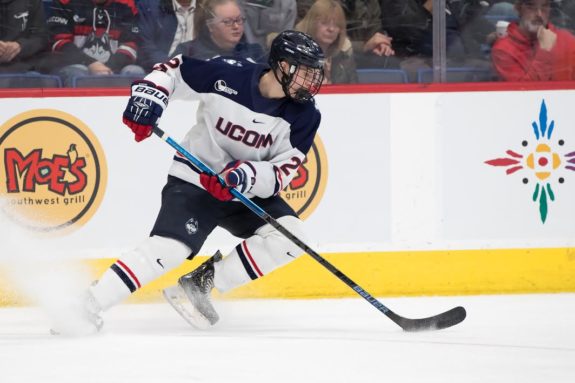 Treliving believes the young Russian (Kuznetsov) "moves around the ice so well, reads the game extremely well, and as he continues to mature and get stronger and more comfortable with the level of play, I think you are only going to see him get better."
Treliving admitted that he had "been really impressed with him." 
Related: Boston Pride 2021 Season Preview
Kuznetsov is a huge, young left-shot defenseman at 6-foot-4 and 210 pounds. He's in his sophomore season at the University of Connecticut and in two games this young season he's scored an assist. His NCAA coach Mike Cavanaugh compares Kuznetsov to Brooks Orpik, a player Cavanaugh coached when he was with Boston College.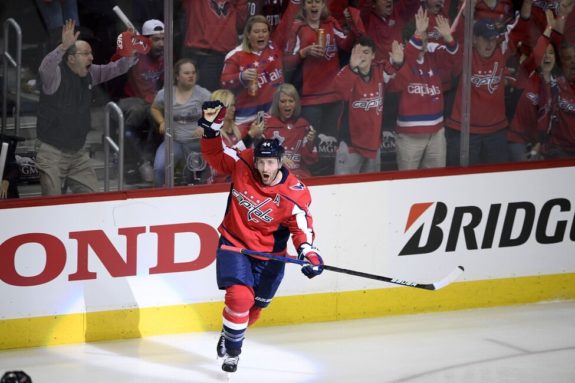 If that's the case, that's good news for the Flames. Orpik had a solid NHL career with both the Pittsburgh Penguins and Washington Capitals.
During the WJC, although Kuznetsov didn't score in Team Russia's seven games, his defensive play stood out. The Flames chose Kuznetsov during the second round (50th overall) of the 2020 NHL Entry Draft. (from Flames prospect Yan Kuznetsov displays defensive dependability at world juniors, Wes Gilbertson, Calgary Herald, 06/01/21).
Item Six: Oliver Kylington Will Likely Miss Most of the Flames' Training Camp
Oliver Kylington will miss most of training camp because he's stuck in immigration protocols. The 23-year-old Swede was a second-round (60th overall) draft pick during the 2015 NHL Entry Draft. Because he's almost certain to miss the Flames' training camp to sort out immigration issues, Nikita Nesterov will probably start the season skating on the bottom defensive pair until Kylington arrives.
What's Next for the Flames?
One question Flames' fans might care about is whether Sean Monahan and Johnny Gaudreau will play together this season. It seems likely coach Ward would at least start them together on the same line if only to prove both of their last season's numbers were aberrations and not downward trends.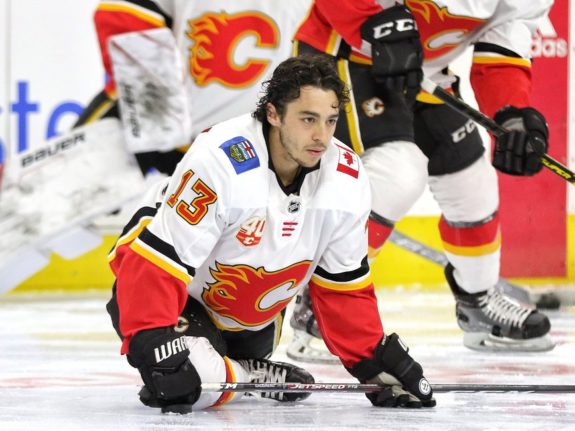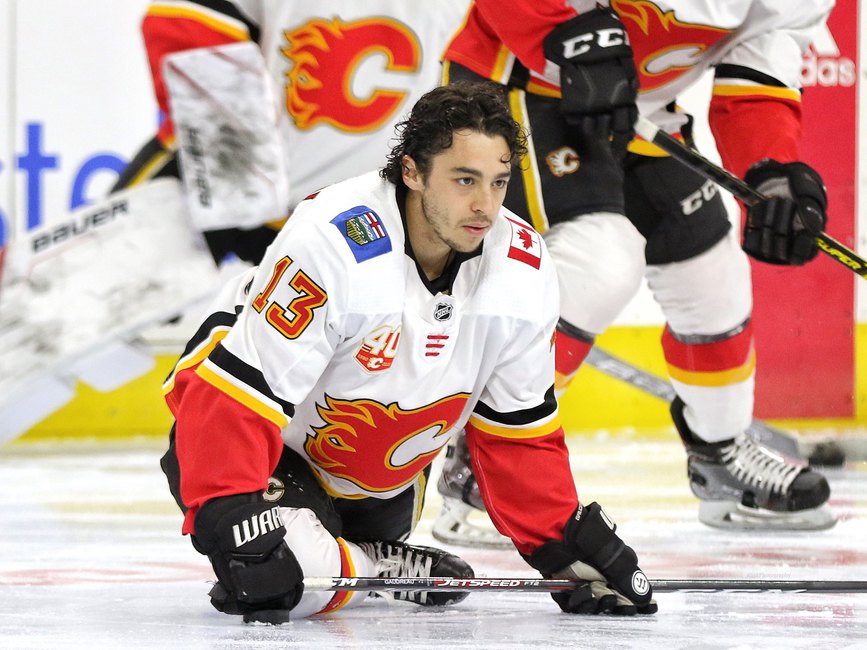 Johnny Hockey had a huge drop-off in his statistics. During the 2018-19 season he had 99 points in 82 games, but he only scored 58 points in 70 games during 2019-20. Obviously, the pandemic-shortened season cost the Flames' star 12 games. However, he would never have scored the 41 points he lost in those 12 games.
Related: Flames News & Rumors: Kylington, Labarbera, Sigalet, Wolf & More
Monahan had a similar drop-off. During 2018-19, he scored 82 points in 78 games. During 2019-20, he played 70 games but only scored 48 points. Both players have to do more to carry the team than they did last season.
---
---