The New York Rangers are slated to kick off their season on Jan. 14, but for two of their prospects, their season's pinnacle may have just passed us by. Prospects Brett Berard and Hunter Skinner took home gold medals from the World Junior Championships, with Berard playing a pivotal role all tournament for Team USA.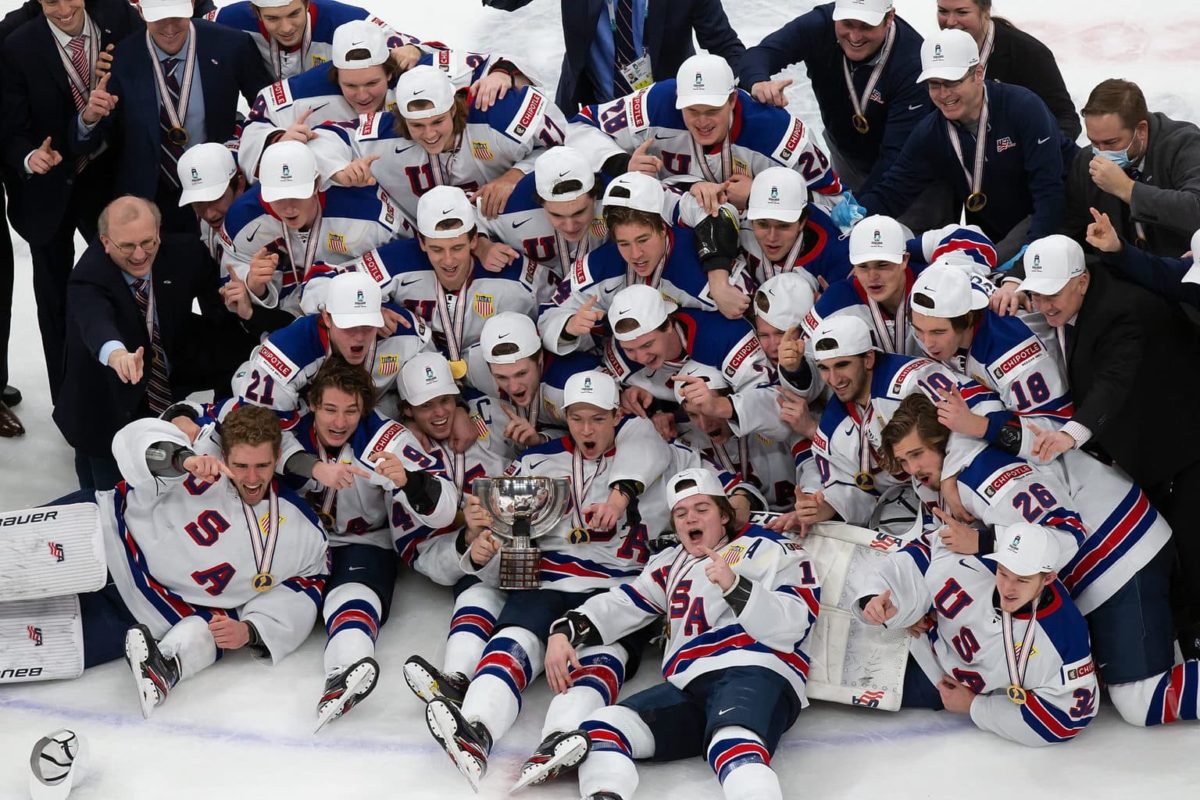 The pair took down another duo of Rangers' draft picks in Braden Schneider and Dylan Garand, who settled for a silver medal after Team Canada was shut out 2-0 by the USA. Both Schneider and Berard made names for themselves this tournament. Schneider's physical brand of hockey was noticeable throughout, tossing a check in Canada's opener, which landed him a one-game suspension. The defenseman also showed off his offensive game, scoring against Russia in the semifinals.
As for Berard, his pesky play and ferociousness on the puck were evident throughout, earning the coaching staff's trust in every game. Berard's third line was a key contributor in several big goals for the United States, as he earned a lot of doubters' respect at the WJC.
Mika Zibanejad Remains Sidelined
Training camp has commenced for the New York Rangers without one of their most pivotal players present. Mika Zibanejad has been sidelined with an undisclosed issue and listed as day-to-day, sounding alarms all across Rangerstown. According to head coach David Quinn, Zibanejad will be fine for opening day, a statement that could let us all breathe a little easier.
The tweet, courtesy of The Athletic's Rick Carpiniello, points to Zibanejad potentially returning earlier than opening night at MSG. Not having No. 93 would be a huge loss for a Rangers team that needs to come out of the gate flying if they have any hopes of sniffing the playoffs. The center had 41 goals in 57 games last season, cementing himself as one of the NHL's top centers.
The Swedish forward may still be in quarantine protocols, so it is safe to hold off worrying until we see the opening night roster.
Rangers & Boyle Reunion Possible
6-foot-7 Brian Boyle was a large part (pun intended) of the Rangers' success between 2009 and 2014, before moving onto the Tampa Bay Lightning during their playoff runs. With the Rangers coming into the 2020-21 season as the youngest team in the NHL at an average age of 25 years old, bringing in a player like Boyle could provide them with a much needed veteran presence.
According to Larry Brooks of the New York Post, the Rangers have kicked the tires on the 36-year old. (from 'Rangers reach out to Brian Boyle as potential lineup solution,' New York Post, 01/06/2021) Bringing in Boyle would provide size and savvy that some youngsters do not possess. Most importantly, Boyle would bring a defensive-minded approach to a forward group that is predominately offensive-minded.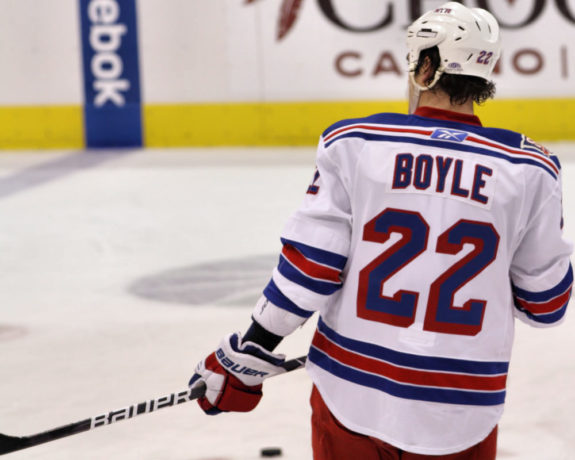 Another aspect of Boyle's game that adds intrigue to the rumors is his face-off percentage. The center has not been below the 50% mark since the 2011-12 season, a number that would drastically improve the abysmal 46.6% face-off total the Rangers had a year ago.
Tony DeAngelo Moving to Trouba's Left
To fill the Rangers' hole on the left side of their defense, Quinn has decided to move Tony DeAngelo to his offside in training camp. The move should not shock fans and may prove to help both DeAngelo and his new defensive partner in Jacob Trouba. Trouba can now worry about the defensive end, while DeAngelo can have free reign in the offensive end, knowing Trouba will be back.
According to Newsday's Colin Stephenson, DeAngelo is not unfamiliar with the left side, telling Stephenson:
"I played it most of my time in junior, when I was with Sarnia (of the Ontario Hockey League),'' DeAngelo said after the Rangers practiced Wednesday. "A little bit of adjustment just getting back to the angles and stuff, or, you know, receiving passes coming from the other side… you're on your backhand a little more. But it's all stuff that I don't find is going to be too hard for me.''

from 'Rangers' Tony DeAngelo unfazed by move to Jacob Trouba's left side', by Colin Stephenson, Newsday – 01/06/21
DeAngelo had a career-high in points during the 2019-20 season with 53, good for fourth in the NHL amongst defensemen. Paired with Trouba, a veteran defenseman who had his ups and downs over his first Rangers' season, the two could solidify what could be a sturdy top-four.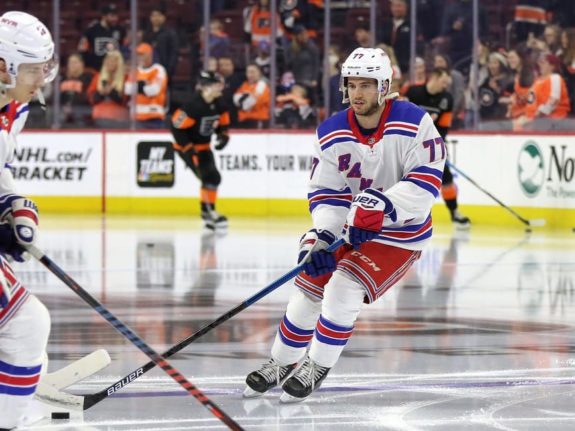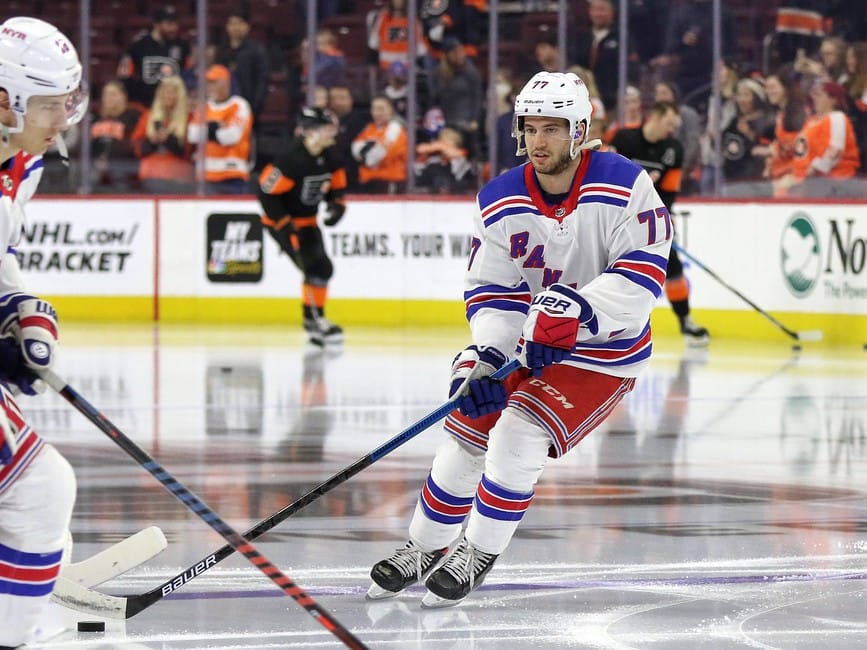 K'Andre Miller, Brendan Smith, Jack Johnson, and Anthony Bitetto are all capable of filling the openings on the left side, but DeAngelo's shift to the left gives the Rangers their best possible top-four.
Quinn Won't Commit To No. 1 Starter
The Rangers entered camp without legendary goaltender Henrik Lundqvist for the first time since 2005. In his place, at least in Rangers' fans' minds, is Igor Shesterkin, the Russian phenom who exploded onto the scene in 2020. When asked about the goaltending situation, the Rangers' head coach refused to commit to a No. 1, stating how fortunate he was to possess two No. 1 goaltenders.
We're fortunate because we feel that we have two No. 1 goalies. I'm not just saying that. [Georgiev] has had a good career so far. I think he's ready to make the next step. [Shesterkin], in a small sample, certainly proved he can be a really good goalie at this level. We feel we have great goaltending depth and both of these guys are going to be contributors. We're certainly going to lean on both of them during the course of the season.
Quinn's quote, courtesy of Dan Rosen, shows just how confident he is in both goaltenders on the Rangers' roster. Although their games started may finish relatively close to each other, Shesterkin should and ultimately will be the go-to guy between the pipes. Goaltending talents like him often do not come around, but the Rangers have been fortunate enough to pass the torch from one world-class goalie to another.
The season is just around the corner, as training camps are ramping up, and the Rangers' kick it into gear for a 56-game sprint to the postseason.
---
---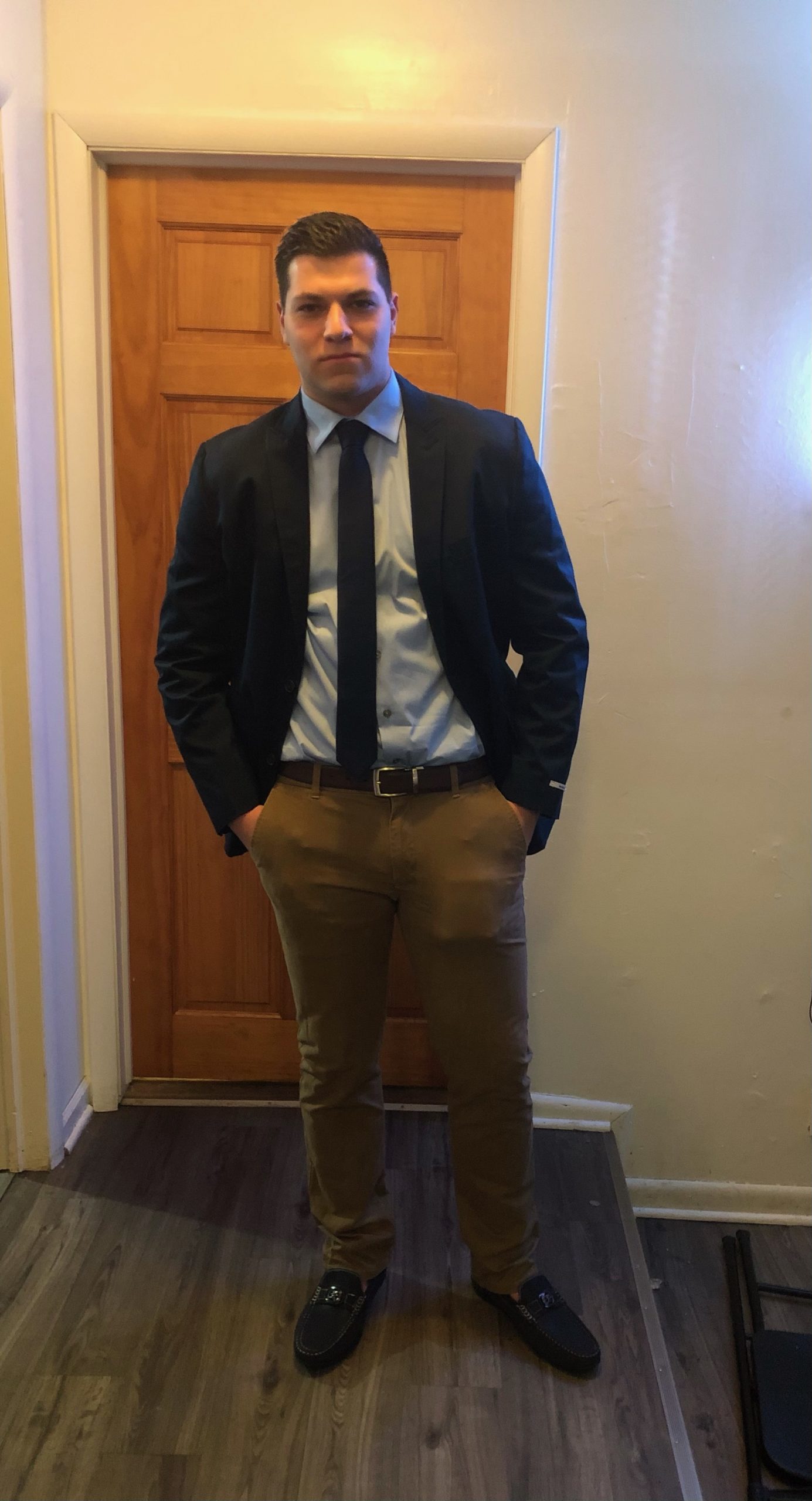 Brendan Azoff is a THW contributor and podcast host dedicated to covering the New York Rangers. His passion for hockey started when he first laced up the skates at three, growing into his love for writing and talking about the greatest sport in the world. His podcast, The Backcheck, breaks down the Rangers, Islanders, and NHL news and can be found on The Hockey Writers Podcast Network and Belly Up Sports. Brendan has been writing about the Rangers and the NHL for over two years, with his content also found on Puck Prose, Blue Line Station, and E2G Sports. If you want to connect with Brendan and stay up-to-date on his posts, follow him on Twitter. He is always available for content ideas and interviews, don't be afraid to ask!