The Boston Pride were on the cusp of the second Isobel Cup in franchise history. They had just ended a three-game postseason losing streak to advance to the 2020 Isobel Cup Final before the pandemic happened. They set a plethora of records in getting there, highlighted by their 23-1-0 regular-season record. Their roster boasted the league's leading scorer/co-MVP, Goaltender of the Year, and Defender of the Year. After having their title run interrupted in 2020 you can bet that the Pride will come out of the gates firing on all cylinders in 2021 when they hit the ice in Lake Placid.
Last Season: 23-1-0 (First Place), advanced to Isobel Cup Final.
Franchise All-Time Regular Season Record: 68-18-5
Franchise All-Time Playoff Record: 6-2-1
Championships: 1 (2016)
2021 Roster
Returning Players: Lovisa Selander (G), Victoria Hanson (G), Lauren Kelly (D), Jenna Rheault (D), Kaleigh Fratkin (D), Briana Mastel (D), Mallory Souliotis (D), Mary Parker (F), Tori Sullivan (F), Jillian Dempsey (F), Lexie Laing (F), McKenna Brand (F), Christina Putigna (F)
New Faces: Paige Capistran (D), Meaghan Rickard (F), Taylor Turnquist (F/D), Taylor Wenczkowski (F), Sammy Davis (F), Carlee Turner (F), Meghara McManus (F), Tereza Vanisova (F)
*As of press time no Pride players have officially opted out, which the NWHL gave the players who do not or cannot go to Lake Placid as an option – with full pay.
Player to Watch
There are several to choose from on this dynamic team that President Hayley Moore, GM Karilyn Pilch, and Head Coach Paul Mara have assembled. (It's almost like they've assembled the Avengers after watching them rip through the league last season). Dempsey. Brand. Sullivan. Putigna. Laing. Selander. Oh, and the no. 1 overall pick Davis is also on their team now after some savvy wheeling and dealing at the 2020 NWHL Draft.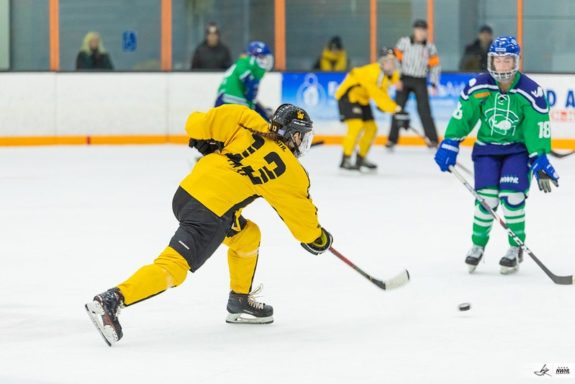 But we're really interested to see the play of Fratkin in Lake Placid. She came oh-so-close to (finally) winning her first Isobel Cup in March. In fact, she's never even played in the Isobel Cup Final despite being one of the NWHL's original members. Fratkin deservedly won the Defender of the Year for Season 5 after posting career-highs in points (23), and assists (20), while giving Boston the steady, gnarly, and gritty presence they need on the back-end. 
Fratkin also won the Hardest Shot Competition at the league's most-recent All-Star Game. So get in front of that booming slapper at your own risk. She's experienced it all during her five seasons in the NWHL, and she's probably become a better player, as well as a better person on the other side of it as we sit on the cusp of a historic season in Lake Placid, NY.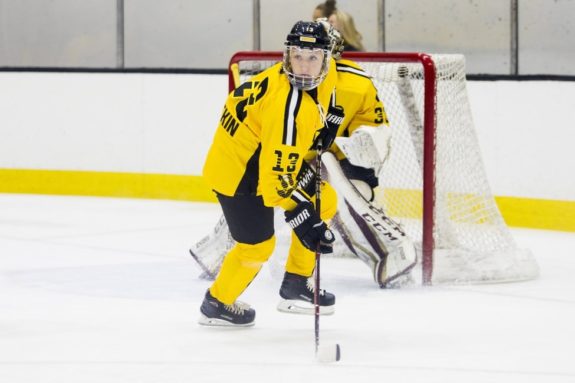 "To see the ebbs and flows of the NWHL and how it's gone – from the salary cuts, a boycott, almost 90% of the league leaving – we survived that, we're gonna survive through covid and play in a bubble," said the 28-year-old Fratkin. "At this point, the league's not going anywhere. In my mind, at least."
Fratkin, and her teammates, are hoping this is the year she can finally hoist that elusive Isobel Cup.
Related: Kaleigh Fratkin – NWHL Trailblazer
"For myself, Lexi (Bender), and Demps who hasn't won it since the first season, we all thought this was going to be the year to win (the Cup)," she told us back in July. "A couple of us had been around for a while that really wanted a chance to do it. Hopefully, it happens before I retire and I'll get the chance to do it!"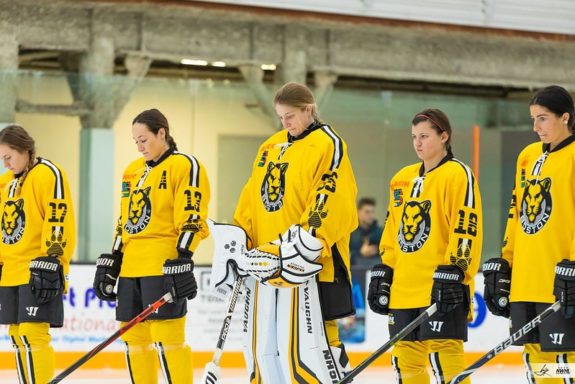 Here's hoping Fratkin at least gets a chance to play in the Isobel Cup Final, which will be broadcast on NBCSN on Feb. 5.
The Kids Are Alright
With a roster laden with top-end talent it will be interesting to see just how Mara can blend it all for another successful season. But given his track record (34-6-0) it would be wise to not bet against the Pride.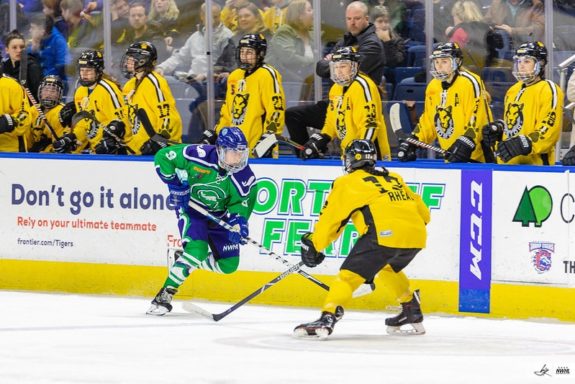 "It has been great to be back on the ice with the team. Although we have some new faces joining us this season, the team chemistry has definitely carried over from last year," said Rheault. "The rookies are going to be a key component to our success this season as they all bring their own strengths to make our team more cohesive."
Rheault's game grew in leaps and bounds during her initial NWHL campaign and by the end of it, her game was confident, polished, and precise. It would not be a surprise to see the same growth with a lot of the newer faces amongst the Pack.
Related: Jenna Rheault, Season in Review
"The rookies have been incredible additions to our team. They've all adjusted well, and continue to step up their game in each and every practice," Souliotis said via text. "On defense, Cappy and Taylor are really strong defensively; they do a great job moving the puck up to the forwards quickly and neither is afraid to contribute offensively."
"I have been really impressed with the new forwards, too. All six of them are very, very skilled and have different styles to their game, which has been fun to see and watch them find their chemistry with their linemates," added Souliotis.
"I believe all of our veterans are working hard to be even better than last season because we (feel like) do have a target on our backs due to our previous successes. We are taking it day by day and practice by practice because we all have one goal in mind: to win the Isobel Cup," said Rheault.
Imagine, the Boston Pride even better than last season…where they were 23-1-0? You can almost hear the rest of the league saying, 'welp'.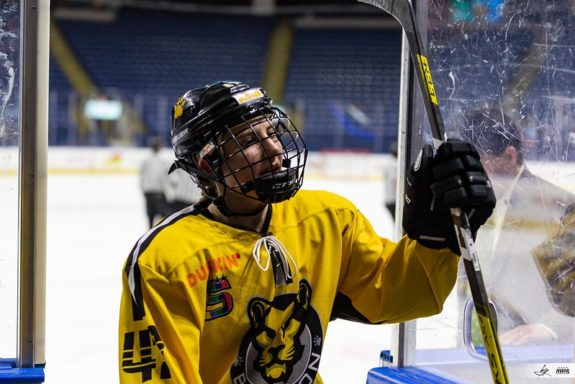 "The amount of speed and skill that the rookies bring to our team, I wouldn't say is a total surprise – but sometimes you never know how they will adjust to the speed and intensity at the next level," Souliotis responded when asked how they have fit into the group.
"Welcoming them all to the team drives everyone to continue to improve individually and they have brought tons of positive energy that has really translated to the ice."
Outlook
The Pride have some unfinished business to take care of when they begin the 2021 season in Lake Placid and good luck to whomever they draw first in the round-robin part of the schedule. 
Stop Dempsey's line, Sullivan's line might burn you. Stop both and you might get eaten up by Davis or Parker, or any of the talented blueliners Boston boasts. If you can find a way to get past their defense, good luck sneaky a puck past Selander who surrendered a mere 30 goals in 18 games on 489 shots faced.
IF (that's a 'BIG IF' by the way) one of the other five teams can knock out Boston at some point in the elimination round, it would be considered a ginormous upset. 
Dan Rice is in his 9th year of reporting for THW & has covered NJ Devils home games for 15+ years at various websites. He began his journey working for legendary broadcaster/writer Stan Fischler from 2002-04 & completed an internship at the ECHL; he also has been writing features for the NWHL (nwhl.zone) website since 2016.