During this past week, the Calgary Flames announced the restructuring of the organization's entire goaltending department. Flames General Manager Brad Treliving reported that "The goal and mission of this change is to provide us with the best process to identify, draft, develop, procure and coach goalies for the Calgary Flames."
Related: Calgary Flames Prospects News – Wolf, Pelletier, Nodler & Moro
Treliving added, "We believe this structure and process will provide us with the best and deepest goaltending expertise throughout all parts of the organization."
In this edition of Flames News & Rumors, I'll share some of the particulars about this restructuring. I'll also look at the re-signing of Oscar Kylington.
Item One: Flames Hire Jason Labarbera as Their Goaltending Coach
Earlier this week, the Flames announced the hiring of former NHL goalie Jason Labarbera to be the organization's new goaltending coach. Labarbera had a 16-year professional playing career, which he ended in 2016. During that time, he played for six different NHL teams and 170 games in total.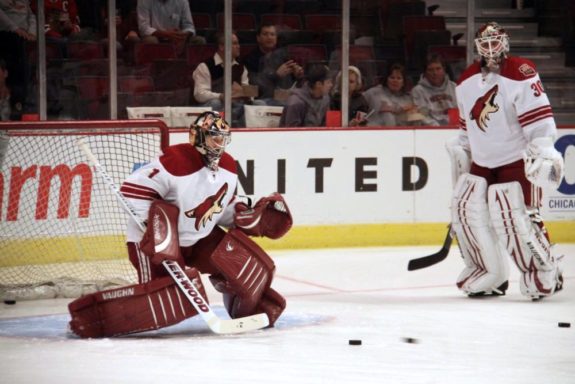 Labarbera's best season was in 2007-08 when he played 45 games with the Los Angeles Kings with a record of 17-23-2, a goals-against-average of 3.00, and a save percentage of 0.910. During the last four seasons since his retirement, he's worked as the Assistant Coach/Goalie Coach with the WHL's Calgary Hitmen.
The Burnaby, British Columbia, native has been the Goalie Coach for Canada's National Teams – the U-18 team for the last two seasons and Team Canada's U-20 team that won gold at the 2020 IIHF World Junior Championship. He's working with the U-20 team again this year.
Labarbera's schedule calls for him to join the Flames after the 2021 World Juniors in Edmonton have been completed.
Item Two: Jordan Sigalet Named as Calgary's Director of Goaltending 
This past Wednesday, Jordan Sigalet was named as the Flames' Director of Goaltending. As the Flames' press release reported, "Sigalet will focus on NHL drafting, professional goaltending procurement and all goaltender development within the organization."  
Related: The Flyers, Tom Bladon and an Incredible NHL Record
This will be Sigalet's seventh year with the Flames following three seasons as the goaltending coach of AHL Abbotsford.
Item Three: Goalie Prospect Dustin Wolf Makes Team USA's World Junior Roster
This week, it was announced that goalie prospect Dustin Wolf had made Team USA's World Junior Championship (WJC) roster for second straight tournament. That said, and as good as Wolf is, he's playing behind young Spencer Knight. Knight is a first-round (13th overall) draft choice of the Florida Panthers in the 2019 NHL Entry Draft, and he's very good. Currently playing with Boston College in his short NCAA season, he's won all four games he's started and carries a goals-against average of 1.50 and a save percentage of 0.955.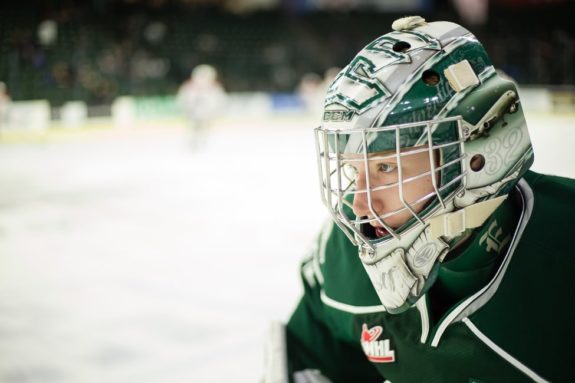 During the 2020 WJC, Knight played most of Team USA's games. This WJC might be more of the same. However, Wolf was pretty clear about his desires. He noted that:
"Obviously, Knighter is a tremendous guy and he knows how to stop the puck really well. But at the end of the day, I would like to play as well. Whoever is going to get the job done, he's going to go with. I just want to be able to put my best foot forward every time I do get a chance, and hopefully I'll get more of an opportunity come the tournament."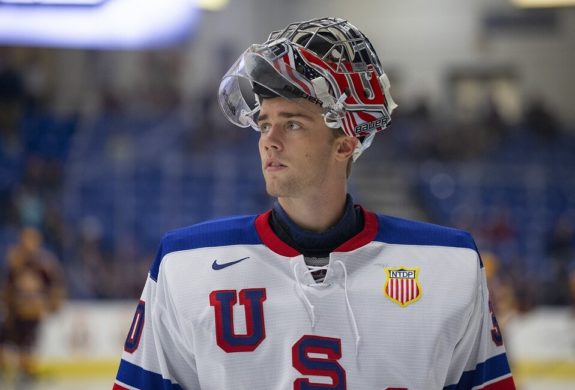 Wolf added about his previous WJC experience, "The game I played last year, we got the win, which is the most important thing. So that's a positive outlook coming into this year — I've played one game, I know kind of how it works. While I didn't play the Canadas and the Sweden's and the Russia's, it was a good experience to be in and one to look back on as we get ready for this tournament." 
Related: NWHL Roundup: Sister Act in Buffalo, Minnesota Signs Mack
Wolf was outstanding in WHL action last season, going 34-10-2 with a 1.88 GAA and a .935 save percentage. We will hear more when Christmas Day approaches. That's when the WJC begins. (from "Flames goalie prospect Dustin Wolf determined to push for Team USA's starting job at world juniors," Wes Gilbertson, Calgary Sun, 13/12/20).
Item Four: Flames Re-Sign Oliver Kylington to a One-Year, Two-Way Deal
Yesterday, it was announced that Oliver Kylington and the Flames had come to terms on a one-year, two-way contract. The contract calls for an annual salary of $787,500 if Kylington plays with the Flames and $70,000 if he plays in Stockton of the AHL.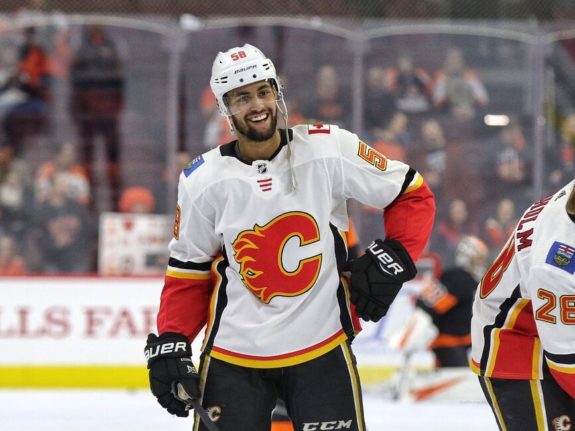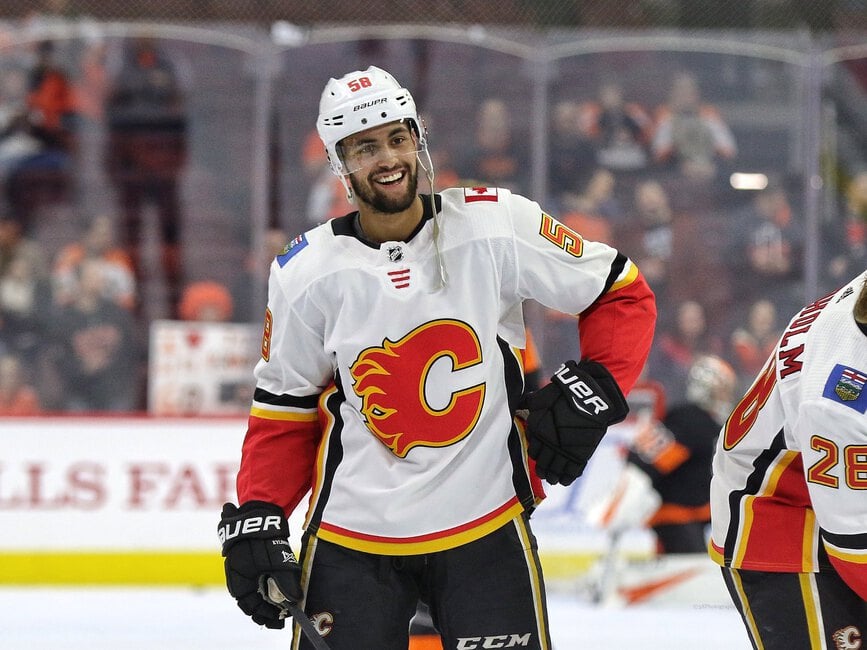 During 2019-20, the 23-year-old native of Sweden played in a career-high 42 games with the Flames, scoring two goals and seven points. He also had 34 blocks and 36 hits. Kylington was drafted during the second round (60th overall) of the 2015 NHL Entry Draft. His career totals add up to 87 NHL games, with five goals and 10 assists.
What's Next for the Flames?
One player remains unsigned from the Flames last-season's roster. That's unrestricted free agent defenseman Travis Hamonic. The rumor is that both the Flames and the Vancouver are interested in signing Hamonic. Furthermore, the word is that Hamonic will be headed to the team that can free up the most salary-cap space to sign him.
Related: Flames News & Rumors: Lucic, Ward, Bennett, Gillies & More
There should be news coming soon about what happens with the defenseman. Hamonic has suited up for the Flames over the last three seasons. In 50 games last year, he scored three goals and 12 points. However, he also had 110 blocked shots, which is more his game. 
---
---