New Jersey Devils general manager Tom Fitzgerald has done quite the job rebuilding the team's defense over the last two-plus years. From signing Dougie Hamilton as a free agent in the summer of 2021 to acquiring Ryan Graves and John Marino in separate trades, he has built a blue line to make the team a consistent contender. 
But one of Fitzgerald's more underrated acquisitions was adding Jonas Siegenthaler to the team at the 2021 trade deadline. In fact, he was the first piece of the puzzle to the team's defensive overhaul, as they had not yet acquired Graves or Hamilton. 
Siegenthaler got off to a strong start this season, but he hit a prolonged rut from around American Thanksgiving until just after the all-star break. Fortunately for the Devils, he seems to have regained form over the last month of play. That could prove significant as the team looks to make a run in the playoffs. 
Siegenthaler's Downturn
Siegenthaler was a revelation for the Devils a season ago. After acquiring him from the Capitals in exchange for a 2021 third-round pick, he had a breakout year in 2021-22 and turned into one of the best defensive defensemen in the NHL. His even-strength defense was worth an expected goals above replacement (xGAR) of 10.3, ranked first among all NHL defensemen. 
That led to the Devils signing Siegenthaler to a five-year extension last summer at a cap hit of $3.4 million; it doesn't kick in until next season. With a healthy Dougie Hamilton, the expectation was for those two to anchor the team's top pair. It started off that way, as Siegenthaler and Hamilton were one of the NHL's best defense pairs to start 2022-23, posting an expected goals percentage (xG%) of 67.67 percent through their first 19 games. 
Related: Devils' 5 Best Defensemen of All-Time
---
Latest News & Highlights
---
That lasted until just before American Thanksgiving, but their play as a pair began to fall off around that time. From Nov. 21 to Feb. 21, Siegenthaler and Hamilton's xG% dipped to 48.42 percent as a pair, a significant dropoff from their first 19 games. That coincides with a dip in Siegenthaler's play right around American Thanksgiving. 
One way to better illustrate some of his struggles is by looking at game score — an all-encompassing stat that uses traditional and advanced stats to measure a player's total value for a single game. Starting around Nov. 21, there was a noticeable downward trend in Siegenthaler's rolling five-game average when it came to game score: 
After posting stellar five-on-five numbers in his first 19 games, Siegenthaler's numbers slipped. His shot suppression cratered as he went from allowing 1.78 xG per 60 minutes to 2.52 xG per 60 minutes. It's not easy to explain because he's still defended quite well against the rush, one of the reasons he had a breakout year in 2021-22. But part of the reason may be due to Marino's injury and Siegenthaler getting more difficult competition in Marino's absence. 
Even then, a slump is an unavoidable part of an 82-game season. This one was more prolonged than the Devils would have liked, but Siegenthaler seems to have turned it around. Because over the last month of play, he's looked closer to the defenseman he was to start this season and the one he was in 2021-22. 
Siegenthaler Back to Where He Was 
Players can't dominate all the time. That can't even play well all the time, but Siegenthaler has more or less been playing well for the last month. In his last 13 games, his xG% has climbed to 57.59 percent, and his game score average has trended back up, as seen in the graphic above. 
It all came to a head last night in a 5-2 win against the Tampa Bay Lightning. After a rough outing against the Florida Panthers just 24 hours earlier, Siegenthaler had one of his best games of 2022-23. His game score of 4.28 was his third-best of the season, and the Lightning routinely had trouble generating offense against him and Hamilton. 
When Siegenthaler is at his best, he's aggressive defensively and imposing his will, as he did against the Lightning. Teams can't create rush chances against him, leading the Devils to control play when he's on the ice. It also frees up Hamilton to get more involved offensively, which benefits the Devils.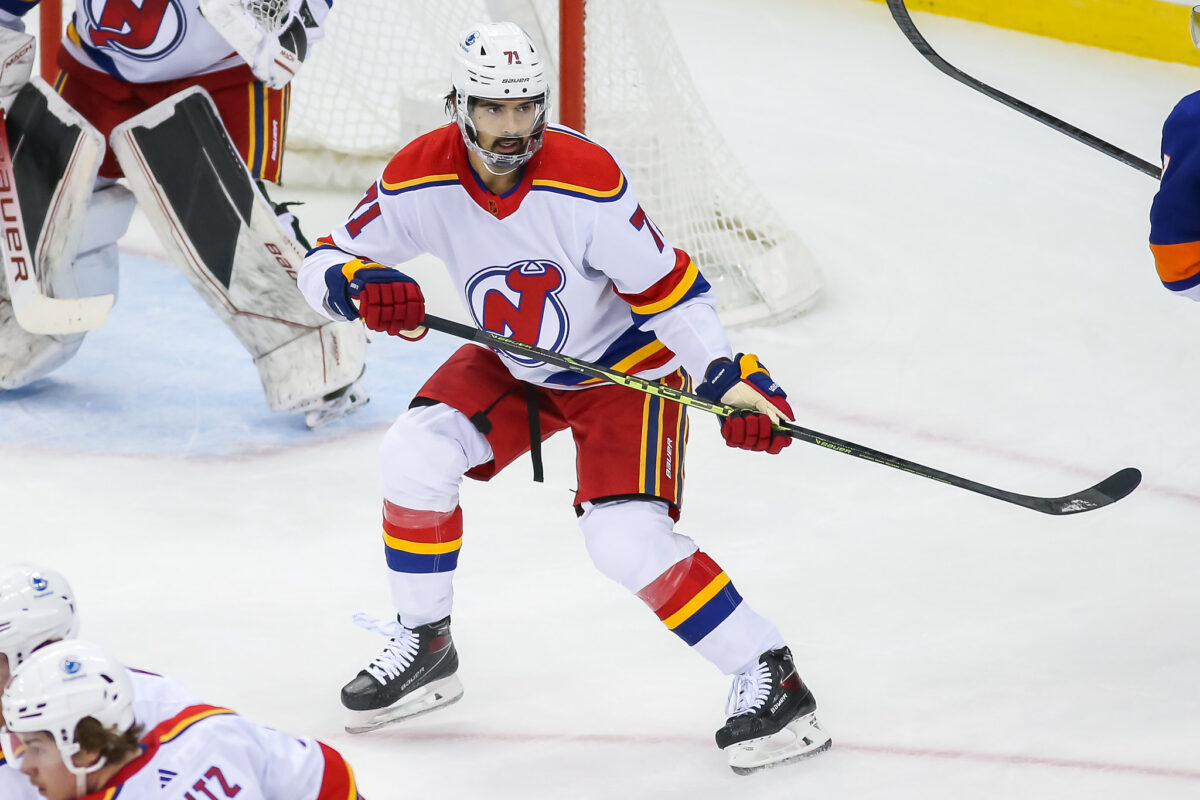 It's probably not a coincidence that in the last month, the Devils' five-on-five numbers have improved too. Part of that is because Marino has found his game after returning from an injury after the all-star break, which has benefited Siegenthaler. With Marino back, he and Graves get the tougher competition while Siegenthaler and Hamilton's minutes ease up just a tad. They still face top-six competition, but head coach Lindy Ruff isn't hard-matching them against opponents' top lines. 
And even though Graves and Marino may get the tougher defensive assignments, Siegenthaler still makes up half of the team's top pair since Hamilton is his partner. That all benefits the Devils, and with the team closing in on a playoff berth, that's how they want their top-four defense pairs to perform. 
Devils Need Siegenthaler at His Best for the Playoffs
It won't get easier for the Devils as they close the regular season. The New York Rangers are hot and are five points back of them for second place in the Metropolitan Division. Even if they don't catch the Devils, the two sides will likely square off in the first round of the playoffs (unless the Devils pass the Carolina Hurricanes for first place). 
If the Devils are to defeat their Hudson River rivals in a playoff series, they will need Siegenthaler to play at a high level. He is capable of reaching another gear; he's done it before. But even if he doesn't, he's rebounded after a prolonged slump. The team is performing better at five-on-five as a result, and that should benefit them as they play for seeding in the regular season's final weeks before a potential showdown with the Rangers. 
* * *
Advanced stats from Natural Stat Trick, Evolving-Hockey, Hockey Stat Cards