Special teams have been an absolute nightmare for the New Jersey Devils through the first half of their 2020-21 season. Without going back and looking through every game, there are likely more than a few instances where the penalty kill and power play cost them a shot at getting a win.  
Fortunately, the penalty kill has come around for the Devils. As for the power play? Not much so. The two units are trending in different directions, and while the kill has stabilized, their power play is still costing the team a shot earning two points on most nights. Let's take a look at the two units, what's improved, and what needs to improve.
Penalty Kill a 180 From Power Play
The Devils' penalty kill had gotten off to a historically terrible start. It ranked 31st in the league and had a success rate under 60% through their first 15 games. But that's changed in their last 10 games, as it's operating at a 90% success rate, killing off 27 of its previous 30 attempts. 
A lot has changed for the Devils' PK since the beginning of the season. They were giving up the fourth-most shot attempts per 60 minutes through their first 15 games, as well as the most expected goals per 60 minutes (xGA/60). They also had the league's worst save percentage (SV%) on the kill at .779 percent, which should be no surprise, given the amount of quality shots and chances they allowed. 
But they've managed to tighten things up on the kill. They've gone from allowing 107.9 shot attempts per 60 minutes to 78.3 per 60 over their last 10 games. Their xGA/60 has also improved from 9.28 to 6.28 over this stretch. And as you may have guessed, their SV% has gone from .779 to .925. There's been marked improvement, so assistant coach Alain Nasreddine, who oversees the penalty kill, deserves some credit for getting it turned around.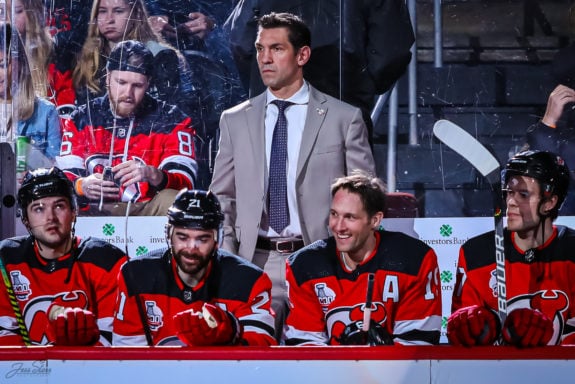 Unfortunately, their power play has not seen that kind of change. In fact, it's trending way down. The Devils have one power play goal in their last 25 opportunities and have the fourth-worst power play success rate in the league this season. 
The Devils' power play has struggled since the puck dropped on the 2020-21 campaign. And as of now, it's not showing any signs of improvement. They're averaging the second-least amount of shot attempts per 60 minutes in the league over their last 25 five-on-four opportunities, as well as the seventh-least amount of expected goals per 60. 
Some of that is indicative of the Devils' puck movement when up a man. They've been too slow to move the puck and get opponents' penalty kills off balance. Puck retrieval has also been a problem, something head coach Lindy Ruff alluded to in a recent post-game press conference. If that shows some improvement, then perhaps their power play can get going. But there are still other things they need to do to give it some life. 
Personnel Issues Complicate Power Play Struggles
The Devils hired Mark Recchi in the offseason to help improve their power play. At the time, it seemed like a good hire, and it could still be. He's barely had half a season to implement what he wants to run. And they've had little to no practice time because of the condensed schedule to fix what needs correcting. Given the Pittsburgh Penguins' power play had a fair amount of success under him, there's hope things can turn around.
Related: Devils' Penalty Killing & Faceoffs May Be Historically Bad
With that said, some of the Devils' personnel usage on the power play has been interesting. They've had Kyle Palmieri in the bumper quite a bit and even as a net-front presence in recent games. He has spent most of his time with the Devils along either half wall as a shooting threat. He's had a lot of success there, and it's probably something Recchi should consider going to more often. 
As for a net-front presence, Janne Kuokkanen seems like their best option at the moment. The Devils' lone power play goal in their last 10 games came in Sunday's 3-2 shootout loss against the New York Islanders when Kuokkanen put in a rebound in front of Ilya Sorokin. He has four goals in his last four games and has shown he's not afraid to get into the dirty areas around the crease. 
Another option Recchi should consider is giving Sami Vatanen power play time. Vatanen has had a rough season so far, but he's only logged a minute on the power play. And his biggest strength in previous years was the power play: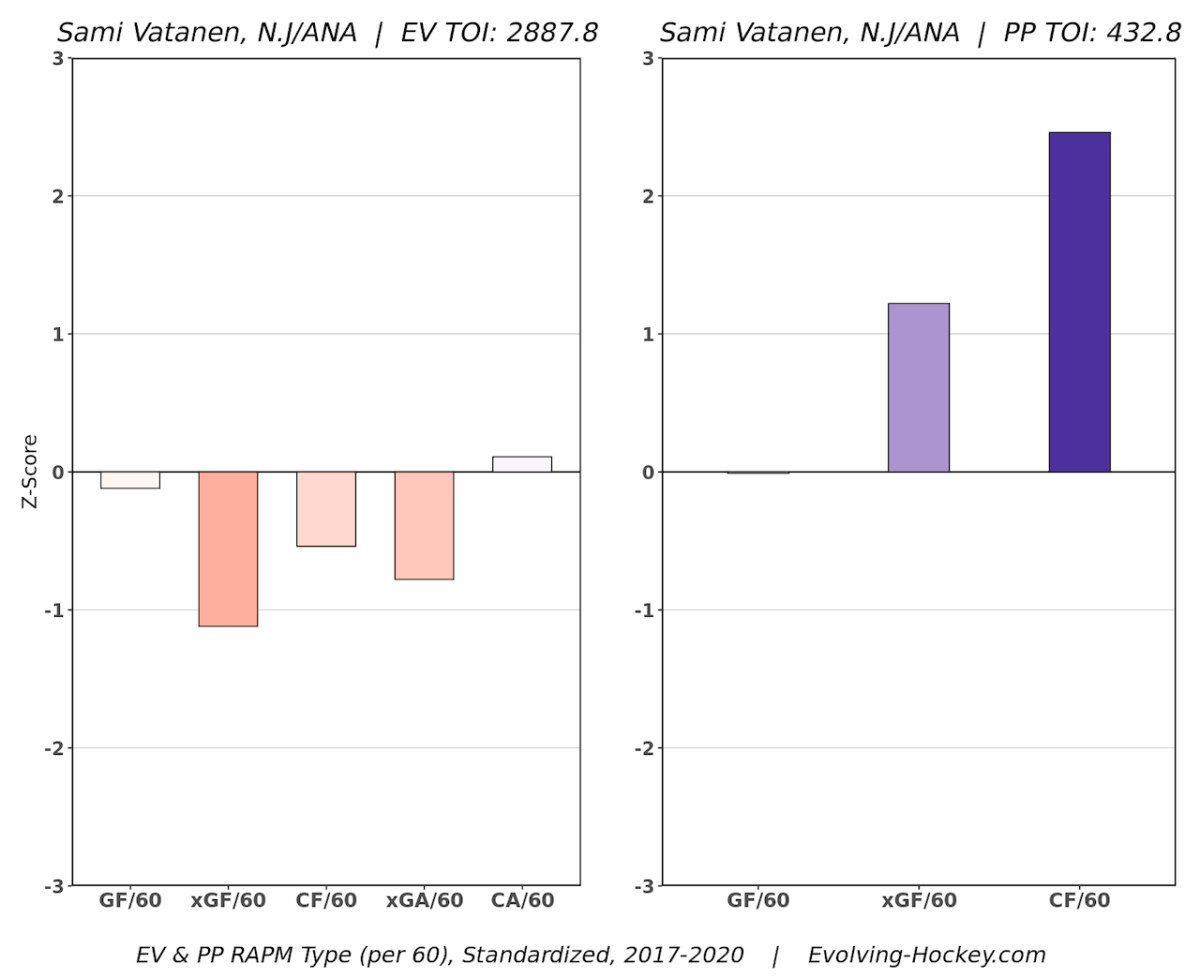 It's a bit confusing as to why Vatanen hasn't gotten any minutes on the man advantage. That seems like something worth experimenting with, given his track record and how poor the power play has been. Plus, he's on an expiring contract. And with the trade deadline less than a month away, the best way to increase his value is probably going to come by giving him minutes where he's excelled before. 
Those personnel differences are likely contributing factors to why each special teams unit is headed in different directions. The PK has found reliable pairs such as Vatanen and Dmitry Kulikov or Michael McLeod and Nathan Bastian. Travis Zajac and Yegor Sharangovich have been instrumental in helping turn the kill around too. 
Related: Devils Need to Increase Kuokkanen & Maltsev's Minutes
That hasn't been the case for the power play. Once the Devils figure out two units that mesh, then perhaps it starts finding some chemistry. But it's something they have to sort out soon. 
The penalty kill has stabilized and is helping keep games in reach, but the power play continues to falter in key situations. It's costing the Devils points as it did on Saturday evening when it went 0/3 in another loss to the Islanders. And with only two wins in their last 14 games, getting the power play to rival the penalty kill's success may be the answer to racking up more victories. 
* * *
Advanced stats from Natural Stat Trick