Yep, the cardiac New Jersey Devils it is. In what was their fifth overtime affair in their last six games, the Devils somehow found a way to secure another crucial two points. Thanks to a stellar outing from Vitek Vanecek and an all-star-worthy performance from Jack Hughes, the Devils defeated the Dallas Stars 3-2 in overtime to head into the all-star break with a 32-13-4 record. Here are four takeaways from the win. 
Vanecek Proving Why He's a No. 1 Netminder
Yesterday's victory didn't start and end with Vanecek, but it sure did come close. The game got off to a quiet start, specifically through the first ten minutes of the first period. But things opened up quickly after the Stars scored a fluky goal that redirected off Erik Haula and past Vanecek. Dallas gained momentum from that, thanks to the Devils taking three minor penalties, and opened up a 2-0 lead after Roope Hintz's power-play goal. 
Vanecek faced quite a bit of quality from that point on and had to make several acrobatic saves to keep the Devils within striking distance or even with the Stars on the scoreboard. There were a few moments in the second period where you muttered to yourself, "how did Vanecek make that save?!" or "how did the Stars not score there?!"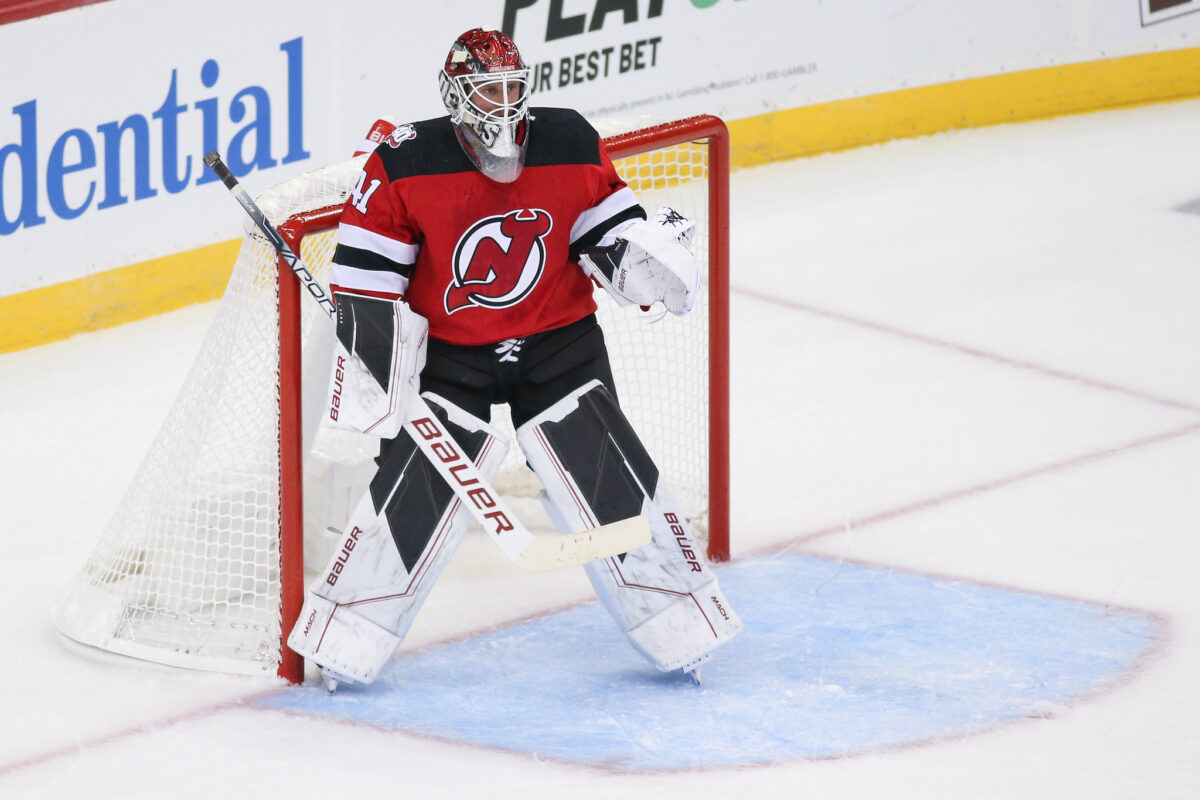 When the final horn sounded after just 20 seconds into overtime, Vanecek had made 33 saves on 35 shots on goal, the first time he had faced 35 shots on goal or more since Nov. 28. He saved 1.18 goals above expected and moved to 9-0-0 in his last nine starts; he has a .931 save percentage over that stretch. The Devils need to make life easier for him and Mackenzie Blackwood coming out of the break, but Vanecek gave them everything they could've asked for this month. 
Hughes Showed Why He's an All-Star
It's fitting that in their final game before the all-star break, the Devils' lone all-star had a significant say in the outcome. Hughes helped the team break the ice in the second period on a partial breakaway thanks to a world-class stretch pass from Dougie Hamilton. And, of course, he scored the game-winner after Tyler Seguin accidentally redirected Hughes' shot, causing it to fly past Stars goaltender Jake Oettinger. 
The Devils did not have a great game at five-on-five again (more on that in a bit), but Hughes made his presence known. His creativity was on display, forcing the Stars to defend him aggressively, even to the point where you wondered if there couldn't have been a penalty or two that wasn't called. And even when his line doesn't dominate at five-on-five, he still finds a way to impact the game.  
Related: Devils at the 2022-23 Trade Deadline
---
Latest News & Highlights
---
To no one's surprise, Hughes' game score — an all-encompassing stat that measures a player's total value for a game — of 2.29 led all Devils skaters. He'll head to the All-Star Game with 33 goals and 64 points in 49 games — a 55-goal, 107-point pace in 82 games. He may not win the Hart Trophy because of Connor McDavid's ridiculous season, but he's sure putting himself in the Hart Trophy conversation. 
Devils' 5-on-5 Struggles Continued
A common theme for January, but the Devils did not play their best at five-on-five. They finished the game with a 40.63 Corsi for percentage (CF%) and 39.05 expected goals percentage (xG%) at that game state. With that said, they played well at five-on-five for the first half of the opening frame. And they were the better team in the third period when it was 2-2 for the entire 20 minutes. 
It's also worth noting that while most of the advanced stats site had played skewed heavily toward the Stars in the second period, it didn't look as bad as the numbers suggested. That's not to discredit the stats sites, but it could be an issue with the scorekeeper in Dallas or some wonky data in the NHL's play-by-play files.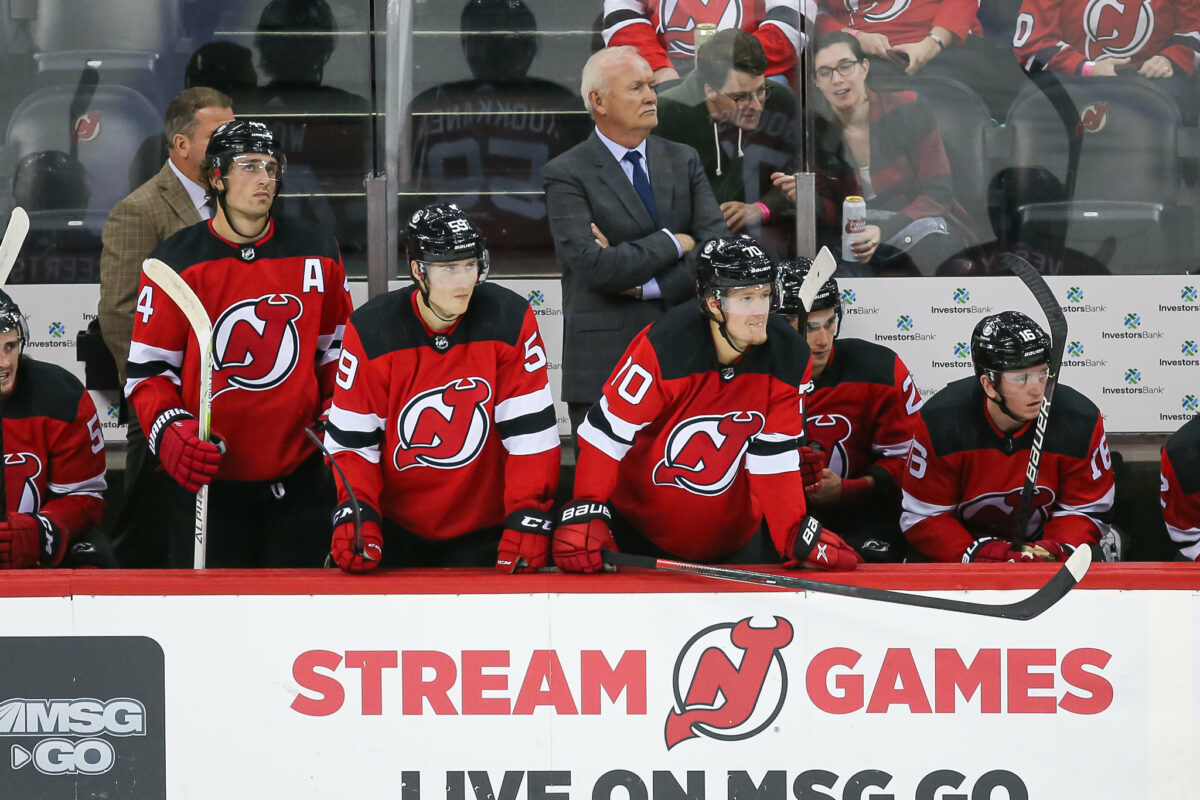 For example, the Natural Stat Trick had scoring chances 16-7 for the Stars at five-on-five and 19-10 at all strengths in the second period. But per Devils play-by-play announcer Bill Spaulding, scoring chances were an even 13-13 in the second period. That felt closer to what it looked like, as it didn't feel the Stars ran away with the second frame as much as some of the stats sites suggested. 
Still, the Devils need to play much better at five-on-five coming out of the break. They finished January with a 46.96 CF% and 45.84 xG%, both ranked in the bottom ten of the NHL. They collected a 9-2-2 record because Vanecek had a .930 SV%, but they can't bank on him maintaining that for the rest of the season. Perhaps that's just some evening out for dominating teams in December but not being able to buy a win. But their sluggish five-on-five month will catch up to them if it doesn't improve out of the break. 
BMW Line Devils' Best Against Stars
The Devils' fourth line has had different variations over the last couple of months. Whatever the case may be, it has struggled. Their fourth-line and bottom-six struggles were a significant reason why their five-on-five play cratered in January. Fortunately, they got a strong night from the BMW Line of Miles Wood, Michael McLeod and Nathan Bastian against the Stars. 
Wood ended a long 20-game goalless drought when he tied the game at 2-2; it was only his second goal in 33 games. You could tell by his celebration that it was a huge weight lifted off his shoulder, so hopefully that gets him going. Judging by head coach Lindy Ruff's post-game comments, Wood will remain in the lineup despite his struggles.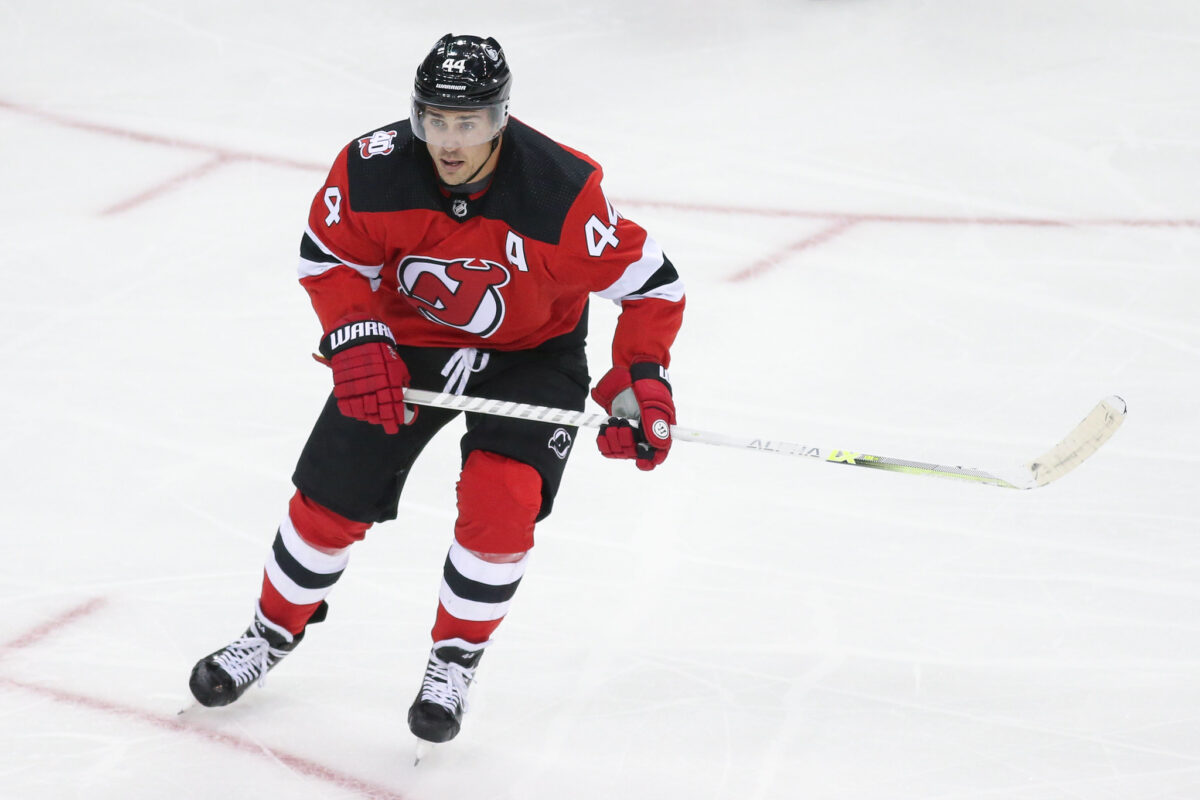 It wasn't just Wood that played well on this line, either. With the top-six struggling to control play, the BMW Line helped the Devils find some needed possession in the offensive zone. They'd end up finishing with a 60.93 xG%, something the Devils haven't gotten much of from a fourth line in weeks. The overall numbers for the BMW Line haven't been good this season, so take a one-game performance with a grain of salt. But if they have some repeat outings coming out of the break, that would go a long way toward solving the Devils' depth issues up front. 
Devils Quick Hits
Ruff has paired Fabian Zetterlund with Yegor Sharangovich and Hughes as the second line over the last two games. While they've looked good in spurts, they've only put up a 41.31 xG% as a combo. Zetterlund has played well in the last couple of contests after being a healthy scratch for over two weeks and should remain in the lineup coming out of the break. But it feels like he fits better with Tomáš Tatar and Erik Haula on the third line, moving Dawson Mercer up with Hughes and Sharangovich. 
If there's one thing January proved, it's that the Devils really miss John Marino. He's been unavailable for a month-plus with an upper-body injury, but it appears his return is nearing. He's been practicing with the team, so perhaps he's back in game action after the break. Part of their five-on-five struggles are likely due to him being out. Once he returns, it should free up Dougie Hamilton for easier minutes that'll open things up for Hamilton offensively. That will make a difference for the Devils at five-on-five, and Marino handling tough competition again should help their defensive numbers improve too. 
With the all-star break underway for the Devils, they won't play again until Monday, Feb. 6, versus the Vancouver Canucks. The break comes at a good time, as the Devils had to work very hard to come away with a 9-2-2 record in January. The long layoff should give the team some much-needed rest before playoff races heat up. 
* * *
Advanced stats from Natural Stat Trick, Hockey Stat Cards