The New Jersey Devils' prospect pool has come a long way over the last few years. Most of it is because of their own draft picks, but they've also managed to strengthen their system through trades. It may take another couple of years before they feel the impacts of the young talent they've acquired, but there do seem to be brighter days ahead. Here are their top 20 prospects heading into the 2020-21 season. 
20. Nikola Pasic (LW)
Pasic was a Devils' seventh-round pick at the 2019 Draft. He had 37 points in 47 games in the HockeyAllsvenskan — the second division in Sweden — in 2018-19. He's moved up to the SHL this season, where he has one point in nine games, though a COVID-19 outbreak with Linkoping HC had resulted in the team postponing more than a few games. 
Pasic isn't the most dynamic skater, but he has some skill. He's a good playmaker and is an effective two-way winger. He'll need some time to develop in the SHL, but the fact he's playing in the league as a 20-year old seems like he's on the right track. He could be a bottom-six, depth scorer in the NHL. 
19. Mikhail Maltsev (C)
Maltsev's first season on North American ice came in 2019-20. The former fourth-round pick put up 21 points in 49 games for the Binghamton Devils and looked to be on the verge of an NHL call-up before COVID-19 suspended play back in March. 
I had a tough time figuring out where to rank Maltsev on this list. He doesn't have a ton of offensive upside, but he has shown some skill in the AHL and during preseason games with the Devils. He's incredible in the face-off dot and is a good two-way center. He might not be anything more than a fourth-liner in the NHL, but he seems like a good bet to reach that level. 
18. Jaromir Pytlik (C)
Pytlik was a fourth-round pick of the Devils at last month's NHL Draft. The 6-foot-3, 201-pound center put up 50 points in 55 games for the Soo Greyhounds (OHL). There's not a lot of flash to his game, but he doesn't have any significant weaknesses either.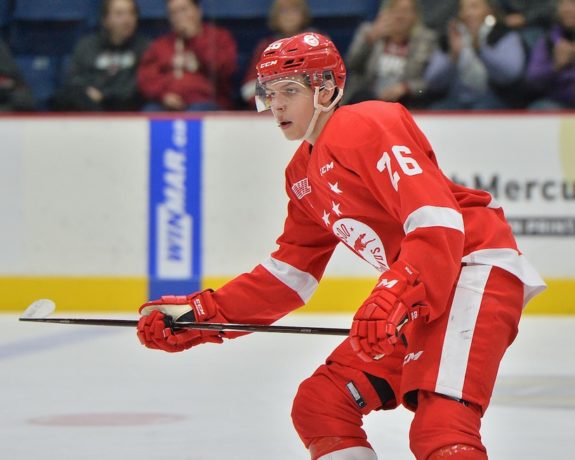 The Devils have a lot of players like Pytlik in their system, but that's a good problem to have. He likely projects as a bottom-six center in the NHL, and if he can find another level to his offensive game, he could settle in as a third-liner somewhere down the road. 
17. Ethan Edwards (D)
Edwards was one of only two defensemen the Devils selected at the 2020 Draft. The 5-foot-9, 154-pound blueliner spent last season in the AJHL (Canada), where he had 33 points in 50 games. He's now in the USHL and is playing for the Sioux City Musketeers, where he's only played in one game thus far. 
The lowdown on Edwards is the Devils got some value in the fourth round. Scott Wheeler of The Athletic had Edwards as one of his 10 sleepers of the 2020 Draft, partly due to his high-end skating ability (From 'Wheeler: Scouting reports for 10 sleepers in the 2020 NHL Draft', The Athletic – 6/22/2020). He needs time to develop, which is why he won't play for the University of Michigan until 2021, but his skating and offensive upside give him NHL potential. 
16. Yegor Sharangovich (C)
Since the 2020-21 NHL season has yet to get underway, that's led to NHL teams loaning prospects to various European leagues. Sharangovich was one of them for the Devils, and he's really impressed for Dinamo Minsk (KHL), where he's totaled 10 goals and two assists while firing 60 shots on goal in 21 games.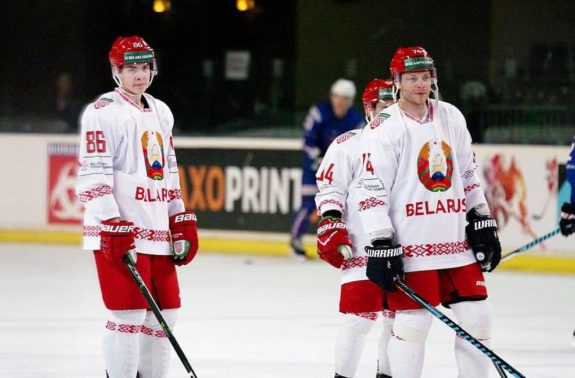 Had Sharangovich not been sent to the KHL, I probably wouldn't have had him sniffing the Devils' top 15 prospects. He was fine in the AHL last season, but he wasn't someone that grabbed your attention. And even though he likely projects as a bottom-six center, his play in the KHL leads one to believe he has some untapped potential. 
15. Arseni Gritsyuk (LW)
Gritsyuk was a Devils' fifth-round draft pick at the 2019 Draft and has become one of the most intriguing prospects in their system. He was one of the best players in the MHL — the Russian junior league — in 2019-20, finishing with 28 goals and 63 points in 59 games. He's bounced around between leagues this season but is now with Metallurg Novokuznetsk in the VHL — the second division in Russia. 
Gritsyuk is a highly-skilled winger who has a good shot and is a creative playmaker. He's a good skater as well, but he needs to get stronger. He only measures at 5-foot-10, 157 pounds, which won't cut it in the NHL, nor will it in the KHL. But if he keeps on his upward trajectory, he has the tools to be a depth scorer for the Devils. 
14. Graeme Clarke (RW)
Clarke's had his fair share of injury problems, but he's still a prospect with a lot of promise. A Devils' third-round pick at the 2019 Draft, he has a wicked shot that's his primary offensive weapon. He's not a high-end playmaker, but he can hold his own in that regard. He was also part of Team Canada's selection camp for the 2021 World Junior Championships. 
I had Clarke as the Devils' 10th-best prospect before the start of the 2019-20 season. Part of the reason for his drop is the team's system has gotten much better, but injuries are a concern too. He could be a middle-six winger whose shot makes him a regular 20-goal scorer if injuries don't further slow his development. 
13. Aarne Talvitie (LW/C)
Like Clarke, Talvitie is working his way back from a serious injury, a torn ACL he suffered at the 2019 WJC. He was never at full strength last season and had only 19 points in 30 games, a drop from the point per game he averaged in 2018-19 as a freshman at Penn State.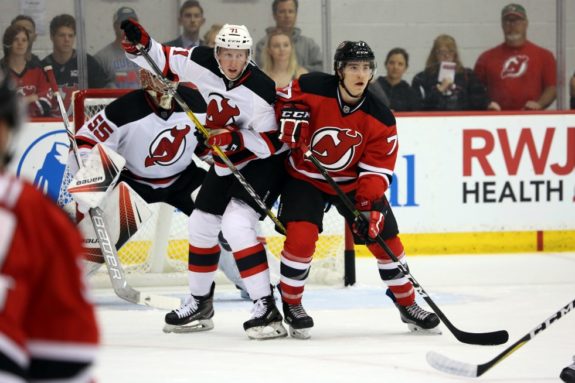 But even though Talvitie's production dropped, there's no reason to write him off. He'll be at full strength when the NCAA season gets started, and he should have a much bigger role for Penn State moving forward. If he gets back to his 2018-19 scoring rates, he could easily be a top 10 prospect in the Devils' system. He likely projects as a middle-six forward if he hits his ceiling. 
12. Janne Kuokkanen (LW/C)
The Devils acquired Kuokkanen as part of the deal that sent defenseman Sami Vatanen to the Carolina Hurricanes. He already has three years of AHL experience and finished last season with 48 points in 56 games between the Charlotte Checkers and Binghamton Devils. 
While you're not going see Kuokkanen pick apart goaltenders with his shot, he's a high-end playmaker and has shown as much in the AHL. He's on loan with Kärpät in the Liiga (Finland) and has three points in 10 games. I don't think he's a top-six forward in the NHL, but he has enough offensive upside to be a third-line scoring winger. 
11. Nico Daws (G)
Daws had a breakout season with the Guelph Storm (OHL) in 2019-20, finishing with a .924 save percentage (SV%), the best in the league. He also played for Team Canada at the 2020 WJC but only appeared in two games. He's a 6-foot-4, 200-pound netminder who's worked on his conditioning over the last year, which played a role in him becoming one of the top goaltenders in the OHL. 
Related: Nico Daws — 2020 NHL Draft Prospect Profile
Daws has the tools to be an NHL goalie, but it'll probably be at least 2-3 years before the Devils get anything out of him at the NHL level. He could eventually be the 1B to Mackenzie Blackwood, which is something the organization has been seeking over the last year or so. 
10. Shakir Mukhamadullin (D)
The Devils shocked the hockey world when they selected Mukhamadullin with the 20th overall pick at the 2020 Draft. Most draft rankings had him as an early to mid-second-round pick, so there's no doubting they reached a bit in selecting him. That said, he's off to a good start in the KHL with Salavat Yulaev Ufa, and he fared well for Team Russia at the recent Karjala Cup.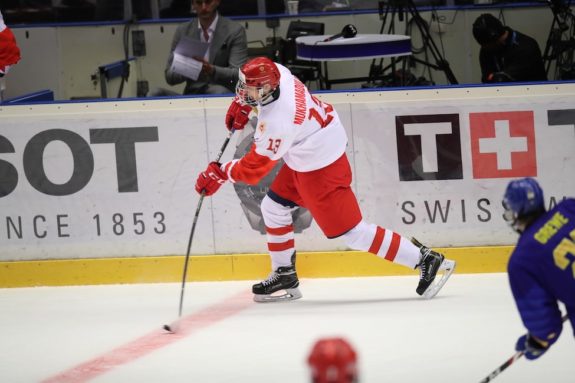 Mukhamadullin skates well for someone who's 6-foot-4, 185 pounds. He's shown some offensive ability across various leagues in Russia as well. But he's a project and will need at least a couple of seasons in the KHL before coming over to North America. If he can improve his defensive game and add some more physicality, he seems to have enough offensive upside to be a top-four blueliner. 
9. Nick Merkley (RW)
Merkley was part of the return the Devils netted for Taylor Hall after they traded him to the Arizona Coyotes in December. A first-round pick at the 2015 Draft, Merkley was once a highly-touted prospect, but injuries have stunted his development over the last couple of years. The trade did seem to benefit him, as he played well for the Binghamton Devils, where he had 19 points in 28 games. He also had a brief NHL call-up and did not look out of place. 
Like some of the team's other prospects, Merkley is out on loan while we await the start of the 2020-21 NHL season. He's playing for Ässät in the Liiga and has nine points in 12 games while logging top-line minutes. Had he not been doing so well with Ässät, he'd likely be just outside the top 10. He probably won't be the top-six winger many he thought he could be when the Coyotes drafted him. But he could be a third-line winger who has some scoring punch. 
8. Reilly Walsh (D)
The Devils drafted Walsh in the third round of the 2017 Draft, and he's slowly worked his way towards becoming one of the organization's better prospects. He spent three seasons at Harvard University (NCAA) and finished with 27 points in 30 games as a junior in 2019-20. He signed an entry-level deal this offseason, so his pro career will begin whenever the 2020-21 campaign gets underway.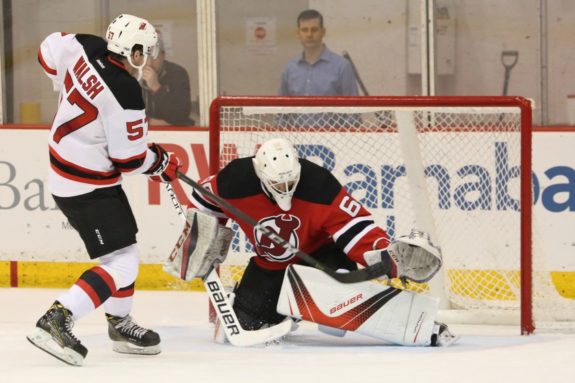 Walsh is a much different defenseman than Mukhamadullin or Kevin Bahl. He's 6-foot, 185 pounds, and is much more of an offensive defenseman than the former two. He's not an elite skater, but he moves well around the ice. He also has a hard and accurate shot, which will likely go a long way for him in the NHL. He needs to get a bit stronger to improve his defensive game. But if he does, he could be a no. 4 or 5 defenseman who gets power play minutes because of his shot. 
7. Kevin Bahl (D)
Like Merkley, Bahl was part of the return in the Hall trade. He's a towering 6-foot-7, 240-pound defenseman but skates quite well for someone his size. He plays a physical game, which isn't much of a surprise for someone of his stature. Plus, he played well for Team Canada at the 2020 WJC.
If there's a knock on Bahl, it's he doesn't offer a lot offensively; his point totals in the OHL indicate as much. He might not have the offensive upside you'd expect for a potential top-four defenseman, but he can probably handle those minutes in the NHL because he skates well and is mobile with the puck on his stick. 
6. Tyce Thompson (RW/C)
Thompson has come a very long way in an incredibly short amount of time. A Devils' fourth-round pick at the 2019 Draft, he's emerged as one of the team's best prospects after looking like a questionable selection at the time. He had 19 goals and 44 points in 34 games for Providence College in 2019-20 as a sophomore and was one of the top players in the NCAA.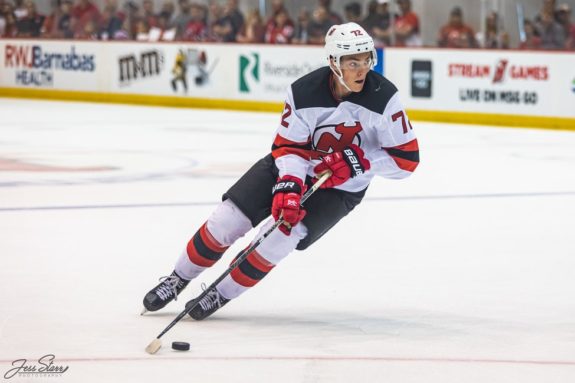 Thompson's strength is his general offensive skill. He has a good shot and is a good playmaker. It'll be interesting to see if he can equal or surpass his point totals for the upcoming NCAA season, but he does have the tools to do so. If he does, it should reinforce the idea that he can be a middle-six forward in the NHL. 
5. Jesper Boqvist (LW)
Boqvist was a second-round pick of the Devils at the 2017 Draft. The Swedish forward put up 35 points in 51 games in the SHL as a 20-year-old in 2018-19, then made his way to North America for 2019-20. He played in 34 games for the Devils last season and had four goals and no assists. When not in the NHL, he had eight goals and 11 points in 19 games in the AHL. 
Since Boqvist has 34 NHL games to his name, he soon won't be eligible for most prospect rankings. But because he's not a full-time NHLer yet, he's still a prospect, at least in my eyes. His tough 2019-20 shouldn't dampen his overall trajectory. He has a good skill set and the offensive tools to be a scorer in the NHL. If he pans out, he should be a middle-six winger who can put up 40-45 points a season, much like the Devils' newest acquisition, Andreas Johnsson. 
4. Nolan Foote (LW)
The Devils acquired Foote as part of the trade that sent Blake Coleman to the Tampa Bay Lightning at the trade deadline. He put up 33 points in 27 games for the Kelowna Rockets last season, though they were one of the worst teams in the WHL. While his production with the Rockets wasn't spectacular, he impressed for Team Canada at the 2020 WJC.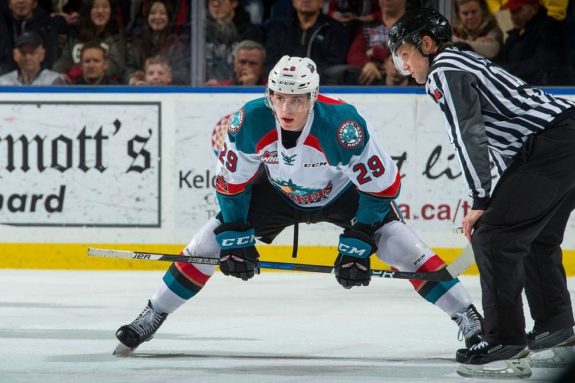 Foote is a hulking 6-foot-4, 200-pound winger who has a rocket of a shot and plays a physical game. He's signed to his entry-level deal and will make his pro debut whenever the 2020-21 season begins. He may make the Devils' NHL roster, but it's more likely he starts the season in the AHL with Binghamton. It's fair to view him as a potential top-six winger who gets plenty of power play minutes. 
3. Dawson Mercer (RW/C)
Mercer was the 18th overall pick at the 2020 Draft, the second of the Devils' three first-round draft picks. He finished last season with 60 points in 42 games and has seven points in four games to begin 2019-20. The strength of Mercer's game is his shot and stickhandling ability. He knows how to find open space and get into scoring areas as well. 
Mercer has played both right-wing and center in the QMJHL. With Jack Hughes and Nico Hischier being the future for the Devils down the middle, Mercer may have to shift positions. If he does end up on the wing, he can be a consistent top-six scoring complement to Hughes or Hischier. 
2. Ty Smith (D)
Smith has been the Devils' top defensive prospect for a couple of years, and that doesn't change heading into 2020-21. A first-round pick (17th overall) at the 2018 Draft, he's gotten better in every season since his draft year. He finished 2019-20 with 19 goals and 59 points in 46 games for the Spokane Chiefs (WHL) and captured a gold medal with Team Canada at the 2020 WJC.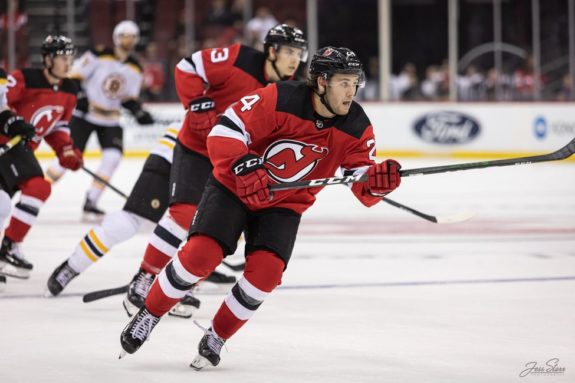 Smith is the exact type of defenseman the Devils need in their lineup. He's great in transition, skates well, and has high hockey IQ. He may only be 5-foot-11, 180 pounds, but that likely won't be a problem for him in the pros because of his mobility and IQ. If he reaches his ceiling, he should be a top-pair defenseman for many years to come. 
1. Alexander Holtz (RW)
Last but not least, there's Holtz, who the Devils drafted with the seventh overall pick at the 2020 Draft. He finished the 2019-20 season with nine goals and 16 points in 35 games for Djurgarden (SHL), which was one of the best scoring rates for a U-18 player in SHL history. He's off to a hot start this season, with four goals and six points in nine games. 
Holtz was the best shooting talent in the 2020 Draft, and it wasn't close. He can pick his spot from anywhere on the ice and has lethal accuracy. He also manages to get a lot of power on his shot when on the move. And while he's not known as a playmaker, it's an underrated part of his game. He likely projects a top-line winger who'll be able to score 30-40 goals consistently. 
Devils' Youth Movement Provides Optimism
The Devils' prospect pool is pretty much 20 deep after the 2020 Draft. There are a couple of notable players I left off, one being Michael McLeod. The 2016 first-round pick regressed last season as a second-year pro and has fallen behind other centers in the team's pipeline. That's not to say he can't be an NHLer, but he needs to have a much better 2020-21 to get back on track. 
Related: Devils Still Have Details to Address This Offseason
There are also a few other prospects I considered for the last couple of spots in this ranking. Forwards Benjamin Baumgartner and Eetu Pakkila have each played well over in Europe and are worth watching over the next season or two. Defenseman Nikita Okhotyuk will turn pro for 2019-20 and could crack the top 20 if he does well in the AHL. 
Overall, the Devils' system is the deepest it's been in years. It'll take a bit of time for them to feel it in the NHL, but there should be brighter days ahead in New Jersey, given all the young talent they've collected. 
---
---