Not many people can truthfully claim to have witnessed 20 of the Montreal Canadiens 24 Stanley Cup championships. One individual who can legitimately make such a declaration is Dick Irvin Jr. These days, the legendary television and radio broadcaster, and prolific author, spends most of his time reading and caring for his family.
"You start out and think you have nothing to do but than you end up with busy days. But I have family here in Montreal. I have a daughter with her twin boys that are 11 years old now. So that takes up a fair amount of my time. And I've done a lot of travelling. I've become a cruiser. And I read a lot. I do more reading these days than I do watching television, actually."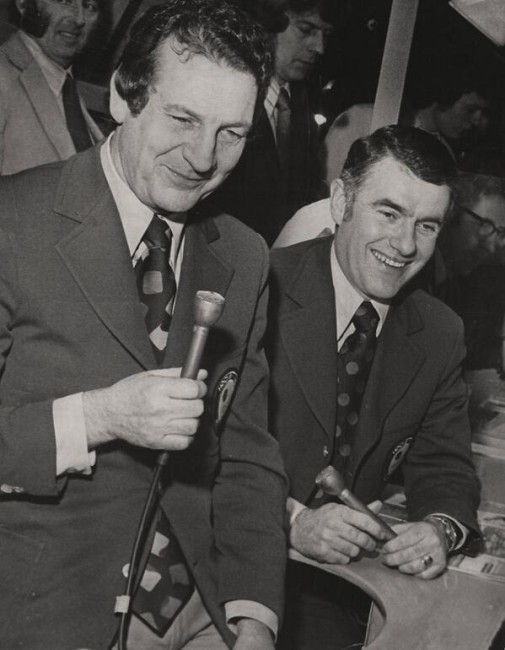 Irvin also prioritizes his time by watching his twin 11-year-old grandsons play hockey in the West Island.
"He's peewee double C I think it is. But it's fun to see the kids. And my goodness, the coaching that they get now! His team has three coaches behind the bench and a goalie coach sitting in the stands! Scotty Bowman coached the Canadiens to 5 Stanley Cups all by himself! So times have changed, and it's good."
In January the 82 year old was the recipient of the Order of Canada, a distinction that represents a nice feather in Irvin's cap.
"That's a big one. And as it goes on, the more I hear from people from my past and that's the nice part. And it's obvious that it's quite an honor. I've been a Canadian for all my 82 years, and I'm very proud"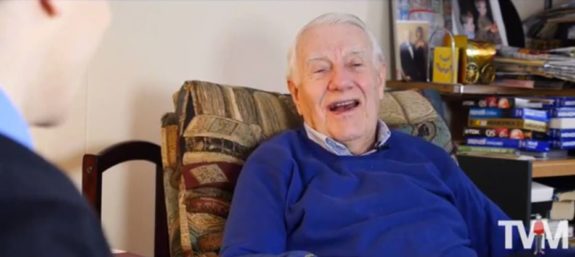 The longtime broadcaster for CBC and CFCF TV reflects on his days as a student at McGill University as some of the best days of his life.
"I had 21 hours of classes a week, and I saw every movie on St Catherine Street in those days. And I ended up playing for the Redmen, which I think was the highlight of my time at McGill. I made a lot of friends, and I still have them. I still keep in touch with some of the boys that I played with."
During Irvin's time playing for McGill's varsity hockey team (the Redmen), he and his teammates were fortunate enough to share the Montreal Forum with the Montreal Canadiens. This experience is one that he cherishes to this day.
"It's funny, McConnell Arena didn't exist. So we played at the Forum! And we practiced at the Forum! Every day we would practice at noon. And we used to get a meal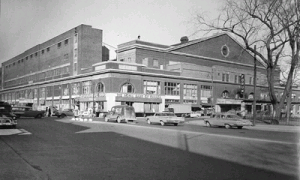 ticket to go to the Forum coffee shop after our practice for 75 cents. And that was pretty well enough to by a meal at the forum coffee shop. And so the Canadiens would practice in the morning. So they would have their practice, my father was the coach. And "Rocket" Richard, Doug Harvey, Elmer Lach, "Boom Boom" Geoffrion, Dickie Moore, Jean Beliveau, and all these great stars would skate off the ice, and we would skate on! I used to think there was something wrong with that picture."
These days, Dick Irvin's interest in NHL hockey is dwindling. But he still finds time to watch the Montreal Canadiens even though the culture of today's hockey generation is not what he was used to many years ago.
"It's funny. When it comes to watching hockey, I'm really only interested in the Canadiens. If Chicago is playing Philadelphia, I don't particularly go out of my way to watch. Even with the Canadiens, my interest isn't obviously what it used to be. I find that with the 30 teams, I don't know the players anymore. If I was getting paid to know them, of course I would. But it makes a difference to me. I don't know how other people feel about that, but I find there's a totally different culture at the games too when I go. The people in the crowd aren't really interested in the other team. They don't know who they are. They're only interested in the Canadiens. Teams used to come to Montreal seven times. Gordie Howe used to come play against the Canadiens 7 times. Bobby Hull, Davey Keon, all these great players. And people got to know them. They'd be here tonight, and they may be here two weeks tonight again. You don't get that anymore!"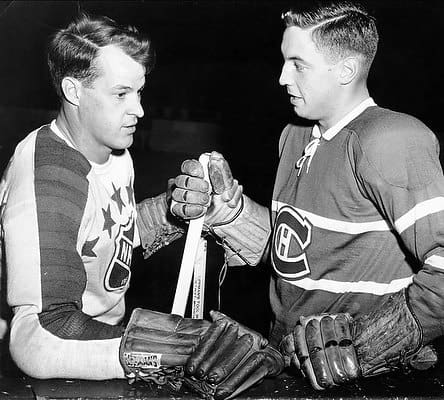 Having watched many Hall of Fame goaltenders in his day, Dick Irvin adamantly argues that Jacque Plante was the most dominant goaltender to ever don the Bleu Blanc et Rouge!
"I think Plante for a number of reasons. See that's one thing about the Canadiens. Like they have the Vezina Trophy, which is given to the best goaltender. And George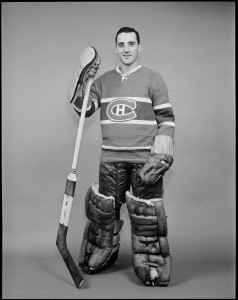 Vezina was the first superstar goalie with the Montreal Canadiens. And through the years, and all of the good years, the Canadiens have had more Hall of Fame goaltenders than any other team. Don't forget, Gump Worsley was in there too. And he's in the Hall of Fame, and he played on Stanley Cup winning teams. But Plante was an innovator. Goalies today should get down on their knees and thank Jacques Plante for coming up with the mask. He changed the way that the position was played. At the same time, he won five straight Stanley Cups through one stretch of his career. Toe Blake, who was the coach that team, and a marvelous hockey player in his day, he did not like Plante at all personally. But he said he's the best goaltender he ever saw."