by Jas Faulkner,  contributing editor
BEGIN DISPATCH::TERRESTRIAL TIMESTAMP NINER-TWO-SIX-NINER-FIVE-SIX-GEE MINUS SIX
"We're going to be watching a lot of hockey, come October."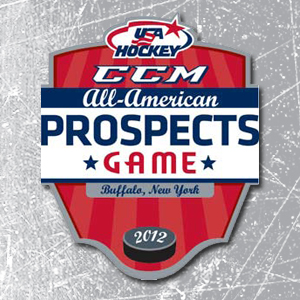 That rather optimistic statement came from Phil Housley, one of the coaches who will be standing behind the bench for this year's CCM/USA Hockey All-American Prospects Game.  He has reason and room to be optimistic.  This Saturday, he and fellow Sabres alum, Rob McClanahan with coach forty of the United States' top hopefuls in what may be one of the most exciting games on the continent this season.  For fans, this is a sneak peek at who will be waiting to hear their names called at the 2013 Draft.
Dave Fischer, Senior Director of Communications  for USAH, stated that the organisation chose the young men from a large pool of up and coming players.  All three gentlemen agreed that the increased reach of the game on a grassroots level contributed to the wealth of talent that was coming from increasingly diverse regions of the country.
How diverse is it?  A look at the roster shows that states with deeper roots in hockey are still producing the most players: Minnesota sent eight, Michigan, six,  and Massachusetts sent five, bringing a total of nineteen out of forty players to the AAPG this year.  Gaining fast on their dominance are Illinois, represented by five players and New York with four skating this Saturday.  The rest of the roster includes players from California, Colorado, Iowa, North Dakota, Ohio, Pennsylvania, Texas, and Wisconsin.
McClanahan was complimentary of that growing pool of talent.  "USA Hockey has done a tremendous job over the last 10 or 15 years of finding talent and creating programs to allow those players to move a step above and beyond what had been available prior to that. It's going to be fun for these kids to play against each other because they're going to be able to measure themselves."
"I'm really looking forward to working with such a great roster of players," added Housley.  "It is very important to showcase these young men.
McClanahan stressed that while this is an important step in the careers of the participants, he has emphasised the need to have fun while showing the talent and depth that is present in American hockey.  "I've told them to trust what they already have down."
The question of rivalries and wagers between the coaches was met with laughter.  "At most, there will be a golf game in the future," Housley responded.
For tickets and more information about the AAPG, visit the Sabres' website.  Puck drop for the big event is at 7:00 pm, but there will be   games at Niagara Center throughout the day featuring the best U-18 talent.
Dying to see who may be wearing your favourite team's sweater next year but can't get to Buffalo this season?  FASThockey.com will stream the event live starting at 6:45 pm EST.
*********************************************************************************                                                                            
Uncle Don Calls BS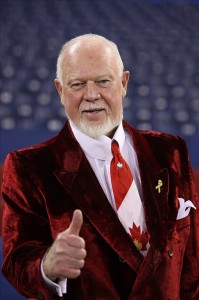 NHL Commissioner Gary Bettman may lead the organisation as touchpoints for frustration and ire about the lockout are concerned, but CBC Coaches Corner co-pundit Don Cherry made no bones about letting the NHL organisation in toto know they weren't the only game in town when it came to the coolest sport on ice.
When asked what he would be doing  during the lockout, Cherry responded via Twitter this morning:
"I've been asked a lot what I will do during the lockout. Well, I'm going out 3 or 4 nights a week with my son Tim watching minor midget Games and having the time of my life. I'm watching kids you'll be telling me about 3 or 4 years from now. I love it when they show up to the rink wearing shirts and ties. They look professional!"
Cherry had some  choice words for the players who had scooted across league lines and many time zones to keep skating:
"Please forgive me if I seem bitter about millionaires going overseas to take jobs away. But now one of the players is saying he's doing it to feed his family. Now you're just trying to insult our intelligence."
Love him or hate him, you have to admit he's never boring.  If you want to read what Don Cherry might say next,
follow him on Twitter at :