After losing veteran defenseman Mike Green to free agency during the offseason, the Washington Capitals weren't certain how their third pairing on the blue line would shake out this year. However, the re-emergence of 24-year-old Dmitry Orlov has successfully stabilized the team's back end.
Make no mistake, the ability to have a highly offensive, puck-moving defenseman in Green playing on the third unit was an absolute luxury for the Caps last season. As a result, many Washington fans went into panic mode once news of Green signing with the Detroit Red Wings surfaced. While there's no doubting the skill and finesse with which he played the game, his departure from D.C. shouldn't have been cause for alarm.
Despite the team signing former Vancouver Canucks blueliner Ryan Stanton to a one-year, two-way contract, head coach Barry Trotz acknowledged the reality that young talent within the organization would have to step up and fill the third-pair void.
While Trotz has flip-flopped between Minnesota native Nate Schmidt and free agent acquisition Taylor Chorney as the team's sixth and seventh defensemen this season, his preferred choice for the fifth slot has remained constant throughout the first 15 games.
Dmitry Orlov: The Dark Before the Dawn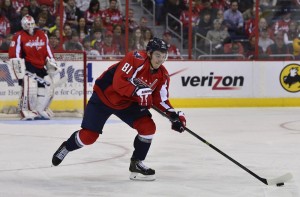 To say the least, the last two years have been quite the whirlwind of emotions for Orlov. After showing great potential during the 2013-14 season that saw him lace up for 54 games, the Russian blueliner suffered a devastating injury during the IIHF World Championships that summer.
After undergoing successful surgery to repair a broken wrist, it was originally estimated that he would be fully healed by the end of September in time for the 2014-15 campaign. Unfortunately, a noticeable lack of strength in his wrist due to constant plateauing in his recovery caused him to miss the entire season.
Making matters even worse, once he finally felt comfortable enough to get back into game action, Trotz chose the veteran presence of Tim Gleason, acquired in a trade with the Carolina Hurricanes, over the inexperienced Orlov. This left the young defenseman eagerly waiting with no other choice but to work hard in practice and make sure he was always ready for the chance he never got.
Eventually, his patience and determination to stake his claim within the Capitals' starting lineup paid off with both Green and Gleason parting ways with the team. The door was open once again, and it was finally time for Orlov to make his mark a lasting one. On opening night this past October, he did just that and hasn't looked back.
Picking Up Right Where He Left Off
The 2013-14 season was quite the revelation for Caps fans as Orlov proved he had the talent and know-how to compete with the NHL's best on a nightly basis. Averaging 19:35 of ice time per game and ranking second on the team in Corsi-for (shot attempt percentage) at 51.25 percent (Green ranked first at 51.64 percent), the 6-foot, 212-pound Orlov became much more than just a blip on the Capitals' radar moving forward.
This season, he's continued that same dominance in his puck possession game with a 58.39 shot attempt percentage ranking second to Nate Schmidt's 60.10 percent. Many believed that Orlov's possession numbers would drastically decrease once he was forced to play without Green by his side, but yet again, he's proven beyond a shadow of a doubt that he's a defenseman who belongs at this level and can drive play with the best of them.
In fact, a statistic initially reported by Russian Machine Never Breaks via Emmanuel Perry's line combinations website shows that Washington's current third pairing of Orlov and Schmidt ranks first overall in the entire league out of 105 total defensive pairs who have played 50-plus minutes together this year.
While playing a total of 100:27 of ice time together as a defensive unit during nine games, the two up-and-comers sport an incredible 61.94 shot attempt percentage. Further illustrating Orlov's brilliance on the blue line, the seventh-overall defensive pairing in Corsi-for is Orlov and Chorney, who have played five games together thus far, at 58.88 percent. It's no coincidence Orlov appears twice in the top 10, and it shouldn't be a surprise.
He has all the makings of becoming a permanent second-pair, potentially even top-pair defenseman for the Capitals in the very near future. If needed, there's no doubt Orlov has the talent to step into one of those two roles at the flip of a switch. His top-tier skating ability, uncommon elusiveness, and raw offensive instincts have his horizon looking quite bright in Washington.
As was the case at the start of this season, he'll certainly be anxiously waiting to break down the next door that cracks open in front of him.
Dom Simonetta covers the NHL's Washington Capitals for THW. He graduated from North Central College in Naperville, Illinois with a bachelor's degree in sports journalism. Follow him on Twitter @dasimonetta.