Pittsburgh Penguins GM Jim Rutherford has been arguably the most active General Manager in the league since taking over in Pittsburgh. In fact, he has completed nine trades in his short tenure at the helm, one of which being the blockbuster that brought Phil Kessel to the Penguins in July. And, with all indications pointing to Rutherford wanting to acquire a defenseman at some point prior to the 2016 deadline, keep your eyes peeled as the market for Pittsburgh is shaping up nicely.
I recently discussed that the Penguins' defensive woes could force their hand in trade talks. Since then, they have improved considerably but still lack a legitimate top-four defensive corps. Ian Cole has struggled alongside Kris Letang and although the pairing of Brian Dumoulin and Ben Lovejoy has been the best duo on this blue line, Lovejoy is far from the ideal top-four defenseman. Olli Maatta will get his shot at top-pairing minutes with Letang going forward but Rutherford still wants to add an impact defenseman. In fact, in his Friday Insider posted late last night, Josh Yohe of DKonPittsburghSports.Com posted a discussion with Rutherford about this exact topic. Rutherford had the following to say…
"At some point (this season), I think we're going to have to add a top-three or top-four defenseman. It's something that we'd like to do. Do we have the right top-six guys right now? We might have to make a change there."
Thankfully for the Penguins, there are multiple teams that may be looking to move defensemen that fit their needs. A few of the names out there have been floated for quite some time but new possibilities are surfacing quite frequently. We're getting a better picture of who is shaping up to be a contender and who may be sellers as the season progresses. And considering Rutherford's track record, the Pittsburgh Penguins could be starting their holiday shopping very soon.
Rutherford Approaching His Busiest Time of Year
I revisited Jim Rutherford's trades from his time with the Carolina Hurricanes and Pittsburgh Penguins. One thing is very, very clear. Rutherford ramps up his trade volume in a big way once December and January roll around and like many GM's, he's clearly no stranger to making trade deadline deals. Below is a breakdown of his in-season trade history.
October – 2 Trades
November – 6 Trades
December – 11 Trades
January – 16 Trades
February – 16 Trades
March – 21 Trades
Given his past and how the market is shaping up for available defensemen, an obvious need for the Penguins, I'd look for talks to pick up over the next few weeks. There are too many teams around the league in the market for defensive help for Rutherford to hold off too long and the fact that many view the Penguins as a possible contender could add to that pressure. There's a fine line between remaining patient in order to avoid overpayment and striking when the iron's hot and at the moment, the iron is heating up quite nicely.
One major question, of course, is what assets the Penguins have that can fetch them the kind of return they desire. You obviously deal from areas of surplus, which in the case of Pittsburgh, would mean a winger and/or goaltending prospect. There should be very few names that are protected from being moved, including Patric Hornqvist if the deal makes sense. Daniel Sprong's play and continued development may mean a guy like Hornqvist is more expendable than once believed.
Names Being Floated That Fit the Pittsburgh Penguins
Kevin Shattenkirk is a name that has circulated the rumor mill for quite some time now. With an expiring contract and the promising young defensemen within the Blues' system, it seems that the writing is on the wall. The Blues are also a team with some key injuries up front but so far, they haven't been impacted as much as some believed. I do see Shattenkirk as someone who could possibly be on the move this season but it may not happen until closer to the deadline.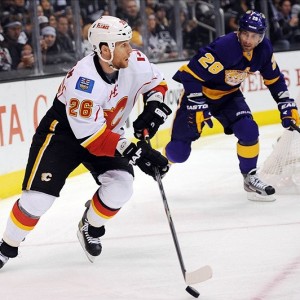 The Calgary Flames are a team in the midst of a downward spiral and they're searching for change. That change may include moving Dennis Wideman or Kris Russell, which was again floated by TheFourthPeriod.Com yesterday. According to TFP, General Manager Brad Treviling is "scouring the market, fishing for trade options". Russell is the more cap-friendly of the two but will be an unrestricted free agent after this season. Wideman would be tough to fit under the cap, depending on what Pittsburgh would send the other way but would be the better fit for what the Penguins need and is under contract for one additional year. He carries a cap hit of $5.25 million.
During Bob McKenzie's segment on TSN 1050 yesterday, he discussed that the Ottawa Senators would "potentially move any defenseman not named Karlsson and possibly Methot" if they had the chance to acquire a scoring forward. Bob Murray is uneasy with how the season has started for the Sens and may feel the need to shake things up. The issue with Ottawa is that they don't necessarily have an impact defenseman past Karlsson and Methot. Patrick Wiercioch's name has been mentioned on occasion and he has played well but I don't believe he fits what the Pittsburgh Penguins are seeking.
The Edmonton Oilers are a team that many have pegged to move a defenseman at some point in the near future. Nikita Nikitin is a name that continues to come up and with his recent struggles that landed him in the AHL, it's believed that Edmonton would give him away for almost nothing. Also, it's expected that they'll retain salary. Nikitin is interesting as he has been fairly productive and has the talent to be an impact defenseman but hasn't reached that ceiling in Edmonton. Although, you'd never know that by looking at his HERO chart, courtesy of ownthepuck.blogspot.ca.
Another intriguing name out of Edmonton is Mark Fayne. The Penguins have struggled with shot-suppression and overall defensive play and Fayne helps address that issue. He carries a manageable $3.625 million cap hit, which makes him more attractive to a team like the Penguins.
Lastly, while no specific names are being dangled just yet, keep an eye on the Chicago Blackhawks. As Bob McKenzie discussed in the most recent edition of Insider Trading, the Blackhawks will soon have a surplus of defensemen as they get a few players back from injury. There's no indication on whether or not they'll be moving blue-liners or placing them on waivers but it's certainly something to keep an eye on.
Pittsburgh Penguins writer for TheHockeyWriters.Com and PittsburghHockeyNow.Com. Youth hockey coach, and student of the game.