Dave Lowry wouldn't commit to a Western-heavy roster for Canada at the upcoming world juniors.
He wanted to see what the rest of the country had to offer, with the Canada-Russia Series moving east to the OHL before culminating in the QMJHL. But Lowry, in his fourth season coaching the Victoria Royals and his first as bench boss for the national junior team, had to like what he saw from the players he's most familiar with as Team WHL swept the Russians 7-3 and 4-2 to start that showcase earlier this week in British Columbia.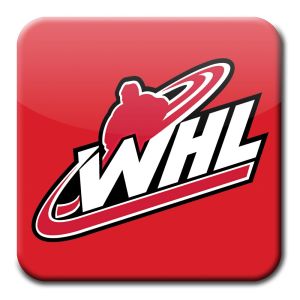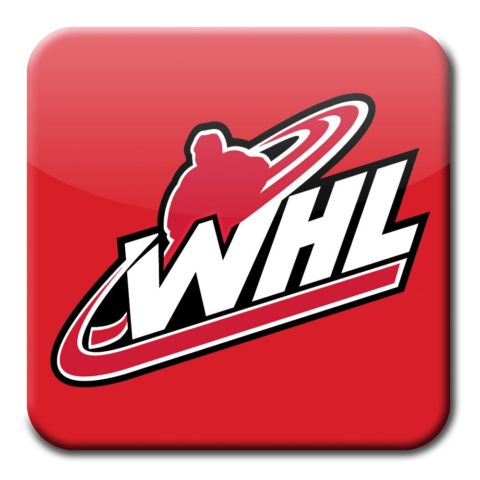 In Monday's opener from Kelowna, which I had the privilege of covering, Team WHL overwhelmed the Russians in racing out to a 6-0 lead after 40 minutes before receiving a little pushback — or, rather, experiencing a little letdown — in the third period to make that result appear less lopsided than it was.
To me, the Western Canadians came out energized and treated it like a world-junior game. The Russians looked much less enthused from the initial puck-drop, almost as if they were going through the motions of an exhibition game.
Team WHL was winning every race to loose pucks, every battle along the boards, and attacking in waves. It was no contest, though the Russians could perhaps blame jet lag from their 30-hour flight. They were much more competitive the next night in Kamloops, from goaltender Maxim Tretiak on out. But Team WHL was every bit as deserving of that victory after nearly doubling the Russians in shots on goal (39-20) despite only pulling ahead in the final four minutes and then adding an empty-netter.
At least the latter game was close throughout and more reminiscent of what Canada — with representatives from all three CHL leagues — came up against at the Summer Showcase in Calgary. There, in early August, Canada settled for a split with the Russians, winning 4-1 before losing 3-2 in a shootout.
Nobody was expecting the kind of blowout we witnessed in Kelowna, and granted that wasn't the Russians' best effort, but it spoke to the dominance and depth of the WHL.
Brayden Point was on another level, clearly the best player on the ice. That may not be surprising, considering he's a returning forward from Canada's gold-medal-winning team at the 2015 world juniors in Toronto and that he's leading the WHL in scoring as a goal-a-game guy for the Moose Jaw Warriors with 16 goals and 39 points in just 16 games. You see him lighting it up in the boxscores — averaging almost 2.5 points-per-game — but we rarely get to see him live in Kelowna (once every two seasons and sadly not this season), so it was neat to watch him work his magic.
Point is going to be another huge steal for Tampa Bay — as a third-rounder (79th overall) in the 2014 draft — and I wouldn't be surprised to see him stick in the NHL next season as a near clone of the Lightning's Tyler Johnson.
http://gty.im/461100912
First, we'll get to watch him shine at the world juniors. Point cracked last year's roster as the 13th forward but climbed Canada's depth chart as the tournament progressed. This time around, he's going from a supporting role to a starring role and Point really looks ready for it. He'll have big skates to fill as Canada attempts to repeat as champion — overseas in Helsinki, Finland — without the likes of Connor McDavid, Max Domi and other key players now in the NHL. It's crazy to think McDavid could play two more years in the world juniors, or that Aaron Ekblad is still eligible for this year's team too.
Going back to Kelowna and to the Canada-Russia Series, Point made his linemates — Collin Shirley and Deven Sideroff, both of the Kamloops Blazers — look like world-junior players even though neither of them are on Canada's radar. At least they weren't, summoned as last-minute injury replacements because of their proximity to the location of the games, yet extremely unlikely to get invitations to next month's selection camp. They remain long-shots, although Shirley might have played his way into the conversation by setting a WHL record with five points (one goal, four assists) over the two games, including four (1G, 3A) while flanking Point in the opener. My take is that Point's spot on Canada's team is safe — he's one of only three eligible returnees playing in the CHL, along with WHL defenceman Joe Hicketts and OHL power forward Lawson Crouse — so Lowry slotted Point between the two perceived weakest links and he turned them into Team WHL's best line. Yes, he's that good.
http://gty.im/461067884
Hicketts was a force in his own right. He's another lock for Canada, as the only veteran blue-liner and having played his entire four-year junior career for Lowry in Victoria. Still, Hicketts was hardly taking it easy against the Russians — or taking it easy on them, showing off his physical side by flattening a few unsuspecting opponents. You don't expect to get knocked on your butt by a guy Hickett's size — listed at 5-foot-8 and 177 pounds — but that's a big part of his game, along with great offensive instincts and underrated defensive abilities. The Detroit Red Wings took notice of that total package and overlooked his height to sign him last summer after Hicketts was passed over in the 2014 draft. Scouts for the other 29 teams must be shaking their heads over that one, or hanging them in shame.
Hicketts kept it simple against the Russians, playing to his strengths and making smart plays with the puck all game long. He was noticeable for the right reasons on several occasions, but he wasn't the biggest standout for me on defence.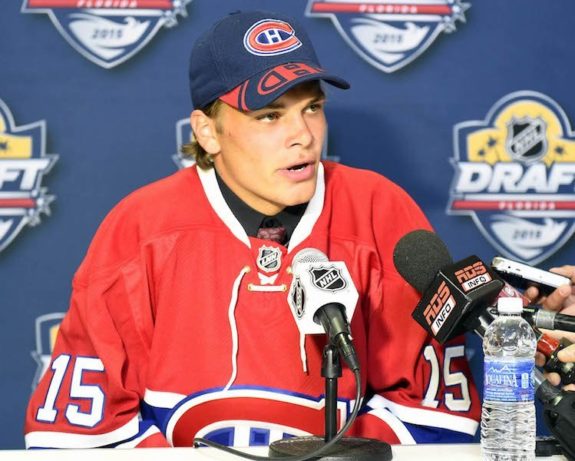 That would have been Noah Juulsen, a Montreal Canadiens defence prospect who plays for the Everett Silvertips. I was really impressed by him and felt he might have been the WHL's second-best player behind only Point. I had the book on Juulsen — a late first-rounder (26th overall) in this year's draft — but he hadn't shone like this in past showings in Kelowna and his stats weren't jumping off the page with only two goals and seven assists in 11 games for an offensively-challenged Everett club. The Silvertips' leading scorer, forward Patrick Bajkov, has only nine points in 14 games and their leading goal-getter, Matt Fonteyne, has lit the lamp just four times in as many (14) games — the team has scored a league-low 29 goals in 14 games (2.07 per game), while the second-worst Kootenay Ice have 44 in 19 (2.32) heading into this weekend.
That's neither here nor there as it pertains to Canada's world-junior team, but by contrast to Juulsen, Hicketts has one goal and 21 points in 20 games for the Royals. That has Hicketts sitting second overall in defence scoring, one point behind Travis Sanheim of the Calgary Hitmen, who has six goals and 22 points in 18 games. Speaking of Sanheim, he suffered an upper-body injury just prior to the Canada-Russia Series and had to skip those games, but is a strong candidate for the world-junior roster as a higher first-rounder (17th overall, Philadelphia Flyers) in 2014. And don't forget Haydn Fleury, a top-10 pick from that same draft (7th, Carolina Hurricanes) and a workhorse for the Memorial Cup host Red Deer Rebels.
I can't imagine that Lowry and Hockey Canada's brass would take four defencemen from the WHL to Finland, so that makes for an uphill battle for Juulsen, especially being a year younger than those other three. But Juulsen certainly made a strong case for himself in Kelowna — showing off his heavy shot and even scoring a highlight-reel goal on a backhander from the slot after activating from the point and dangling around a defender — so I could totally see him in attendance at selection camp. I think he earned that much, and being the smooth skater that he is, Juulsen might prove to be a better fit than somebody else for the bigger ice surface that Canada will encounter in Helsinki. He's definitely a name to keep in mind going forward.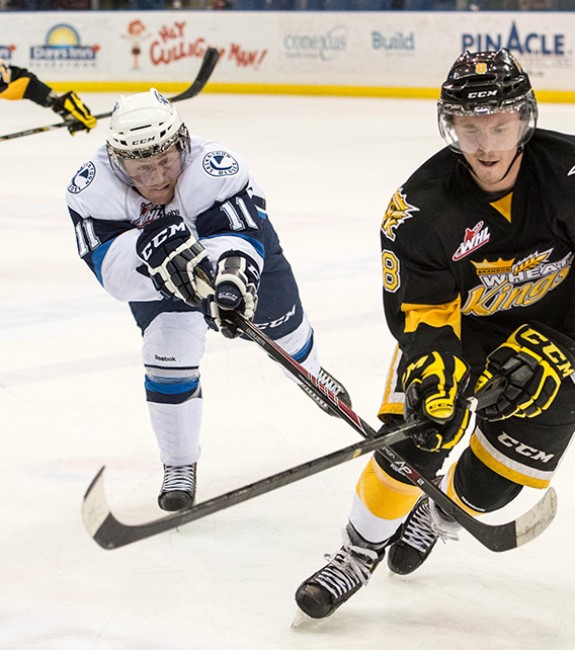 Up front, besides Point, I thought two wingers with similar skill-sets emerged from the pack as roster contenders. Those being Conner Bleackley — Fleury's teammate with the Rebels — and Jayce Hawryluk of the Brandon Wheat Kings. Hawryluk picked off a pass to score the winning goal on a clear-cut breakaway in Tuesday's rematch — ripping a shot top-shelf on Tretiak — after hitting the post on much the same chance Monday. He kind of reminds me of Hunter Shinkaruk from his WHL days, but with a little less speed and a bit more grit to his game. Hawryluk was the second pick of the second round two years ago by the Florida Panthers and seems like a player who could play up-and-down the lineup for Canada, including in an energy role.
Ditto for Bleackley, who had plenty of pep in his step for Monday's game — scoring a goal to make it 4-0 after coming close on a few quality chances before that. He's also a guy with plenty to prove — having recently been stripped of his captaincy in Red Deer and previously getting called out by Patrick Roy for coming to Colorado Avalanche training camp out of shape as a first-round pick (23rd overall) in 2014 — but Bleackley had no trouble playing up to the pace against Russia. There are some question marks about his character — similar to Josh Ho-Sang of the OHL's Niagara IceDogs — so I'm sure Lowry was trying to get a read on that as much as Bleackley's on-ice ability.
This seems to be a strong year for OHL forwards, so there might only be room for one of Hawryluk or Bleackley on Canada's roster, but I think they'd look pretty good on the same line. Lowry might agree, but remember he's wanting to avoid a Western bias, although he was adamant that he'll take the 20 best players regardless of where they're from.
http://gty.im/460597742
I'd say five more WHL forwards could become factors, including a trio of 2015 first-round picks in Mathew Barzal of the Seattle Thunderbirds (New York Islanders, 16th overall), Nick Merkley of the Kelowna Rockets (Arizona Coyotes, 30th) and Jake DeBrusk of the Swift Current Broncos (Boston Bruins, 14th). Then there is Merkley's teammate in Kelowna, Rourke Chartier (San Jose Sharks, 5th round, 2014) if he's healthy, having been one of Canada's final cuts last year but currently sidelined week-to-week with an undisclosed upper-body injury that has kept him out since early October. Last but not least would be Calgary Hitmen alum Jake Virtanen, if he's loaned to Canada by the Vancouver Canucks as another member of the 2015 golden team. That would be a similar situation to Curtis Lazar, who was freed up by the Ottawa Senators last year, but there has been no indication one way or the other from Vancouver's brass. Worth noting, GM Jim Benning did not loan Bo Horvat last season, but he was playing a bigger role on the Canucks than Virtanen is right now.
I don't see any WHL goaltenders on Team Canada this year. Adin Hill of the Portland Winterhawks was pretty solid in Tuesday's win over Russia and Zach Sawchenko stopped all nine shots he faced in starting Monday's game before giving way to Carter Hart, who yielded three third-period goals in mop-up duty.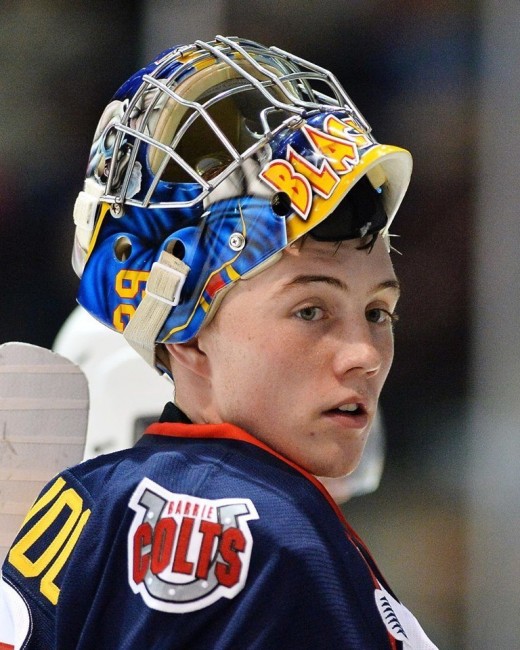 I'm pretty sure we'll see an OHL-QMJHL tandem in Finland, with my money on Mackenzie Blackwood (OHL's Barrie Colts, New Jersey Devils, 2nd round, 42nd overall, 2015) and Mason McDonald (QMJHL's Charlottetown Islanders, Calgary Flames, 2nd round, 34th overall, 2014).
As mentioned, the OHL is packing the most offensive punch and Point's likely linemates, with that group highlighted by the third and fourth overall picks in this year's draft — Dylan Strome (Arizona Coyotes) and Mitch Marner (Toronto Maple Leafs). Crouse (Florida Panthers, 11th, 2015), Travis Konecny (Philadelphia Flyers, 24th, 2015), Michael Dal Colle (New York Islanders, 5th, 2014), Brendan Perlini (Arizona Coyotes, 12th, 2014), Zachary Senyshyn (Boston Bruins, 15th, 2015) and Ho-Sang (New York Islanders, 28th, 2014) are also very much in the mix.
Again, as unlikely as it is for the WHL to account for four of seven defencemen, it's equally doubtful that the OHL will account for eight of 13 forwards, but neither is impossible.
The OHL doesn't appear as strong on the back end, but draft-eligible Jakob Chychrun could be an intriguing option, while fellow blue-liners Roland McKeown (Carolina Hurricanes, 2nd round, 50th overall, 2014), Travis Dermott (Toronto Maple Leafs, 2nd round, 34th, 2015) and Vince Dunn (St. Louis Blues, 2nd round, 56th, 2015) would seem like the best bets to at least be invited to selection camp.
The QMJHL could also send a few defencemen — any of a handful of 2015 picks in Thomas Chabot (Ottawa Senators, 1st round, 18th overall); Jeremy Roy (San Jose Sharks, 2nd round, 31st); Jeremy Lauzon (Boston Bruins, 2nd round, 52nd); Guillaume Brisebois (Vancouver Canucks, 3rd round, 66th); and Nicolas Meloche (Colorado Avalanche, 2nd round, 40th), in my order of preference — plus forwards like high-scoring New York Islanders first-rounder Anthony Beauvillier (28th in 2015) and perhaps draft-eligible Julien Gauthier.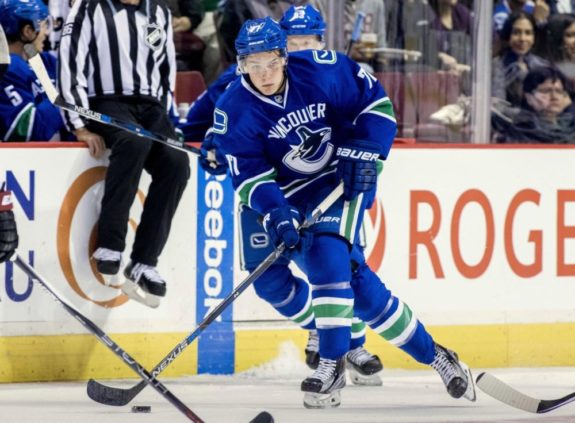 As you can see, with only the aforementioned three returnees — barring the loan of Virtanen, or less likely Robby Fabbri of the St. Louis Blues — there is going to be lots of healthy competition over the next month for camp invites and, ultimately, for roster spots.
Lowry has temporarily vacated his Victoria post to follow the Canada-Russia Series from coast to coast — continuing with the OHL's 3-0 victory on Thursday night in Owen Sound, Ont., followed by Monday's rematch in Windsor, Ont. The series wraps up with stops in Rouyn-Noranda, Que., and Halifax, N.S., against top talents from the QMJHL.
After that, Lowry and his scouting staff will narrow it down for selection camp — also keeping a close eye on those recovering from injuries — as Canada attempts to ice the best possible group of 22 players to defend gold come Christmastime.
As of today, this is my best guess at what that roster might look like (assuming no NHLers are loaned):
Forwards
Mitch Marner-Brayden Point-Lawson Crouse
Travis Konecny-Dylan Strome-Michael Dal Colle
Josh Ho-Sang-Mathew Barzal-Anthony Beauvillier
Jayce Hawryluk-Rourke Chartier-Conner Bleackley
Julien Gauthier
Selection Camp = Nick Merkley, Jake DeBrusk, Brendan Perlini, Zachary Senyshyn.
Defencemen
Travis Sanheim-Haydn Fleury
Joe Hicketts-Thomas Chabot
Roland McKeown-Travis Dermott
Jeremy Roy
Selection Camp = Noah Juulsen, Jakob Chychrun, Vince Dunn, Jeremy Lauzon, Guillaume Brisebois, Nicolas Meloche.
Goaltenders
Mackenzie Blackwood
Mason McDonald
Selection Camp = Samuel Montembeault, Adin Hill.
Larry Fisher is a sports reporter for The Daily Courier in Kelowna, British Columbia, Canada, and has been an at-large contributor for THW since August 2014. Follow him on Twitter: @LarryFisher_KDC.
Larry Fisher is a senior writer and head scout for The Hockey Writers, having been an at-large contributor for THW since August 2014. Fisher covers both the NHL and the WHL, specializing in prospects and NHL draft content, including his annual mock drafts that date back to 2012. Fisher has also been a beat writer for the WHL's Kelowna Rockets since 2008, formerly working as a sports reporter/editor for The Daily Courier in Kelowna, British Columbia, Canada from 2008-2019. Follow him on Twitter: @LarryFisher_KDC.