When he entered the league in 2002 as the 234th overall pick by the Pittsburgh Penguins, Maxime Talbot appeared to be a player not destined for super stardom but rather a lengthy career in the AHL.  In his first three seasons with the Pittsburgh organization Talbot went back and forth between the two leagues, making the most of his chances in the NHL when he got them.  Finally during the 2007-08 campaign he became a mainstay and eventually proved to be an important puzzle piece for the Penguins.
This offseason, Talbot – who had called Pittsburgh home for seven years – was pursued by Philadelphia Flyers general manager Paul Holmgren, as he thought Talbot would be a perfect fit for the team, due to his hustle and hard-nosed style of play.  At 27-years-old, Talbot already had an NHL resume that some players can't match in an entire career, which included a Stanley Cup victory where he scored two goals in the deciding game seven.
After the fire sale of Mike Richards and Jeff Carter this summer, the Flyers were in need of a solid center and began looking throughout the league.  Holmgren might have had an eye for Talbot due to the frequency the two teams saw each other and the fact that he would often score big goals against the Flyers.  Talbot had two game-winners against Philadelphia in his career, one of which came in game two of the 2008 Conference Finals – his first game back from a broken foot.  Talbot decided to join the rebuilding Flyers, signing a five-year contract worth $8.75 million and so far the third line center has been worth every penny for the orange and black – the team he scored his first NHL goal against just six years prior.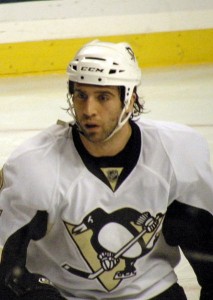 Flyers fans didn't immediately warm up to Talbot, for much of the same reasons Philadelphians couldn't get used to Jaromir Jagr – they simply connected him with their cross state rival.  He had played so long for Pittsburgh that fans couldn't warm up to him because of his past.  It would take time for fans to not only get used to Talbot but begin to embrace him, much like many of the other new acquisitions.
Coach Peter Laviolette has constantly experimented with Talbot, bouncing him between the third and fourth lines, while also having a revolving door of linemates thanks to injuries and chemistry.  Jakub Voracek and Wayne Simmonds have split time on the right wing, while Laviolette has recently mixed in the rookie duo of either Harry Zolnieczyk or Matt Read.  Talbot has proven he can get it done, no matter who's on his line.
Despite the fact that he takes a minimal amount of shots, he currently leads the team in shot percentage at 33.3%.  In 14 games, Talbot has eight points – five goals and three assists – and is on pace for a career high in both goals and points.  It seems highly unlikely that he wouldn't surpass his eight goal total from last season with the Penguins.
But his play translates to more than just paper.
Talbot brings lots of energy each and every shift and has been one of the better penalty killers in the NHL the past two seasons, an asset the Flyers certainly needed after the departure of Richards and the loss of the injured Blair Betts.  He has also proven to be a natural leader, a guy teammates can look to at crucial points in a game.  It's rare that after just one month a new player will wear the "A" but when team captain Chris Pronger went down with an eye injury, Talbot earned the letter and became an assistant captain.
Probably the best thing for a coach like Laviolette, who constantly revamps lines is that Talbot can play all three forward positions and shoots left.  This is certainly an added bonus especially when the injury bug begins to hit typically in January.  Sometimes it is Talbot who is bit by that bug, though.  He has been labeled injury-prone throughout his career and has only one played one complete season.  The Flyers hope that is not the case this season, as Talbot could prove to be one of the most important pickups the Flyers made this offseason.
Right now he is probably the most important Flyer no one knows, as he is still flying under the radar Philadelphia.