| | | | |
| --- | --- | --- | --- |
| Born: | June 12, 1973 | Position: | Center |
| Hometown: | Jyväskylä, Finland | Shoots: | Right |
| Known For: | Hall of Fame | Current Status: | Retired |
| National Team: | Finland | | |
Hanna-Riikka Sallinen née Nieminen (previously Välilä; born June 12, 1973) is a Finnish retired ice hockey, bandy, rinkball, and pesäpallo player. She is one of the most highly decorated players to have ever competed in international ice hockey.
Sallinen played sixteen seasons with the Finland women's national ice hockey team and earned two Olympic bronze medals, one World Championship silver and six bronze medals, and three European Championship gold medals. In 2007, Sallinen was one of the first two women inducted into the Finnish Hockey Hall of Fame, along with defenceman Marianne Ihalainen. She was inducted into the IIHF Hall of Fame on May 21, 2010, in Cologne, Germany as part of the World Championship festivities; she was only the fourth woman and the first European woman to receive this honor. She is currently the leading all-time European scorer in World Championships and Olympics.
Sallinen's bronze medal at the 2018 Olympics in PyeongChang made her the oldest player to ever win an Olympic medal in ice hockey, replacing her compatriot Teemu Selänne who set the record at the 2014 Winter Olympics after winning bronze in the men's ice hockey tournament at age 43. Sallinen was awarded the medal at age 44, twenty years after she first won an Olympic medal in the inaugural women's Olympic hockey tournament.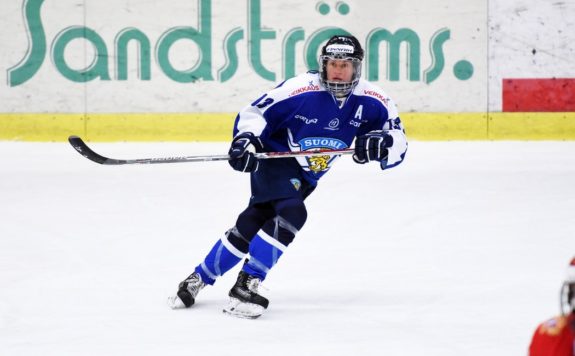 Riikka Sallinen Statistics
Achievements
Inducted into the Hockey Hall of Fame (2022)
World Championship (W) Top 3 Player on Team Finland (2019)
World Championship (W) Silver Medal (2019)
2x Olympic (W) Bronze Medalist (1998, 2018)
6x World Championship (W) Bronze Medalist (1990, 1992, 1994, 1997, 2015, 2017)
SDHL (W) SM-silver Medal (2017)
5x SM-sarja (W) Best PPG (1989, 1994, 1997, 2015, 2016)
2x SM-sarja (W) Champion (1998, 2016)
SM-sarja (W) Most Valuable Player in Playoffs (Karoliina Rantamäki Award) (2016)
Finnish Hockey Hall of Fame (Jääkiekkoleijona) (#190) (2008)
Olympic (W) Most Points (1998)
3x World Championship (W) All-Star Team (1992, 1994, 1997)
2x SM-sarja (W) Most Points (Marianne Ihalainen Award) (1994, 1997)
2x SM-sarja (W) Most Assists (1994, 1997)
3x SM-sarja (W) Champion (1989, 1994, 1997)
3x European Championship (W) Gold Medal (1989, 1994, 1995)
World Championship (W) Best Forward (1994)
SM-sarja (W) Most Goals (Tiia Reima Award) (1994)
Sources