The rules of the NHL All-Star game state that at least one player from each of the 30 teams in the league must take part in the game. PK Subban was the only player from the Montreal Canadiens to make the cut for the All-Star game, while some teams have multiple players going. For example, three players from Washington were chosen by the NHL to participate in the All-Star game.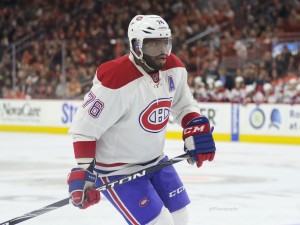 Is Subban The Right Player To Represent Montreal?
PK Subban, a defenceman, leads the Canadiens in points this season. He is 37th in the league in points- one point shy of Steven Stamkos. With regards to defencemen, he sits at 4th in scoring. He leads the Canadiens in time on ice per game as well as even strength 5v5 TOI per game. He is the #1 slot on the team's defensive depth chart. Subban is a team high +6 (+/-) on a team full of negatives.
No, this is not a PK Subban fandom article. The fact of the matter is that this is a player who often takes a lot of blame for the problems in Montreal this year, and unrightfully so. Yes, he sometimes tries to do too much in his own end and causes trouble, but if you watch the other best defencemen around the league, you would notice that they too make errors from time to time. If Habs fans are waiting on a defenceman to come around who does not give away the puck in their own end from time to time, get comfortable, because you'll be waiting forever. Watch Drew Doughty or Shea Weber on a nightly basis. You will notice that these defencemen make mistakes as well.
Is He Truly Worthy?
Does PK Subban really deserve to be an NHL All-Star? What if the rule of "one player from every team" did not apply when choosing the All-Star rosters? The simple answer, is yes. Subban is a part of the nucleus of this Montreal hockey club. In comparison to his defensive counterparts, he holds a 5V5 CF of 54%, which is higher than Duncan Keith, Shea Weber, Alex Pietrangelo, and Justin Faulk, just to name a few. He is not having a groundbreaking offensive season, but 37 points in 50 games for a defenceman is nothing to complain about. In the department of High Danger Scoring Chances while on the ice, PK Subban is an impressive +12, which is higher than Keith, Pietrangelo, and Faulk (Shea Weber is a whopping +34).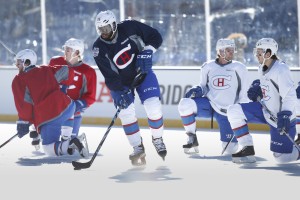 PK is in good company. He brings a lot to the table for Montreal. Every defencemen has drawbacks to their game, including PK Subban. But at the end of the day, PK deserves to be an NHL All-Star this year. Fans did not vote him in. The NHL committee chose him to represent Montreal. They picked the right man for the job. This player represents his team with pride and truly understands what it means to be a Montreal Canadien, but those are just bonus traits. The truth is, PK Subban is one of the better defencemen in the NHL and has rightfully earned his place in the NHL's All-Star game.