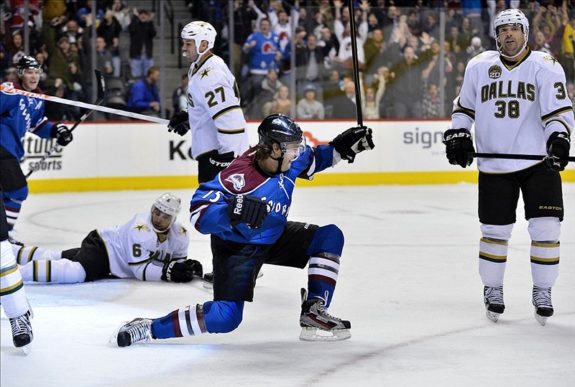 If you are in the fantasy hockey business long enough, you run into a lot of fellow experts that you respect. Carlos Figueiredo is one of those guys that will play just about any and every daily fantasy league out there. I do it every so often myself so it makes a lot of sense to go exploring on a Saturday night to see what values and plays are out there.
Carlos plays anywhere from 10-15 entries in a variety of daily leagues. Here is his DraftStreet entrant for Wednesday night.
[Don't Miss DraftStreet's Free to Enter $500 Hockey Fantasy Game]
A DraftStreet Daily Winner

The construction of a team is always interesting. The fun thing is that over the next weeks and months, we will spotlight some of the best and brightest from the daily fantasy hockey industry. Why? That's because we want you to make money. The reader makes money and they recommend us to others. They make money and so on and so forth. This is how it works.
Again please look at the DraftStreet format. There are two C, LW, RW, and D each but there is one goalie and one FLEX position. The FLEX is always an interesting wrinkle and not every daily platform has that.
Anatomy Of The FLEX
What do you do about the FLEX? It's always an intriguing question err dilemma. There are many things to consider but here are a few.
Value

Stat filler

Cap space

Makeup of rest of the team
These four points are integral in picking the best FLEX player for your daily team. There has to be some intrinsic value in adding this player. Why just throw a player in the FLEX without at least doing a little research? After all, that last pick may be the difference between placing in the money and winning $0.
Most nights there is this inkling to always go with a mid tiered defenseman or Center. A defenseman can fill so many categories, including blocks, hits, and PIMS. If you add in the possible offensive production, then one can see why the defense never should rest in a daily fantasy league. Those stat fillers are hard to find and though your defense mostly produces assists, some find the back of the net with more frequency than you may expect.
Cap space also is vital. My rule of thumb is always to pick every position but the FLEX. I leave it until the very end so I can go back and find the best fit possible with the cap space I have. For DraftStreet, if I can have between $8000 and $10,000 for my FLEX then that leaves me a very good feeling. Just make sure you properly carry your 1's and add to see how much cap space you actually have left.
Lastly, take a quick look at the makeup of your team. There may be another value just waiting out there or a last minute injury that may have not been indicated yet. Always check to make sure your full roster is playing, and even that FLEX position too. Maybe your FLEX needs a forward perhaps. It is always up to you after all.
================================================
That is it for this week. Next week, we take a look at how some injuries are affecting daily fantasy hockey lineups. You can follow me on Twitter @ChrisWasselTHW. Good luck and thanks again for reading.
Simply a hockey writer who is a jack of all trades. No question is too big or too small and in fantasy hockey there is no such thing as a stupid question. Now a proud, accredited member of the FSWA. I am also a New Jersey Devils lead writer, prospects writer, humorist, and so much more. You can find me on Twitter at @ChrisWasselDFS