HERSHEY – Playing in their own hometown is an experience many athletes dream about, but most don't get to live. Washington Capitals 22 year old forward prospect Garrett Mitchell accomplished that feat playing for the Western Hockey League's (WHL) Regina Pats during his youth,playing in Regina, a Canadian province of Saskatchewan.
He played in five seasons for the Pats, including four full seasons. Mitchell totaled 112 points in 264 career WHL regular season games, along with a goal in six playoff games during the 2007-08 season. His best season for the Pats came during his final year with the team, the 2010-11 campaign, where the Regina native compiled 52 points with 18 goals and 34 assists in 70 games.
"It was awesome," the former Pats forward said of playing in Regina. "Obviously playing in my hometown, it was great. We had some good teams, we kind of underachieved a little bit, but to be playing in home town and in front of a pretty good crowd every night it was a lot of fun."
After his time in the WHL, Mitchell was drafted by the Washington Capitals in the sixth round of the 2006 NHL entry draft, with their 175th overall selection. He's spent his first two seasons outside of Junior hockey with the AHL Hershey Bears, earning his ice time to a more scoring role as he progresses, including substantial time on Hershey's penalty kill. He compiled 15 points during his 65 game rookie season and doubled that total with a 30 point performance during the 2012-13 season. He was named an alternate Captain for the Hershey Bears this season, as he enters the final year of his entry level contract.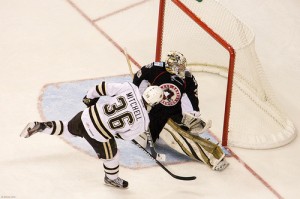 "Obviously it's a huge honor," Mitchell said of being name as a Hershey Bears' alternate Captain this season. "Especially like an organization like this, but at the same time we got a lot of guys that can run a leadership role. I think the big thing for me is to go play on the ice, try and keep the guys positive and keep them going."
Last season he played with AHL veteran Boyd Kane, who later left with then Hershey Bears' coach Mark French to play in the KHL. Mitchell played with Kane on Hershey's third forward line and was mentored by the Bears' legend.
"I work out with him in the summertime," said Mitchell. "Honestly Kaner (Boyd Kane) was like my dad when I came in. He really took me under his wing and made sure that everything was going well for me."
"That's something I really respect out of him. At his age, he doesn't have to do that and he definitely took me under his wing and obviously taught me a lot of things. I can't say enough about the guy, obviously he's had a great career in both in the NHL and the American Hockey League."
French had large praise for Mitchell in his final year as the Bears' bench boss, speaking highly of the gritty forward after he scored an overtime winning goal for Hershey in a regular season win over the Bridgeport Sound Tigers.
"He's obviously demonstrating more offensive confidence this year, which is probably reasonable to assume with his development. He's going to play in the NHL, I've got no doubt about it. If he continues to blossom, he's a pretty important player for the organization."
He's gotten the chance to talk to fellow Capitals' prospect Chandler Stephenson, who plays for the Regina Pats in the WHL and could join Hershey on an amateur tryout agreement after his junior season ends this spring. Stephenson, 19, has 22 points in 18 WHL games this season, including two power play goals and three shorthanded tallies on the year. He's in the top twenty in WHL scoring as well.
"He's been having another good year," Mitchell said of Stephenson. "He's a great player. Obviously a player that I think can have a long NHL career. I'm excited for him to see what he can do in the professional ranks. He's a good guy to keep pushing everyone else. He's big, strong, a power forward. He's going to be a good pro."
Mitchell is an impressive skater with solid leadership skills. He's very strong on the puck for his size at just under six feet and isn't afraid to drop the gloves and plays physical game. His penalty killing abilities will serve him well as he looks to make the jump to the NHL. Mitchell projects as a bottom six forward at the NHL level.
You can follow Matthew on twitter @m_speck and email him at mspeck21@yahoo.com with any questions or comments.
Matthew Speck covers the Washington Capitals organization for The Hockey Writers. He provides coverage of both Washington at the NHL level and prospect related content. Matthew also covers local sports for the Lebanon Daily News in Central Pennsylvania. You can email him at mspeck21@yahoo.com with any questions or comments.