For fantasy hockey managers, losing a starting goaltender could be a huge blow to their team – especially those that are playing in leagues where goaltending help is at a premium. While fetching a netminder via trade could be an enticing option, the free agency pool might just have exactly what fantasy managers might be looking for.
Of course, depending on how deep one's league is, the chances of finding a formidable goalie might be slim, but there are still a number of players that managers can target at this point of the season. With teams shuffling up their goaltending situation occasionally, fantasy hockey managers will have an opportunity to snag a free agent gem here and there, so it's worth taking a look at some of the lesser-owned options available.
[Don't Miss DraftStreet's Free to Enter $500 Hockey Fantasy Game]
Playing Their Way Into Consideration
Carter Hutton (Nashville Predators – G)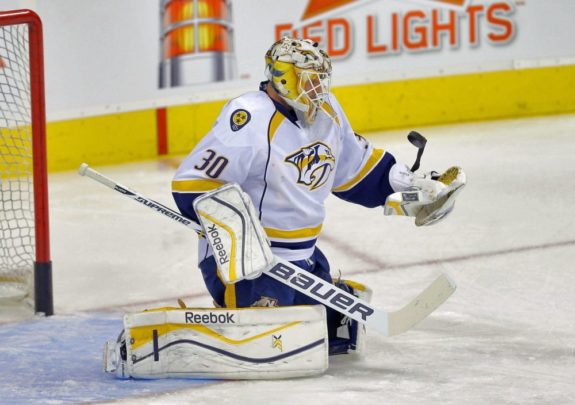 The question here should be, what has Carter Hutton not done since taking over starting duties for an injured Pekka Rinne? At 23% owned in Yahoo! formats, Hutton has been turning in decent performances since inheriting the starting role for the Predators.
Over his last four starts, Hutton has registered a 2-1-1 overall record, but has given up fourteen goals in the process – a statistic that might deter managers from adding the goalie to their roster. Despite the fact that Hutton has given up so many goals over his last several games, fantasy managers should take into consideration that the goalie was facing teams such as the St. Louis Blues, Phoenix Coyotes, and Los Angeles Kings. Fantasy managers shouldn't rush to add Hutton as a little bit of a watchful eye over the netminder might serve well for the time being, but those with goaltending issues should not hesitate to add the goalie as he will receive the bulk of the starts until Pekka Rinne returns.
Reto Berra (Calgary Flames – G)
Berra turned in quite a performance in his first NHL start as Swiss goalie made 44 saves in a 3-2 win over the defending Stanley Cup Champion Chicago Blackhawks. It is likely that Bob Hartley will go with the hot hand in goal over the next several games, so fantasy hockey managers might want to check their leagues for Berra's availability.
Despite the fact that Berra didn't have jaw-dropping statistics overseas or in the AHL, he displayed poise and calmness in his first NHL start – something that could certainly help him get more starts down the line. At 8% owned, it is likely that Berra will still be available in most leagues, but managers should temper their expectations with the Swiss goalie as he still has some work to do on some aspects of his game such as rebound control. Seeing as how Karri Ramo wasn't the best option for minding the Flames' crease over the first several games of the season, fantasy managers should expect Berra to see more time between the pipes for Calgary.
Robin Lehner (Ottawa Senators – G)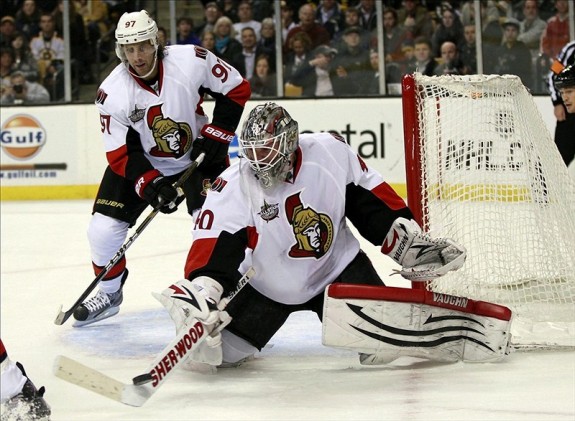 Robin Lehner might not have registered a victory for his W-L-OTL record (0-2-2) just yet, but that doesn't mean that fantasy managers should shy away from the goalie. The Swedish netminder is only 17% owned in Yahoo! leagues and is serving in a backup capacity to Craig Anderson, but his 2.73 GAA and .938 Save Percentage should garner enough attention from managers that need to address their goalie situation.
Recently, Lehner put his poise on display against the New York Islanders as he stopped 53 of 57 shots thrown his way in a 5-4 shootout loss. Fantasy managers should definitely consider adding Lehner as Ottawa's goalie tandem should be one of the best in the NHL right now. Even though Lehner might be a victim of the Senators' spotty defense at this point in time, it would be wise to closely monitor the goalie as he has already played in almost half of the amount of games (5) that he saw during the lockout-shortened '12-'13 NHL season.
Cam Talbot (New York Rangers – G)
Henrik Lundqvist's absence from New York's lineup might have drawn panic from Rangers fans initially, but those feelings were definitely assuaged as Talbot went 2-1-0 with a 1.96 GAA and .929 Save Percentage while Lundqvist was healing. Talbot's performances against the Flyers (2-1 Loss), Red Wings (3-2 OT Win), and Islanders (3-2 Win) were enough to earn the goalie praise from Rangers fans, and fantasy managers should take note as well.
With the Rangers off to a lackluster start to the '13-'14 NHL season, Lundqvist's injury couldn't have come at a worst time, but Talbot's play elevated the team and its confidence as he helped New York to two victories against difficult opponents. Lundqvist will undoubtedly see the lion's share of starts for New York down the line, but it is not secret that the goalie has been heavily taxed (in terms of games played) by the Rangers ever since becoming the team's starter. Despite the fact that Talbot will be backing up King Henrik, fantasy managers should at the very least keep "Prince Cam" on a very close watch-list as he is sparsely owned (3%) in Yahoo! leagues and has proven himself capable of delivering strong performances when his number is called upon for duty.
Kevin Poulin (New York Islanders – G)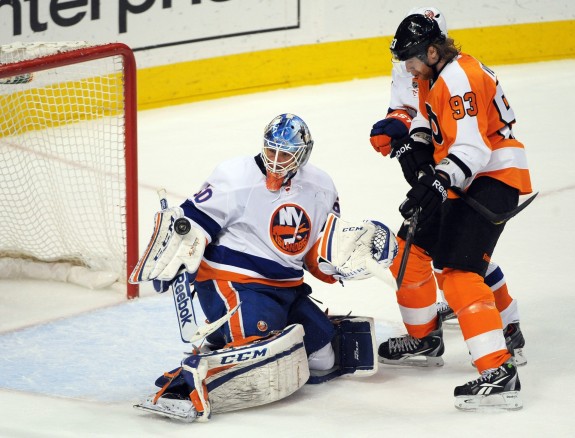 Islanders fans have been waiting a while to see what their goalie prospects are all about, and Kevin Poulin certainly made a case for an extended look after his showing during the Isles' 3-1 victory over the Boston Bruins. Not only did Poulin turn in a noteworthy performance against the Bruins, he has raised questions as to how his playing time will be impacted in the very near future.
Seeing as how Poulin is only 1% owned in Yahoo! formats, fantasy managers probably have every chance to snatch Poulin out of the free agency pool right now. While it is extremely unlikely that Poulin (1-2-0, 2.68 GAA, .907 Save Percentage) will usurp Evgeni Nabokov as the Isles' starter, he has made it that much harder for New York to not give him more starts over this next stretch of games. Since the Islanders will want to keep Nabokov fresh for the remainder of the season, managers shouldn't be surprised to see Poulin get the nod more often – especially if he keeps turning in performances like the one that he had last Saturday night.