Montreal Canadiens forward Zack Kassian no doubt has a huge mountain to climb to get back in the good graces of team management, but his unique combination of size and skill should give him an edge.
Kassian Sent Down
Fresh off his few months in the league's substance abuse and behavioral health program, the 6'3", 217-pound winger was sent down by the Habs to the American Hockey League's St. John's IceCaps, after clearing waivers.
As such, his stock as a soon-to-be 25-year-old former first-round pick has plummeted to its lowest point. No one wants to touch him with a 10-foot pole in other words, seemingly not even Canadiens head coach Michel Therrien who hinted at exactly that sentiment earlier this week, saying, "Honestly, he's not priority. There are a lot of players ahead of him in our organization."
That may not sound like the worst thing one can say about Kassian, but, considering NHL coaches generally like to shelter players from bad press, it's quite telling Therrien would distance himself from any involvement, now or potentially in the future, with the young power forward. And one who plays right-wing no less, where the Habs have been decimated, first by lack of depth, then injury and finally demotion with Alexander Semin, whose contract has since been terminated.
It's Kassian's turn now, but his saga doesn't have to end the same way.
Being the Bigger Man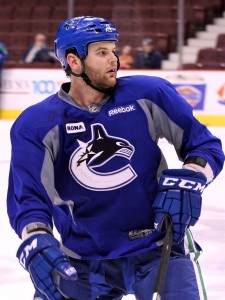 Montreal cannot afford to take the moral high ground here. Not only that, but one can argue simply discarding him right now would actually be the ethically questionable route. That isn't to say Kassian is innocent in all of this. He's where he is for a reason.
However, what does it say about the league's substance abuse program—essentially rehab, which is short for rehabilitation—when those who make it through can't earn a chance at redemption?
No, Kassian won't necessarily turn into movie-of-the-week material—and the onus is still largely on him to prove himself; However, if the Canadiens don't give him that chance, assuming a successful stint in the AHL, all they're saying is the league's program is pointless, that it doesn't matter if Kassian is a changed man or not.
The optics wouldn't exactly be great, arguably worse than had the Canadiens accepted him back with open arms, with no resistance at all. In that regard, they may very well just be doing their due diligence right now.
Due Diligence
The Canadiens could have probably lived with another team claiming Kassian. Sending him down though was a necessary calculated risk, knowing both that he would be a pretty unattractive pick-up for other teams and that, if they do end up eventually getting even some kind of return on their asset, he'll need some playing time first. As such, Montreal had to send him down, even if only from a public-relations perspective. They at least have to appear as though they're still disappointed in his behavior.
Obviously, there's no basis for the assumption that there is some conspiracy at work here. It's not as if general manager Marc Bergevin has some big master plan in which Kassian becomes the force he was always projected to be sometime soon the down the road. However, for that fantasy to ever become a reality, there is no other way in which it would be going down right about now.
In other words, no one may want Kassian now, not even the Canadiens, but the door isn't completely closed on that changing. Bergevin is very much keeping it open.
No, the Canadiens may not want a distraction, and trying to avoid one is an understandable defense mechanism in this situation. But they do need players. And their inefficient offense at this stage of the game with Brendan Gallagher out and Paul Byron playing on the first line should be enough to consider other options.
Trios du #CH:
Paciorettty-Plekanec-Byron
Eller-Galchenyuk-Andrighetto
Fleischmann-Desharnais-Weise
Carr-Mitchell-Flynn
Hudon#Habs

— Jonathan Bernier (@JBernierJDM) December 16, 2015
Granted, Gallagher is trying to get back for the New Year and Kassian still needs to get into game shape so it's a moot point to a certain extent. But improving your team at no cost? That never is.
Kassian can still salvage some semblance of his NHL career, but right now it's about succeeding in the AHL. He may have completed stage two of the league's substance abuse program, but the real work is just beginning. If he's able to keep it together and turn heads down there—and based on his skill set, he very well should—there's no good reason for the Canadiens not to give him another chance.
It's not about him deserving one right now. It's about him earning one eventually.