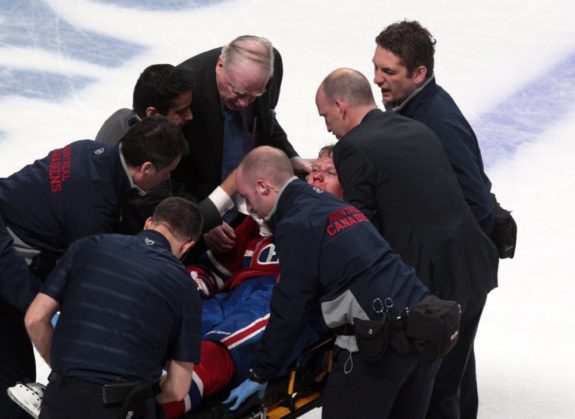 It's not the fact that a player was hit. It's not the fact that Raphael Diaz fed Lars Eller a pass that led to the hit. It's the fact that there was nothing wrong with the hit Gryba delivered with disastrous results to Lars Eller.
You can throw around phrases like "suicide pass", "no respect", and "keep your head up", but it would not help explain how this could have been avoided. Could it have been avoided at all? Sure, but there is only one way to erase this situation if we could go back in time; the hit should not have happened.
The first playoff game between the Montreal Canadiens and Ottawa Senators was expected to be close considering the over achievements of both teams in the regular season. Paul MacLean and Michel Therrien have been able to get their teams to compete at a level which they were never expected to. Over achieving teams usually fall to the fate of injuries, scoring droughts, or simply running out of luck.
The Senators went through a myriad of injuries including a 75% severed achilles tendon belonging to their top defenseman Erik Karlsson. February 13th was supposed to mean the end of the Senators success and the beginning of their downfall. Losing their goaltender Craig Andersson to an ankle injury from February 22-April 7th surely spelled disaster. This wasn't the case. The Senators maintained a playoff position finishing 7th in the east with 56 points; just enough to escape the 8th seed by one point.
The Canadiens opening night roster looked like a bunch of misfit toys. There were a few names that stood out like Carey Price, and Renee Bourque… but at that time, PK Subban still wasn't signed to a contract. The Montreal saga of letting players go, and trading players (like Mike Cammalleri – during a game they pulled him off the ice and put him in a cab) without much concern for reputation lead to many eye rolls during the negotiations with PK Subban. The story lines wrote themselves during this time, and they managed to win 4 of their first 6 games in January. In February they went 9-14, continuing to win at home and get production out of their rookies Alex Galchenyuk and Brendan Gallagher.
We all thought Erik Karlsson was done for the season – out indefinitely. Not so. He managed to miss just 31 games after surgically patching up his achilles. He was back on April 25th for a shootout win against the Washington Capitals. Craig Anderson came back from his injury like he hadn't missed a game. This is exactly what Ottawa needed going into the playoffs. What the Canadiens didn't need was to start questioning the play of Carey Price, which is exactly what began to happen.
Considering the close proximity of Ottawa and Montreal and the fact that they play in the same division, it is surprising their rivalry isn't stronger. Both teams have had a longstanding rivalry with the Toronto Maple Leafs, also in the Northeast division. This playoff series can be the series we look back on as the catalyst for a tense Ottawa-Montreal rivalry.
I've watched a lot of hockey in my life. I've watched thousands of games and seen questionable hits, dirty hits, unnecessary hits, bad passes- this pass to Eller by Diaz wasn't a great pass. Would I have made it myself? It's possible. While watching the play develop which led to Eller laying motionless on his own blue line, I'll admit I didn't see Gryba coming until the last second. When the pass hit Eller's tape the only thing that came out of my mouth was "WAH!" before disaster struck.
I don't blame Diaz, and nobody should be blaming Diaz for trying to move the puck with three Senators in his office. He skated behind his net, looked up, saw Eller, and passed within a matter of seconds. The game is so fast, and the margin for error is so slim that accidents happen. It's also the playoffs- where tiny mistakes cost you games.
That being said, when you analyze the pass and the surroundings, if the pass wasn't made Eller would probably continue coming back defensively. That doesn't mean Eric Gryba gets off without any blame. You can argue all day that it's a hockey play. Sure, this play happens in hockey. It doesn't always end in a horrific injury, either, most times guys pull up and don't decide to run a vulnerable player.
Eric Gryba's hit was clean. He didn't leave his feet, use his elbow, or deliver the hit too early, or too late. He didn't run interference. What he did do was show NHL fans he didn't use a lot of judgement when he decided to take down Eller. You can't tell me he didn't know how much force he was using when he made contact, or when he took a few extra strides towards Eller. He knew the strength he was using, he knew the position Eller was in, and he knew Eller would be turning towards him. This is the exact situation I saw moments later in the Los Angeles Kings and St. Louis Blues game.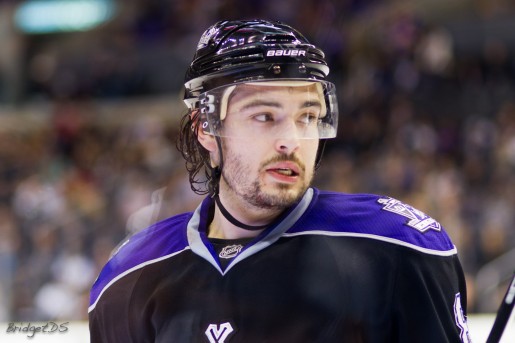 Doughty was on the exact same side of the ice as Diaz, coming from the exact same place and made the exact same pass to Anze Kopitar who was skating through the red line. The pass rolled off Kopitar's stick. At the exact moment Kopitar accepted the pass and went to turn up ice, forgive me for not remembering, but a St Louis player had Kopitar lined up and he let up. He brushed Kopitar which made him lose control of the puck.
Isn't is scarier to think "That guy had me lined up, he could have ruined me, but he brushed me."? You would have your head on a permanent swivel for the rest of the series and you would have some respect for the guy that decided to scare you, instead of ending your post-season, and possibly your career.
How is Brendan Shanahan going to suspend a guy who hit a vulnerable player which ended in one of the scariest situations I've seen in years when he did nothing wrong in terms of delivering the hit according to league rules? Sure, he should've let up, but he didn't. Diaz shouldn't have made that pass, but he did. Maybe Eller should have put himself in a better position that didn't leave him so vulnerable in the middle of his own blue line. But he didn't. Mistakes happen, plays develop quickly, and for Senators Rookie Gryba, this series just became a whole lot more difficult.
Katie Flynn is a News Editor at theScore and theScore App as well as an NHL Analyst for H4TV Sports News.