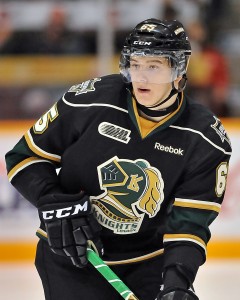 So, the Edmonton Oilers don't have the number one overall pick in this year's draft (hooray for slight improvement!), but not to worry Oil Country, this year's draft is pretty deep and the Oilers need some help. The defensive unit in Edmonton was downright dreadful at times allowing opponents to shoot the puck 40+ times a game on a regular basis. Defenseman should be the position they draft for at number seven overall and good thing for the Oilers because this year's draft is full of talented defensemen.
Unless something dramatic happens, Seth Jones isn't coming to Edmonton, sorry guys, but there are some nice consolation prizes, for one Nikita Zadorov. Zadorov is a monster sized defenseman standing in at 6'5″, 230 lbs. and a very physical defenseman that isn't afraid to get himself dirty, such as getting into a fight in his first OHL game.
Zadorov is best known for his defensive skills and, for an Oiler squad that struggled mightily at times, that presence would be much appreciated. Zadorov uses his size and strength to deliver big hits and if you keep your head down when he's around, you better believe you'll end up on the ice. However, Zadorov has a tendency to commit too much on the hit and as a result, gets out of position on the ice. Given his physical style of play, Zadorov is a pretty disciplined player with only 45 penalty minutes this season in the OHL.
Zadorov's nimbleness and skating ability is something to marvel at given his size. Zadorov is a great backwards skater and is very hard to beat in one-on-one situations. Central Scouting's Chris Edwards said of Zadorov's skating,
"Nikita is a big man who skates very well. He has very good mobility and his backwards skating is about the best in this year's draft. He will take the body and battles hard along the boards. He uses his long reach well and is an effective pokechecker."
As a member of the OHL's London Knights, Zadorov is a huge part of why the Knights had the best record in the OHL this season. His offensive numbers aren't too impressive with three goals and 18 points total in 51 games, but his plus/minus rating is seventh in the OHL and first among first year players.
His offensive play leaves a lot to be desired, but has improved very much throughout this OHL season with the London Knights. Throughout the season, Zadorov progressively used his mobility and skating skills to his advantage. Zadorov's slap shot is incredibly hard and heavy, but his wrist shot is so-so and could use some work. With some work, Zadorov could greatly improve his offensive ability, much like he did this season in London. Right now he's not the greatest offensive defenseman and maybe that's what the Oilers need right now, someone who is defensively gifted rather than another offensive threat.
The London Knights have had many players go on to having great NHL careers with players like Patrick Kane, John Tavares, Corey Perry, and Rick Nash to name a few. Team owner Mark Hunter expects Nikita Zadorov to join that growing list of London Knights alumni.
Hunter has also said that Zadorov's style of play reminds him of former Montreal Canadien and Hall of fame defenseman Larry Robinson, saying,
"He used to drop his shoulder when he'd get going up the ice and drive the net. … [Zadorov] showed me a couple times he's done that, where he's drove wide and put his shoulder down and drove to the net. He can do that which Larry … I played four years with him and I saw him do that numerous times."
Although he was cut from the Russian World Juniors team and didn't play in the World Juniors, Zadorov played for Team Russia in both the U-17 and the U-18 and should be on the next Russian World Juniors team next season in Sweden, presuming he's not with an NHL team by then.
Hopefully he is with an NHL team and let's hope he's wearing the copper and blue of the Oilers.
Mark Wallace Graham has been a writer for TheHockeyWriters.com since March 2013. Growing up in New England, Boston Bruins hockey was in my blood. Follow me on Twitter, @MarkWGraham