March has arrived and its crunch time for draft eligible players as they attempt to vault their teams into post-season action all under the microscopes of dozens of scouts watching their individual performances.  The final games before playoff action provides an opportunity for players to showcase their skills ensuring precision in every attempted pass, accuracy and intelligence in every shot attempted and the tenaciousness in every body check laid. NHL teams have sent their scouting staff around the globe in hopes of finding a future impact player from the 2013 NHL draft class and these final games are when the group of evaluators form their final decisions on these players.  Hundreds of rinks are visited in cities all with unique characteristics and in this first series of we venture to the twenty Ontario Hockey League rinks and rank the top 10 players competing in the Ontario circuit.
Last year at the 2012 NHL Entry Draft, 48 players from the Ontario Hockey League were selected in the annual draft setting a modern day record and highest since 1999 when the league had 52 players selected. Nail Yakupov (1st), Alex Galchenyuk (3rd) and Slater Koekkoek (10th) cracked the top 10 in Pittsburgh last year and joined seven other first round selections that included Rangers' Radek Faksa (13th), 67's Cody Ceci (15th), Whalers' Tom Wilson, Generals' Scott Laughton (20th), Knights' Olli Maatta (22nd), Bulls' Malcolm Subban (24th) and Brendan Gaunce (26th). Projections indicate that the battle for the top OHL player for the upcoming draft is between Ottawa's Sean Monahan and Sault Ste. Marie's defenseman Darnell Nurse and it will be interesting to see who hears his name called first.
In the first of many "Draft Watch" series, the top draft eligible playing in the Ontario Hockey League are revealed.
1. Sean Monahan, C (Ottawa 67's)
It takes a special player to battle through the hardships that the lowly Ottawa 67's have had to endure this season and Sean Monahan is exactly that – a special player. Monahan is a player you learn to appreciate more with each passing view of him, as his elite hockey sense and heady game become more prevalent as you dissect his game. Lacking an initial "get up" gear, Monahan is a good (not spectacular) skater that shows value in all three zones. He makes smart decisions with the puck, positions himself well and is equally adept as a shooter and player. With Monahan, a team will be drafting a player ready to become a professional and work to become the best player and teammate possible.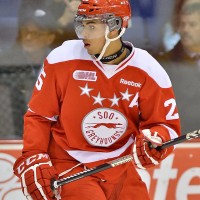 2, Darnell Nurse, D (Sault Ste. Marie Greyhounds)
Nurse is probably the only OHL eligible skater who has the potential to unseat Sean Monahan as the league's top player. An extremely athletic individual, Nurse is arguably the most mobile defenseman in his draft class, which is impressive considering his 6-foot-3 plus frame. Nurse has answered preseason questions on whether he holds another gear offensively and he has done so while maintaining an elite level of defensive and physical play. His edges, strength and decision making are already savvy and once Nurse can fill out his mammoth frame, opponents won't be looking forward to facing this potential top-pairing rearguard.
3. Max Domi, C (London Knights)
Max Domi is ranked third on my list based solely on his utmost potential – which is possibly the highest of any OHL skater in the draft class. Blessed with elite skating skills, advanced puck skills and a creative imagination, Domi owns the offensive weaponry to rip apart the competition. His elusiveness and unpredictability keeps defenders on their heels and as a result it opens up more ice for Domi to operate, which is important for an undersized forward. Domi's biggest knock has always been his size and individualistic approach but he is a cerebral player who understands the game and those type of players can be taught to defend better and utilize his linemates more often.
4. Bo Horvat, C (London Knights)
Personally, I have a hard time ranking Bo Horvat behind Domi but Horvat's safe projectable game does not come with the rewards that Domi's game possesses. Horvat plays such an easy to coach style of game which projects him as a safe top-9 skater at the NHL level. He's an elite faceoff man that can also play the wing. He is a penalty kill specialist but can operate the powerplay with the best of his draft peers. He's a leader, he's a winner and, most importantly, Horvat is a gamer who amps up his game when his team needs elevating. Simply put, Bo Horvat is the most versatile forward available in this draft and because of that a team will walk away very satisfied. I wouldn't be surprised to see Bo Horvat become one of the most talked-about players in this draft class in a few years' time because his offensive skills are definitely underrated by most experts' standards so he does own a "sleeper" quality in the respect.
5. Nikita Zadorov, D (London Knights)
Big mean physical defensemen are highly coveted at the NHL draft, always have been and always will. Zadorov fits that description perfectly and he will be taken high as a result. I am not as high on Zadorov's "potential" as some are but I can certainly understand their reasoning. He's not the most fluid skater and his tendency to look for the big hit can be costly at times but he always makes his presence felt. With his massive wingspan, Zadorov is a top-notch shutdown defenseman and much like Nurse, he might own an offensive element to his game but we have yet to witness that emergence. At this point, Zadorov remains a tantalizing prospect for me but there are a few players who have showed me their potential moreso than Zadorov.
6.  Kerby Rychel, LW (Windsor Spitfires)
My draft notes are all over the map when it comes to Kerby Rychel and his play has reflected that. His play has been sporadic all season long but when he is on his game he can become one of the most dominant players in the Ontario Hockey League. The return of Khokhlachev has sparked a late-season surge in Rychel (as expected) but determining whether he should be applauded or knocked for that, remains a big question. Rychel owns great size, a wicked release and the puck tends to follow him around which are all great qualities for a sniping winger. However, Rychel has shown lapses in compete level and often becomes disinterested when times get tough – those are concerning qualities in a prospect. Rychel is at his best when he is engaging himself physically and penetrating into the scoring areas, both areas he has improved in with Koko's return. There is some risk in drafting Kerby Rychel but he does project to become a complementary top-six scoring winger (maybe Boston will look at him with Koko).
7. Jason Dickinson, LW (Guelph Storm)
Dickinson is a polarizing player (much like Kerby Rychel).  In Guelph, Dickinson plays in all situations and shows flashes of brilliance in all of his roles, a testament to his hockey intelligence, but he can become somewhat consistent in his approach. He can often look uninvolved at times but I am not as concern with it as much as other critics. Dickinson's overall game is one of the more appealing packages of any OHL forward. He's a leader on and off the ice, shows great offensive skills and owns that swagger that many budding stars emit. This is a player who could be one of the bigger steals down the road, founded merely on his vast potential, if he slides in the draft.
8. Ryan Hartman, C (Plymouth Whalers)
Hartman has quickly jumped up my rankings since he made the trek to Plymouth for his draft year. A fiery, creative and tenacious forward has left a positive impression in each viewing I had of him this season which is extremely impressive considering he is a teenager. Hartman has that "will-to-win" attitude that wins games for you and it is becoming a highly sought after attribute. His confidence and poise with the puck as well as his individual puck skills often get overlooked by his snarly style of game but he is certainly capable of fulfilling a scoring role at the next level.
9. Chris Bigras, D (Owen Sound Attack)
Playing in the Northwest corner of Ontario, Owen Sound's Chris Bigras is making noise and it's because of his astute responsible two-way game. Attack Head Coach Greg Ireland relies heavily on sophomore Chris Bigras in all situations and he has answered the challenge exceptionally. Defensively, Bigras owns great positioning, wields an effective stick and can physically handle the opposition, a big reason why he sits among the OHL's top skaters in plus-minus category (8th at plus-30). Bigras shouldn't be mistaken for a pure shut-down defenseman as his great hockey sense, good feet and smart decision making allows him to contribute offensively as well.
10. Justin Bailey, C (Kitchener Rangers)
As one of the best shooters in the entire draft class, Justin Bailey possesses an appealing offensive package. Bailey owns a good sized frame (6'3") and he utilizes his leg strength and positioning well to shield off opponents. Unfortunately, Bailey has battled injury in his draft year but he has returned and has ramped up his offensive production in the absence of several key Kitchener players. His shot release and quickness is a dangerous weapon and when coupled with advanced one-on-one skills, he can be difficult to contain.
The Next 10
11. Spencer Martin, G (Mississauga Steelheads)
12. Jordan Subban, D (Belleville Bulls)
13. Zach Nastasiuk, LW (Owen Sound Attack)
14. Jimmy Lodge, C  (Saginaw Spirit)
15. Nick Moutrey, RW (Saginaw Spirit)
16. Stephen Harper, LW (Erie Otters)
17. Nicholas Baptiste, RW (Sudbury Wolves)
18. Remi Elie, LW (London Knights)
19. Ryan Kujawinski, C (Kingston Frontenacs)
20. Cole Cassels, C (Oshawa Generals)
The Next Best (in alphabetical order)
Justin Auger, RW (Guelph Storm)
Josh Burnside, LW (Mississauga Steelheads)
Jeff Corbett, D (Sudbury Wolves)
Anthony DiFruscia, LW (Niagara Ice Dogs)
Hunter Garlent, RW (Guelph Storm)
Ben Harpur, D (Guelph Storm)
Dominik Kubalik, LW (Sudbury Wolves)
Brent Pedersen, LW (Kitchener Rangers)
Jonatan Tanus, C (Peterborough Petes)
Sergey Tolchinsky, RW (Sault Ste. Marie Greyhounds)
Be sure to check back for "Draft Watch" as the series continues to break down other top draft eligible players from around the world in other leagues.
If you choose to, follow @RossyYoungblood as he continues to follow the 2013 NHL draft class