The New Jersey Devils are in a slump, there's no two ways about it and in this shortened 2013 NHL season if your squad slumps for too long they could find themselves out of a playoff spot. For the Devils, their hot start to the season (9-2-3) has kept them afloat and in the East's top 8 (10-8-5) despite their recent struggles a.k.a. six games in a row without a win.
"The start is definitely saving us right now, but I think at the end of the day we have to start playing consistent hockey. I think a stretch like this can define your team," said New Jersey's captain Bryce Salvador. "You don't want to be going through these, but I know last year we had stretches like this too; so I think it's how we are going to respond, how we come out of it. Adversity is test of character, we are going to put this one behind us and get ready for the next game. I think it's going to take a good effort to get out of this and we are definitely learning that we don't like being in this position."
OUCH! THAT HURTS!!
Injuries have played a part in the slump, as Martin Brodeur (back) has missed 5 games and Dainius Zubrus (wrist) has missed 14 games. Andrei Loktionov (8 games/5 points) has filled in nicely for Zubrus, giving New Jersey some much-needed depth at center that Jacob Josefson (sent to Albany) was unable to provide. "This is a good team, good players," said Loktionov after a recent game in New Jersey. "It's just tough because we've lost pretty much every game (sighs) since I've been here." When THW suggested that the losses weren't all on the newly-acquired 22-year-old Russian, his response was: "It is kind of my fault because I am part of this team, it's my fault too if we lose the game."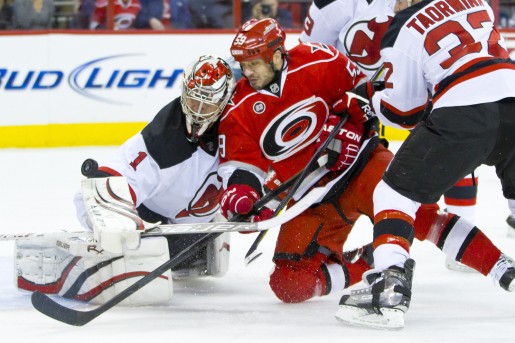 Johan Hedberg has been the hard luck loser in six straight games heading into the March 7 match-up with Buffalo, but luckily for him as he said after a 5-2 loss to Tampa Bay he has a short memory. "I'm sure there has been times (in my career) where I've had stretches like this," said Hedberg, "but the good thing is I have a very short memory. I don't remember them and hopefully I won't remember this either. Sometimes the puck isn't going your way, and they aren't going my way right now. More than anything I feel good when I step on the ice and that's the only thing I really can control."
THE ONLY WAY TO GO IS UP … OR DOWN FURTHER
Coach Peter DeBoer seemed to believe the team had hit rock bottom after the disappointing loss to the Lightning, and was very assertive in declaring that his team would turn things around against the Sabres. "I think we're at the bottom and we're going to get off the mat on Thursday and start climbing up here. This is our adversity, every team faces it at different points of the year and this is ours." He also made it seem very possible that Hedberg would get all of the starts until Brodeur is ready to come off of IR and reclaim the crease. "We have five games this week and we are going to need him back in the net."
Rookie Keith Kinkaid filled in for Hedberg midway through the Tampa game after Moose surrendered 3 goals on 11 shots faced. The next day he was sent to Albany to get some regular action and Jeff Frazee was recalled to play the role of Hedberg's backup. Brodeur is expected out this weekend for games in Carolina and home against Winnipeg. There is hope he can return the following week for a home-and-home with the Philadelphia Flyers.
Kinkaid had a memorable save on Steven Stamkos in his first NHL appearance:
http://www.youtube.com/watch?v=28uPHwXcjxk
HELP US MR. ZAJAC, YOU'RE OUR ONLY HOPE
Travis Zajac is the Devils top face-off man (55.5%) and plays vital minutes on the PK, but only has 7 points (4g-3a) in 23 games. His lack of production is very noticeable when the Devils are losing, despite the other attributes he brings to the team. Other players for New Jersey that have more points than Zajac that probably shouldn't: Marek Zidlicky (10), Adam Henrique (9), Ryan Carter (9) and Andy Greene (8). All of those players are solid pieces of the team, but they aren't no. 1 centers like Zajac is (they also aren't paid like him).
Zajac is capable of scoring big goals, just ask the Florida Panthers:
http://www.youtube.com/watch?v=2E95ng-yzms
"We know we don't like this feeling, we have to continue to build off of the last ten minutes vs. Tampa," added Salvador, "and make sure that we get ourselves out of this because no one is going to feel sorry for us. We have to play with a little more desperation." The bottom line is that winning cures all ills — a win vs. Buffalo + grabbing 3 of 4 points against the Hurricanes & Jets this upcoming weekend would solidify the Devils spot among the top 8 in the Eastern Conference.
Dan Rice can be reached via Twitter: @DRdiabloTHW or via Email: drdiablo321@yahoo.com