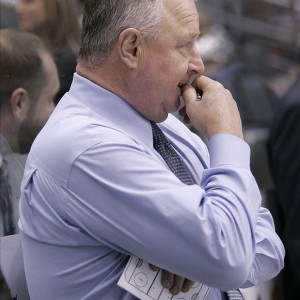 With 24 games officially in the books, the Toronto Maple Leafs have exceeded the expectations of fans and hockey experts from coast-to-coast.
Having earned a record of 15-9-0, the Leafs currently occupy fifth place in the Eastern Conference standings and sixth in the overall standings. Most of the so-called experts were calling for the Leafs to finish anywhere from tenth to 12th in the Eastern Conference, well out of the playoffs.
Heading into the 2013 season many prognosticators pointed to the Leafs' lack of depth down the middle, suspect defense and inexperienced goaltending as major issues. Thus far, the Blue and White have proven the critics wrong, ranking tenth overall in goals against (2.54 GPG), 13th on the penalty kill (82.9 percent), seventh in goals scored per game (3.04) and 14th on the power play at 17.6 percent.
Goals against, goals for and the penalty kill numbers have all improved from last season, while the Buds' power play has slipped from 18.4 to 17.6 percent this season, which is negligible.
Head Coach Randy Carlyle deserves a lot of the credit, as do his players, who have bought into his coaching style and have executed well on a nightly basis.
Between the pipes, goaltenders James Reimer and Ben Scrivens have been better than expected. Together, Reimer and Scrivens have helped lead the team to the tenth lowest goals against per game while managing to put up some impressive numbers between them, averaging a 2.49 goals against average, 0.922 save percentage and registering three shutouts.
Should the Maple Leafs manage to play at their current pace there is little doubt that they will make the playoffs. While many expected the Buds to finish on the outside looking in where the playoffs are concerned, somewhere in Anaheim, former general manager Brian Burke must be smiling as it appears as if his work with the Maple Leafs is finally paying off.
With all this in mind, let's take a look at the Maple Leafs' roster and how each player has performed thus far.
Goaltending:
James Reimer- Grade: B
If not for an early season injury, Reimer could very well be amongst the league-leaders in wins. Reimer has firmed up his weak glove hand and seems content to lay off of playing the puck in bad situations.
Reimer's positive attitude and ability to re-focus after a bad goal has served him well this season, making him the teams' number one goaltender, despite a strong effort from Ben Scrivens thus far.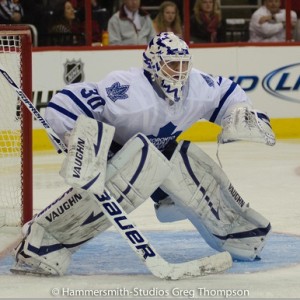 Ben Scrivens- Grade: B
In the absence of Reimer, Scrivens came up huge for the Maple Leafs, compiling a 6-6-0 record with two shutouts and very good goals against average and save percentage numbers at 2.41 and 0.923, respectively.
Like Reimer, Scrivens struggles with playing the puck and has a penchant for finding himself out of position at times. That said, the results speak for themselves, and Scrivens has exceeded expectations in that department.
Defensemen:
Cody Franson- Grade: A
Given his excellent play this season it is hard to believe that Cody Franson was all but an afterthought heading into the 2013 season.
Franson struggled in 2011-12, often finding himself playing limited minutes or on the sidelines.
His emergence as a strong offensive player has surprised many, as has his stellar defensive play. Through 21 games, Franson leads Maple Leaf defensemen with 15 points and is third on the team with a plus-11 rating.
Franson's 14 assists rank him 25th in the league, while his plus-11 rating is the 15th best in the league. The numbers don't lie; Franson has been an excellent addition to a defensive corps that was in need of a shot in the arm.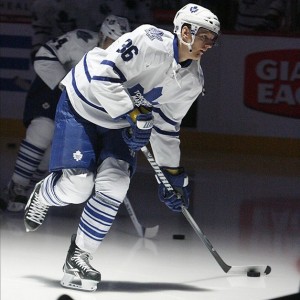 Carl Gunnarsson- Grade: B
A steady presence on the blueline, Carl Gunnarsson would be better served if he put his offense on display more often.
With seven points in 16 games, Gunnarsson leaves you wanting more. Still, with a plus-6 rating and only six penalty minutes while averaging just over 21 minutes per game, makes Gunnarsson a very valuable asset.
Dion Phaneuf- Grade: B
Dion Phaneuf still makes his fair share of giveaways and his shot is not as accurate as Joffrey Lupul (and others) would like, but his overall game is still solid and with Phaneuf averaging 26:02 in ice time per night, he is an invaluable asset to the Blue and White.
After an adjustment period, Phaneuf has adapted well to the leadership role as team captain and he is showing a measure of maturity on the ice turning down fights that would only serve to hurt his team and keeping his penalty minutes in check with 28 PIM's on the season.
Mark Fraser- Grade: B
A product of the New Jersey Devils farm system, Mark Fraser has been a welcome addition to the Maple Leafs lineup. Fraser is tough, smart and brings a measure of size (6'4", 220 pounds) to an otherwise average defense.
Fraser leads the team with a plus-16 rating, good enough for fourth overall in the league. Fraser's ability to clear the front of the net is a big reason why the Maple Leafs have been so successful in keeping the opposition off the score sheet. Fraser's willingness to mix it up with the opposition and ability to lay a beating on them if needed has endured him to Head Coach Randy Carlyle and Maple Leafs fans alike.
Michael Kostka- Grade: B-
Averaging 22:36 minutes per game, Kostka was probably miscast early on in the season. Look for his minutes to drop in the second half so Carlyle can keep Kostka fresh.
Kostka's seven assists and minus-5 rating are mediocre at best, but when you consider how much he has grown in such a short time his efforts must be applauded.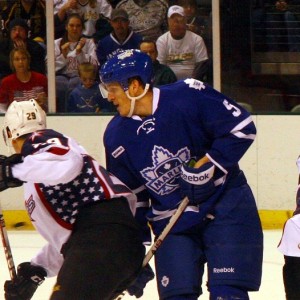 Korbinian Holzer- Grade: C
With the emergence of Kostka and Fraser, Holzer has played somewhat of a reduced role than was expected, averaging 19:06 minutes per game. Holzer's two goals ranks him second on the team to Dion Phaneuf's four.
Holzer, who plays a very simple game, has surprised a few
people with his willingness to mix it up with opposing players and seems to be deceivingly tough.
John-Michael Liles- Grade: C
Given his recent inactivity, John-Michael Liles looks to have become a victim of the numbers game on the backend.
With six points and a plus-2 rating through 15 games played, Liles' numbers weren't bad, but his overall compete level has not been where Head Coach randy Carlyle has wanted it to be.
If Carlyle chooses to continue to bench Liles there is a strong possibility he will be traded before the deadline.
Mike Komisarek- Grade: F
Despite a plus-2 rating through four games played, Komisarek was unable to secure roster spot on defense. Komisarek is said to have arrived to training camp in tip-top shape, but his lack of offense and inability to keep pace with the games better skaters made him a ticking time bomb on the ice.
Komisarek was recently rumored to be seeking a trade out of Toronto. Good luck with that, Komi!
Jake Gardiner- Grade: Incomplete
A lingering concussion injury and suspect defensive play has seen Gardiner go from last seasons golden child to this season's forgotten man. With his concussion issues seemingly behind him, Gardiner will continue to improve his defense at the AHL level before Carlyle will give him his shot with the big club.
Forwards: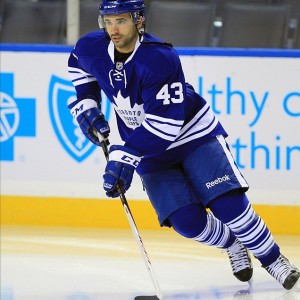 Nazem Kadri- Grade: A
Heading into the 2013 season, Nazem Kadri was listed as the Maple Leafs most important player or biggest disappointment, and little in between.
For every fan that believed Kadri would evolve into a great player, an equal amount (including myself) felt his best hockey would be played in another uniform.
Through 24 games, Kadri leads all Maple Leaf players with 24 points. As great as that accomplishment is, Kadri brings a number of other exceptional numbers to the table, including being ranked 17th overall in goals scored (10), 25th overall in assists (14), 14th overall in points (24), eighth overall in plus/minus at plus-13, 17th overall in power play goals and 46th overall in shooting percentage.
Numbers aside, Kadri has shown a commitment to defense and a maturity to his game that simply was not there in seasons past. Kadri's compete level; attitude and ability to play in a tough market have him set to led the team in scoring, in this, his first full (well, kinda full) season with the Blue and White.
James van Riemsdyk- Grade: A
With first line winger Joffrey Lupul on the shelf with an early season injury, off-season acquisition James van Riemsdyk has filled the void quite nicely, thank you!
Through 24 games, JVR leads the Maple leafs in goals scored with 13 (5th overall) and is third in team scoring with 19 points. JVR's ability to create offense, clog up the front of the net and compete level has given the Maple Leafs some additional secondary scoring and a physical presence along the boards.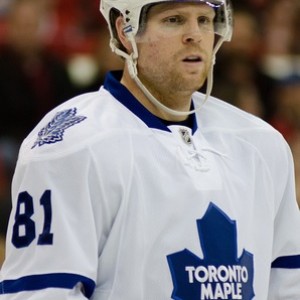 Phil Kessel- Grade: B
Despite lighting the lamp a disappointing six times through 24 games, Phil Kessel's overall game has improved, going from a plus/minus rating of minus-10 in 2011-12 to a respectable plus/minus-zero in 2013.
If not for some bad luck in the early going Kessel could easily have double-digit in goals. His willingness to share the puck on a more consistent basis has given his teammates the ability to score and should pay dividends in the future as Kessel goes from perennial sniper to more of an all-round offensive player.
Still, Kessel is paid to score goals. We expect him to finish with a least 15 goals, 20 might be a stretch at this point.
Tyler Bozak- Grade: B
While many experts continue to say Tyler Bozak is miscast as a number one centre, the kid just keeps getting better in all areas of the ice. Bozak's 54.7 percent success rate in the faceoff circle is amongst the league leaders, while his overall compete level is excellent.
Bozak may not be flashy, but he is consistent and always brings a strong game, night-in, night-out.
With Bozak expected to hit the free agent market next season there is every reason to believe he will garner a lot of interest from opposing clubs. My guess? Bozak isn't going anywhere. Look for Maple Leafs GM Dave Nonis to tender the youngster a new contract offer this summer in the $3.5-$4.0 million range over four or five years.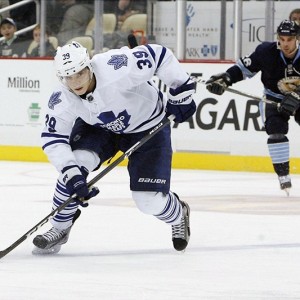 Matt Frattin- Grade: B
If not for his injuries, Matt Frattin would be amongst the teams' best forwards. Through ten games played, Frattin posted seven goals and three assists for a total of ten points. His point-a-game pace and three game winners in just ten games should serve notice that, once healthy (knee injury), Frattin will make some waves.
Jay McClement- Grade: B
Brought in to help shore up the Maple Leafs' penalty kill and overall defense, Jay McClement has contributed at both ends of the ice, registering four goals and nine points through 24 games played.
Playing most nights against the oppositions top players at some point in the game, McClement has earned a plus/minus rating of zero, while staying out of the penalty box with just six PIM's on the season.
Leo Komarov- Grade: B-
Just 24 games into his NHL career, Leo Komarov has quickly established himself as a pain-in-the-butt to play against. He won't score you many goals (he has just one on the season) and he is not interested in dropping the gloves. What Komarov is interested in doing is being the best "shift-disturber" on the ice every night, and for that, we love LK!
Clarke MacArthur- Grade: B-
With six goals and 12 points through 21 games, Clarke MacArthur is pretty much what we thought he was- a decent secondary scoring threat with some jam.
That said, MacArthur's plus-9 rating is impressive and his leadership skills have been invaluable to this young team.
MacArthur has been picking up steam of late, registering five points in his past five games. Should he get hot down the stretch he can finish off an otherwise average season with a bang, and perhaps earn a little more icetime along the way.
Fraser McLaren- Grade: B-
Acquired from the San Jose Sharks, expectations were low for Fraser McLaren. That said, in his short time with the Maple Leafs, McLaren (who stands 6'5" and weighs in at 230 pounds) has given this team a measure of grit, pugnacity and testosterone, leading to the trading away of fellow pugilist, Mike Brown to the Edmonton Oilers.
He won't score much and won't see more than five minutes per game on most nights, but when McLaren is on the ice the opposition will be reaching for the ice packs. His grade of B- represents the effectiveness in which his plays his "role", which has been excellent thus far.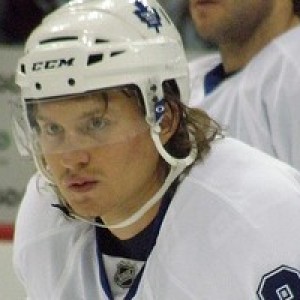 Mikhail Grabovski- Grade: C+
24 games played, six goals, four assists and a plus/minus rating of minus-3. Needless to say, Grabovski needs to find another gear fast, especially at his salary/cap hit.
Nikolai Kulemin- Grade: C+
We know Nikolai Kulemin can play a good two-way game and we realize he sits sixth in team scoring with 13 points in 24 games played. That said, there has to be another gear to Kulemin, doesn't there?
Colton Orr- Grade: C
With the emergence of Fraser, I am not so sure Colton Orr is needed. He takes a lot of unnecessary fighting majors and brings little else to the table. Still, Orr has endeared himself to Head Coach Randy Carlyle, so he'll be sticking around for his seven minutes per game.
David Steckel- Grade: D
With just 12 games under his belt, David Steckel hasn't been given much of a chance to shine. He is in the doghouse and will not be getting out anytime soon.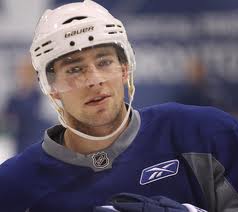 Joffery Lupul- Grade: Incomplete
Joffrey Lupul failed to register a point in his first three games this season, but that does mean things would have stayed that way. Coming off a career year, Lupul was expected to score 15-20 goals in the shortened 48-game season.
Of course, if you know anything about Lupul, you know that he has struggled with injuries and illness throughout his entire career. Lupul was sidelined early in the season when an errant Dion Phaneuf point-shot hit him in the arm, forcing him onto the DL.
Lupul has been skating with the team, but is still listed as out "indefinitely". Should he return to the lineup he will struggle to play his way onto the first line. More likely, Lupul will find himself on the second line with JVR staying with Kadri and Kessel.
Overall:
Without question, the Maple Leafs' fast start has caught more than a few experts by surprise. Coaching, attention to detail, a more concerted defensive effort and good goaltending have combined to put the Leafs in playoff contention.
With the exception of Lupul, Reimer and Frattin succumbing to early season injuries, everything looks to be coming together for the Blue and White. The playoffs will still be tough to come by, but with a little luck the Leafs will be there when the season is said and done.
Overall Grade: B+
Known as an honest, opinionated and trusted writer, Mark Ritter brings a unique view on the Maple Leafs and the NHL in general. Mark has been writing about hockey for almost ten years and is known for bringing an honest view on the Maple Leafs. You can view more of Mark's work at www.theslapshot.com
Please follow Mark on Twitter: @theslapshot