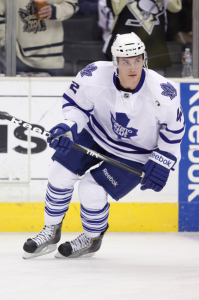 Playing alongside Phil Kessel and Joffrey Lupul for most of the 2011-12 season, Maple Leafs centre Tyler Bozak managed to do a decent job, registering 18 goals and 29 assists, good enough for 47 points, which ranked him 37th amongst NHL centres.
Of course, Bozak's numbers are just part of the equation. Kessel set career highs in goals (37), assists (45) and points (82), which saw him finish 6th in the NHL scoring race, just behind stars such as Evgeni Malkin (109 points), Steven Stamkos (97 points), Claude Giroux (93 points), Jason Spezza (84 points) and Ilya Kovalchuk (83 points), while finishing ahead of James Neal (81 points), John Tavares (81 points), Henrik Sedin (81 points) and Patrick Elias (78 points).
For the Maple Leafs, the rise of Kessel served notice that the deal that brought him to Toronto was not as lop-sided as many of the experts think, not to mention the effect Kessel had on line mate Joffrey Lupul, who finished the season averaging just over a point-a-game with 67 points through 66 games played.
While the trio of Bozak, Kessel and Lupul were impressive, Leafs management and fans wanted more from their first line centre.
Looking to fill a need in their top-six forwards, former Maple Leafs general manager Brian Burke pulled the trigger on a deal that sent former Maple Leafs defenseman Luke Schenn to the Philadelphia Flyers in return for promising forward James van Riemsdyk.
The minute JVR was acquired rumors circulated that he would get a shot at the top-line centre position. This despite having little experience at the centre position, a poor face-off winning percentage and holes in his defensive game the size of James Reimer's five-hole on Wednesday night.
With the lockout eating up much of the season and eliminating any chance of pre-season play, JVR did not get a chance to endear himself to the Maple Leafs brass as a worthy candidate to be the teams' number one centre.
With options such Mikhail Grabovski, Nazem Kadri and the now departed Tim Connolly and Matthew Lombardi as potential top-line centres, there was talk that Bozak may lose his job on the first line.
With Connolly and Lombardi traded, Grabovski looking good on the Maple Leafs second line, Kadri playing well on the wing and JVR still trying to find his way on his new team, Bozak quickly became the de facto first line centre.
And, just like that, when the Maple Leafs announced their lineup for their first game against the Montreal Canadiens a familiar face was at centre on the first line, Tyler Bozak.
While not everyone was confident that Bozak could repeat (never mind exceed) what he had accomplished in 2011-12, the pressure to perform was high for Bozak.
Entering tonight's game against the New York Islanders, Bozak led all Maple Leaf forwards averaging 21:25 minutes per game. He also led the team in goals with two (tied with Kadri and JVR), was tied for the lead in points with three, and had a healthy 61.5 percent winning percentage in the face-off circle, which would put him near the top of the league should his faceoff dominance continue throughout the season.
Bozak's two-way play, ability to create offense and proficientcy in the faceoff circle make him an invaluable player to a team that is in need of a dominant centre. While hardly dominant yet, Bozak is proving his critics wrong through hard work and an improved intensity from seasons past.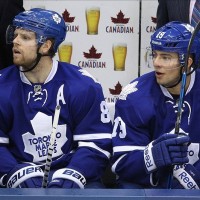 With Joffrey Lupul leaving the game against the Pittsburgh Penguins with a fractured arm, the pressure for Bozak to play well just went up. Lupul is expected to be out of the lineup for upwards of eight weeks, which means Bozak (and Kessel) will have to get used to a new line mate.
Should Bozak continue to impress, it will give head coach Randy Carlyle the ability to keep him on the first line, without disturbing his bottom nine too much. While Carlyle's roster moves worked out well against the Pens, all NHL players crave consistency in the lineup, a luxury that has not been seen in Leafland for nearly a decade.
A successful season from Bozak would probably have to net him 20-25 goals and 55-60 points. Retro-fit that into a 48-game schedule and the Maple Leafs would likely be happy with 15 goals and 35-40 points on the season.
While there is no guarantee that Bozak will meet those expectations (especially in light of Lupul going down) there is little doubt that he is an emerging star on the Maple Leafs roster, and maybe, just maybe, the first line centre they have been looking for.