With the firing of Chuck Fletcher as GM and President of the Philadelphia Flyers, along with rumors that Daniel Briere is likely going to be given the full-time GM position, the team needs to fill at least one vacant position (President). Meanwhile, if the Toronto Maple Leafs are either bounced quickly from the 2023 NHL postseason and move on GM Kyle Dubas, or Dubas simply chooses to look elsewhere as a free agent, there could be an interesting marriage here.
Let me note immediately, in the few days following the organizational changes in Philadelphia, there's been no official confirmation the Flyers have any interest in talking to Dubas. Should they, it's unlikely that ever becomes public knowledge while this season is ongoing. The closest thing to an actual link connecting Dubas to the vacancy in Philly is mere speculation on social media that this could be a thing. The most notable I could find (which many will debate is reputable) was a tweet by THE FAN-590's Howard Berger who mentioned the idea, but the article was actually about another journalist being too kind to the work Dubas has done as the Maple Leafs' GM.
All that said, this crazy idea might not be so crazy and it's something Dubas might want to consider if the option actually exists in a couple of months.
Dubas Will Be Coveted Regardless of His Lack of Playoff Success
If the Maple Leafs go on a long playoff run this season, there will be pressure to re-sign Dubas. However, if the Leafs are eliminated early, there will be immense pressure to move on. There are only so many early playoffs exits a franchise like the Maple Leafs will tolerate. Dubas may choose to explore his options either way.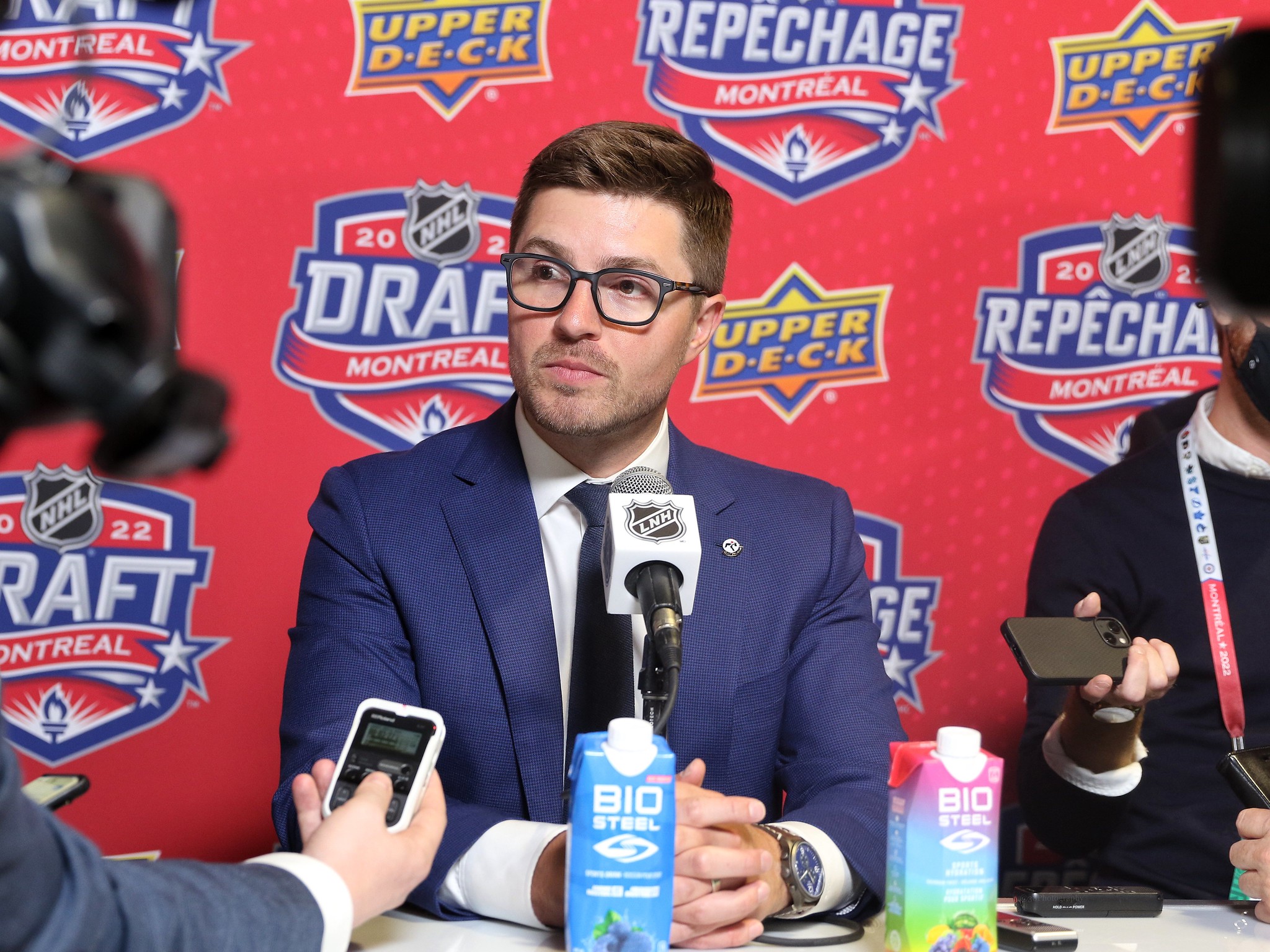 A playoff run means a guarantee he'll be coveted by the Leafs and teams outside of Toronto and he'll be thrown some lucrative offers that will be hard to ignore. If he loses, teams will still take a look, many of whom will believe — or talk themselves into the idea — he's done some amazing things with the Maple Leafs and run into a string of bad luck. Either way, the Flyers feel like an organization that will have conversations about this internally.
The Flyers need to take a new approach. What they've been doing isn't working and what could be more of a veer from the norm than someone like Dubas? They have the money, they have the need, they have a vacancy that would be considered a promotion, and they have a rookie GM that could use some guidance. Hiring Dubas would make a splash and it would allow them to stick with a Flyer in Briere while bringing in an outside voice.
Dubas Could Build a Legacy in Philadelphia
There are some who will argue Dubas has made a number of changes to this Maple Leafs' roster, but that the core of the team was intact when he took the job. He was instrumental in getting John Tavares to sign, but Auston Matthews, Mitch Marner, and William Nylander were all part of the team prior to Dubas being promoted. He's stuck to those players like glue, trading nearly everyone else during his tenure. If the team fails to win again, questions will surround his tenure and debate will ensue that keeping his core four affected his ability to do other business financially. Others will contend this was never really Dubas' team and that Brendan Shanahan was probably pulling the strings.
---
Latest News & Highlights
---
If the Leafs don't win, or if Dubas just wants a fresh start and a new opportunity — should he feel the need to prove himself — there's no better place than Philadelphia, where he could turn a poorly managed team into a juggernaut, especially if he's as good at his job as some believe he is. It's one thing to win when you get a good team with some of the best young prospects in hockey. It's another to win when you take over a rebuild and turn that club into a contender.
Dubas would have the opportunity to do what no GM in Philadelphia has done since Bob Clarke (1994-2006) ran the team and they made the playoffs in 11 straight seasons.
The Philadelphia Job Is Coveted, a Promotion, and Big Money
Many will read this and wonder why Dubas would ever leave the Leafs if they offered him an extension. After all, who would want to voluntarily move on from one of the most coveted jobs in the league or leave his home province? Those are both fair questions, especially if you factor in the regular season success of one team versus the other. Other than Steve Yzerman going from the Tampa Bay Lightning to the Detroit Red Wings, it's not a move many GMs would willingly make.
All that said, the Philadelphia job is coveted too. It's a storied franchise with lots of money and a promotion to offer. As Elliotte Friedman noted on his 32 Thoughts podcast, "The Flyers are a marquee franchise. They're in a city with a fanbase that really cares. It's an organization that has the resources, that wants to win. They're gonna have people lining up for these jobs."
So too, it's a job that offers security as the team undertakes a rebuild. If the Flyers choose to look Dubas' way, it's because they believe in his vision for building a team. They'll hand him the keys to the organization and offer him all the money he could want. For anyone, even the current GM of the Maple Leafs, that's an offer you don't quickly discount. And, if when this season is done, there's still doubt that Dubas is the right guy in Toronto, the job in Philadelphia might look pretty attractive.