This upcoming season, the Anaheim Ducks will be deploying numerous young players on a game-to-game basis. While general manager Bob Murray remains firm in his assertion that the team is capable of making the playoffs in 2021, the injection of more youth into the lineup should be the top priority.
According to the Hockey Operations Guidelines, to be considered a rookie, a player must not have played in more than 25 NHL games in any preceding seasons, nor in six or more NHL games in each of any two preceding seasons. Any player at least 26 years of age (by Sept. 15 of that season) is not considered a rookie.
However, for the sake of continuity, I encompassed a player's "Calder year" as being part of their rookie season. Here's a look at five of the best single-game performances by a Ducks rookie.
Gibson Shines in NHL Debut
Before making his NHL debut in 2014 and becoming the superstar goaltender that Ducks fans now know and love, John Gibson was a highly touted and baby-faced 20-year-old coming off a bronze medal with Team USA at the 2013 IIHF World Championships.
Just a year after making his professional debut with the Norfolk Admirals in the AHL, Gibson was thrust into action on April 7, 2014, making his first-ever start and appearance in the NHL with Frederik Andersen out injured and Jonas Hiller resting after playing the previous night.
All Gibson did in his first taste of NHL action was pitch a shutout against the Vancouver Canucks, stopping all 18 shots on the way to a 3-0 win. The victory tied a franchise record for points in a season (110) for the Ducks and officially eliminated the Canucks from playoff contention.
Steady Freddie Solid in Relief Appearance
The Ducks have been very fortuitous when it comes to developing talented goaltenders, both Andersen and Gibson are no exception. The former had a spectacular debut of his own, though due to unforeseen circumstances.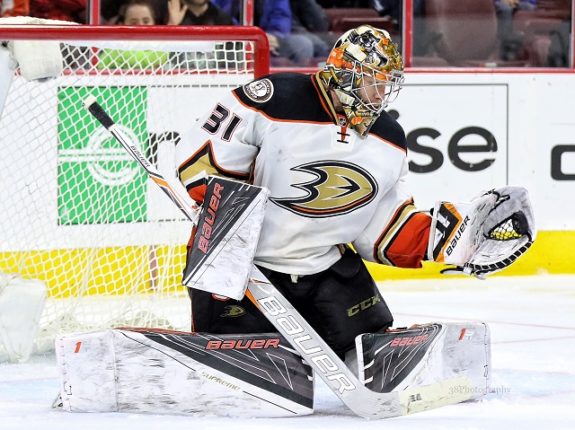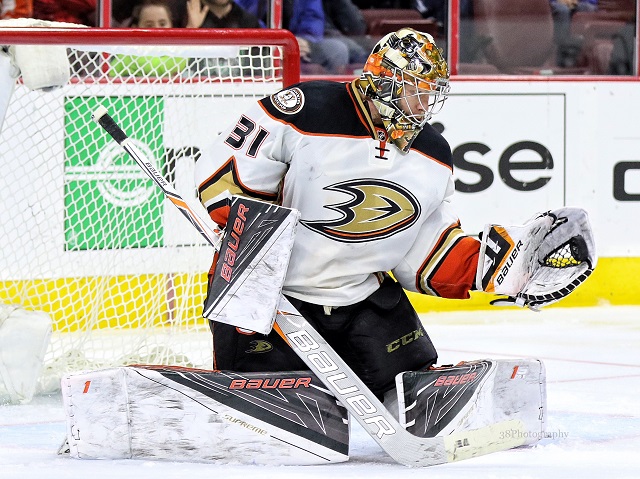 Andersen started the Ducks' game versus the Dallas Stars on Oct. 20, 2013 on the bench, backing up Hiller, the incumbent starter. However, Andersen replaced Hiller following the first intermission, with the Ducks down 3-1.
The Ducks would rally back and secure a 6-3 victory, with Andersen saving all 24 shots that he faced. It was a bright start to the Dane's career, who helped lead the Ducks to the Stanley Cup playoffs multiple times before being traded to the Toronto Maple Leafs in 2016.
Natural Hat Trick for Ryan
The last time the Ducks were picking in the top five in the NHL Draft, they selected winger Bobby Ryan with the second overall pick in 2005. While there is always the 'what-if' factor about the Ducks being just one pick away from being able to take superstar phenom Sidney Crosby, Ryan was an extremely talented scorer and didn't take long to showcase his skills, scoring two goals in his second career game.
But the highlight of Ryan's rookie season was his natural hat trick on Jan. 8, 2009, against the Los Angeles Kings. Ryan's three goals in the span of 2:21 were the fastest hat trick in Ducks history and the first-ever hat trick by a Ducks rookie.
While the Ducks did lose the game after tying it 3-3 thanks to Ryan's goals, the winger's performance put the league on notice about how gifted of a scorer he could be (and became).
Chistov Silences the Blues
Prior to Ryan, Stanislav Chistov was the highest draft pick in Ducks history. Taken fifth overall by the then Mighty Ducks of Anaheim in 2001, the winger made quite the first impression on his debut, scoring his first NHL goal and racking up a hat trick of assists.
Chistov and linemate Andy McDonald wreaked havoc on the St. Louis Blues en route to a 4-3 victory to start off the 2002-03 season. Chistov's four points at 19 years of age made him the youngest player to score four points in his league debut.
Coming off a solid performance at World Juniors earlier that year where he was named to the Media All-Star Team, Chistov started off his NHL career with a bang. While the rest of his time in the league didn't exactly pan out like many would have hoped, his debut remains one of the best single-game performances by a Ducks rookie.
Real Deal Sam Steel
Part of the latest crop of young players hoping to secure a long-term spot in the Ducks' lineup, Steel is still trying to carve out a role as the Ducks' No. 3 center behind Ryan Getzlaf and Adam Henrique. While Steel did double his points total during his sophomore season, head coach Dallas Eakins will want more production from the 30th overall pick in the 2016 NHL Draft this upcoming season.
Steel, like many young players, has flashed moments of brilliance. One – or rather three – of those moments came when the then 21-year-old scored his first NHL hat trick against the Canucks in his 18th career game on Mar. 26, 2019, a 5-4 victory for the Ducks. Steel started the 2019-20 season with the Ducks but was sent down to the minors after registering just two points (both assists) in one month of action.
When Steel was recalled at the end of February, he looked like a much more confident player, posting nine points in nine games. Three of those nine points were, of course, thanks to Steel's hat trick. By converting a penalty shot – which occurred thanks to rarely seen play and call – Steel became the second-ever Ducks rookie to score a hat trick.
The 2021 NHL season could bring more memorable rookie performances for the Ducks with Trevor Zegras seemingly ready to get his feet wet in the NHL. Could Jamie Drysdale potentially get a look prior to the start of the OHL season as well? Anything is possible given the restructured schedule.
---
---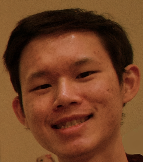 Derek has been a hockey fan for over 10 years and a sports fan in general for more than two decades.
Prior to graduating from UCCS in Colorado Springs, CO in May 2020 with a bachelor's degree in Sports Communication, he spent two and a half years as part of UCCS' on-campus student newspaper staff–both as a sports reporter and editor. He is now creating Ducks-related content from his home in Southern California.
In his free time he enjoys playing FIFA, watching video essays on YouTube and curating his Spotify playlists.