For a second straight year the Anaheim Ducks struggled out of the gates going 1-3-1 on the season-opening road trip.
There weren't many bright spots in their first five games with defensive deficiencies allowing too many quality scoring chances, an invisible offense and penalty problems.
While the Ducks as a team have a lot of areas to improve on, there has been one bright spot: Cam Fowler.
Fowler has been one of the best skaters on the ice for the Ducks, especially on a blue line without the team's future star, in restricted free agent Hampus Lindholm.
But there's been chatter the Ducks are shopping Fowler due to the team's salary cap situation and priority to re-sign Lindholm. Certainly teams have expressed interest in the 24-year-old blueliner.
It is rumored Lindholm is seeking north of $5 million annually on a new contract which puts the Ducks in a tough position. Fowler's ability on the ice and his team-friendly $4 million makes him moveable option.
If the Ducks choose to trade Fowler, they have the luxury of Shea Theodore and Brandon Montour waiting in the wings with both NHL-ready or close to it to step in and fill Fowler's vacancy.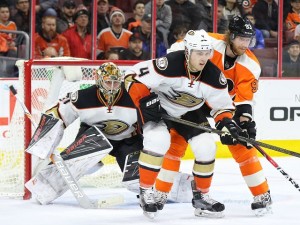 Despite Fowler being the most attractive asset, the Ducks still can't afford to lose him. Plus, there are other options for the Ducks to clear cap space rather than shipping one of their better defenseman.
Fowler's value
General manager Bob Murray believes this is a Cup-worthy team with the addition of an impact player or two away from being a legit Stanley Cup contender. But if the Ducks elect to trade Fowler, the team could take a big hit.
In his seventh season in the NHL, Fowler is playing at a high level. The season is young, but in the first five games Fowler has been arguably the best skater.
He's second on the team in scoring with two goals and four points and has been shouldering the load on the ice with Lindholm's absence averaging nearly 25 minutes per game plus playing a key figure on the penalty kill.
"He's played great," Ducks' captain Ryan Getzlaf said to the Orange County Register. "Cam put a lot on his shoulders last year. He had a great year for us last year and its gets overlooked a bit because he does it in a little quieter way. He's not flashy.
"I thought his played has carried over from last year. He's continued to play the same way and at a high level."
Fowler was regarded as the Ducks cornerstone on the blue line when he was drafted 12th overall in the 2010 draft and then when he made his NHL debut later that same year. He hasn't developed into that elite defenseman like the Chicago Blackhawks' Duncan Keith or the Los Angeles Kings' Drew Doughty and may not be considered the future of the Ducks' blue line.
But he's the most reliable right now. He's a smooth skater who is a threat offensively. He has shown his ability to be a superb puck mover and can attack the neutral zone with speed.
Fowler is the type of player to package in a deal for that impact scorer the Ducks still haven't found; not to ship to trim the fat for prospects and picks.
Anaheim's Other Options to Clear Cap Space
There are other options for the Ducks to save money and avoid losing a pivotal piece on their blueline.
The Ducks could clear salary cap space by placing Simon Despres on long-term injured reserve. Despres has been sidelined since leaving the season opener against the Dallas Stars with what is believed to be a concussion or concussion-like symptoms. If he can't come back soon, that move saves $3.7 million against the cap.
The Ducks would likely have to make an additional move to create enough space once Lindholm is re-signed. Kevin Bieksa, who would have to waive his no-movement clause, would save the Ducks $4 million and/or Clayton Stoner and his $3.25 million. Stoner was placed on waivers prior to the season opener, but all 29 teams passed on the veteran defenseman which means the Ducks would likely have to retain 50% of his salary if they package him in a deal.
---
Complete Ducks Coverage From THW
---
It seems unavoidable Fowler will be traded sometime this season, as he's the likeliest to attract the best assets.
Still, the Ducks can't afford to part with Fowler. As this teams stands, they are good enough to squeeze into the playoffs largely due to the depth and strength on the blue line. A team with a Cup window of two to three years is already thin up front, they can't afford to become thinner on the back end by parting with Fowler and relying on young, inexperienced defensemen to fill his skates.