As 2020 approaches its final, tumultuous month before the turn of the calendar year, it's been quiet on the Anaheim Ducks' front in terms of signings since the wee first days of the free-agent frenzy. If the season began today, Anaheim would be returning all but three players from the lineup that participated in the final game of the Ducks' 2019-20 season, a 4-2 home loss to the St. Louis Blues. One player who did not take part in that game was goaltender Ryan Miller, who had started the previous night against the Ottawa Senators in a 5-2 home win.
While many free agent goaltenders have found a home this offseason, Miller remains an unrestricted free agent. The 40-year-old intends on playing another season. "I'm serious about playing," Miller told The Athletic's Pierre LeBrun when this offseason's free agency period opened up. (from, 'LeBrun: Will Marc-Andre Fleury still be traded with most goalie jobs now filled?', The Athletic, 10/12/20)
The Ducks would welcome Miller back with open arms. The issue is that they currently don't have the cap space available to sign him. The Ducks told The Athletic's Eric Stephens that they have below $1 million in cap space currently, perhaps even well below (from, 'Playoffs? Prospects? Backup goalies? Ducks mailbag, part 1', The Athletic, 10/21/20).
Of course, teams are allowed to go to 10 percent above the salary cap during the offseason, which means they're able to sign him right now if they wanted to. But, even shifting Ryan Kesler to LTIR to free up cap space once the 2020-21 season begins leaves the Ducks with little room to work with if they were to make moves during the season. Miller's role now in his twilight years is operating as a backup goalie, but it would be a surprise to see him sign for the league minimum.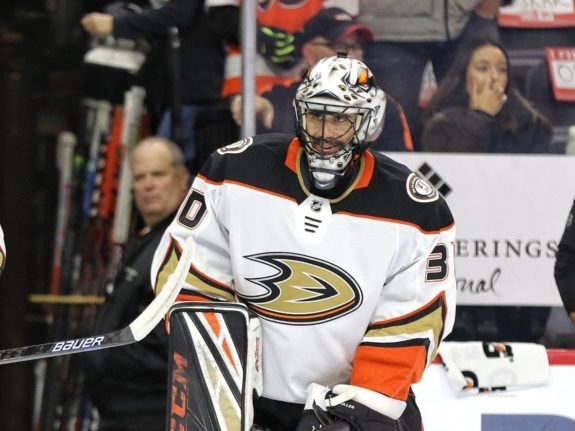 The remaining solutions involve jettisoning fringe players whose salaries––even if they are minimal––do not justify weekly trips to the press box or multiple rides up and down I-5 between Anaheim and San Diego, the Ducks AHL affiliate.
Dipping into the Defensive Depth
The Ducks have plenty of NHL-caliber defensemen at their disposal following the signings of Kodie Curran and Kevin Shattenkirk and re-signings of Jani Hakanpaa, Christian Djoos, Brendan Guhle and Jacob Larsson. Not to mention they retain their core trio of defensemen in Cam Fowler, Hampus Lindholm and Josh Manson. Simon Benoit and Josh Mahura are also knocking on the door for a full-time role on the blue line down the road.
Some of these players are not going to be in the lineup every single game––that's quite clear. Curran and Shattenkirk aren't going anywhere. Neither is Lindholm. Fowler and Manson may be attractive to some teams, but Fowler's cap hit is quite large for a needy team to take on in a flat cap era. And while some teams have kicked the tires on a Manson deal in the past, nothing has ever truly materialized.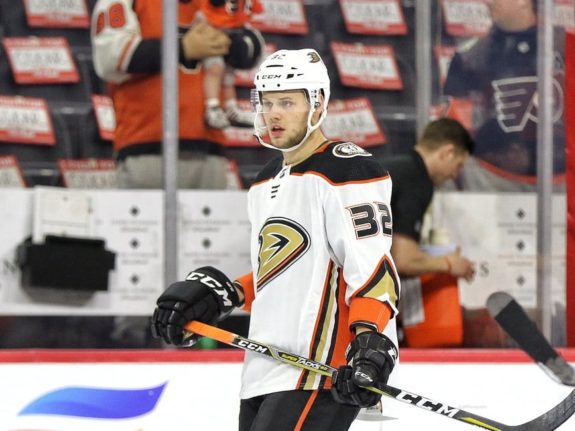 That leaves the quartet of re-signees along with Benoit and Mahura. Larsson could be the most likely candidate, given that his cap hit is the highest among this set of players. The former first-round pick has failed to live up to expectations since becoming a full-time NHLer.
While he is a step up on some of the other Ducks defensemen given that he's currently playing for Kristianstads IK in the Swedish first division, his production to this point at the NHL level can be replaced by cheaper options (Larsson's cap hit is $1.2 million), which may motivate the Ducks to prioritize moving Larsson ahead of the other blueliners they have.
Old Saint Nic
The acquisition of Nicolas Deslauriers from the Montreal Canadiens for a 2020 fourth-round pick in June of 2019 was met with several groans from Ducks fans. After all, a fourth-round pick seemed a high price for a player projected to be spending more of his time in the press box for the Ducks than on the ice.
What transpired instead was an ideal fit on the fourth line next to Derek Grant and Carter Rowney. Though they aren't the most skilled forwards, the trio of Deslauriers, Grant and Rowney became one of the Ducks' more consistent lines with their relentless forechecking and overall grit, up until Grant's trade to the Philadelphia Flyers at the trade deadline.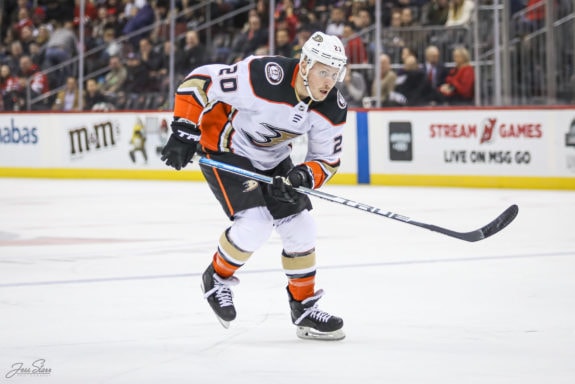 Deslauriers rebounded from his subpar 2018-19 season with the Canadiens (five points in 48 games, -12 rating) by scoring 13 points––including his first-ever NHL hat trick––and a -1 rating in 59 games during the abridged 2019-20 season. Those aren't eye-popping numbers by any means, but Deslauriers's role goes beyond the stat sheet, and he was rewarded for his hard work during his first season as a Duck with a two-year, $2 million extension.
While the league continues to fall away from the grit and grind style of play, teams do still continue to value players like Deslauriers. The offensive numbers are an added bonus. A team who missed out in free agency could potentially circle back to the trade market and Deslauriers may be an ideal target.
The Ducks previously committed to playing David Backes regularly ahead of the 2020-21 season before turning around and bringing back Grant on a three-year deal. While Deslauriers certainly has the inside edge, general manager Bob Murray would be remiss to consider a deal for the winger if a team came calling with the right offer.
Rowdy Rowney
Rowney is another player that could be sacrificed in order to make room to fit Miller's salary. Rowney is currently in the last year of a three-year, $3.4 million deal that he signed following his departure from the Pittsburgh Penguins. This deal was also originally criticized by many Ducks fans at the time. The forward has been more than worth his price as a fixture on the fourth line, lining up at both center and wing.
Like Deslauriers, Rowney could prove valuable to a team seeking a last-minute addition to their bottom-6. Rowney also carries more offensive upside than Deslauriers, having eclipsed the 15-point mark in both of his seasons with the Ducks after scoring a combined 12 points in 71 games with the Penguins over the course of two seasons.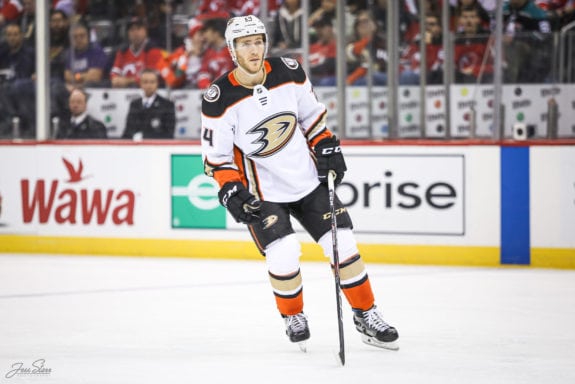 The 2020-21 season is tentatively scheduled for a Jan. 1 start. But with December approaching quickly and no confirmed date for training camp to begin, uncertainty lingers regarding a true start time for the next NHL season. Miller kept busy with skating sessions at Great Park Ice––the Ducks' practice facility––in Irvine during the summer, but news has been minimal on all fronts since free agency began.
As the new season draws nearer and nearer, the Ducks must come to terms with what financial adjustments they will have to make in order to bring back a player who has been one of the most important figures in their dressing room over the last few years.
---
---