The NHL season is finally at our doorstep, and Anaheim Ducks fans already have their first stimulating trade rumor to digest. Columbus Blue Jackets center Pierre-Luc Dubois and his agent Pat Brisson have informed Columbus that he wants out. That came as he signed a two-year contract with the team. The Athletic's Pierre LeBrun listed the Ducks as one of seven teams that would be a good fit for a trade. (From 'LeBrun: 7 landing spots for Pierre-Luc Dubois that make sense).' The Athletic, 01/08/2021)
The Ducks have many prospects that the Blue Jackets need, and they should not be afraid to part with a couple. With that in mind, let's explore what that could be. 
Blue Jackets Need to Restock
Before figuring out precisely who the Ducks might offer in a trade, it makes sense to figure out what the Blue Jackets need. One popular rumor surrounding Dubois is that the Winnipeg Jets should trade Patrik Laine for Dubois in a "hockey trade." That's all well and good for the Jets, but the Ducks don't have an unhappy player, that we know of, that could make that happen one-for-one.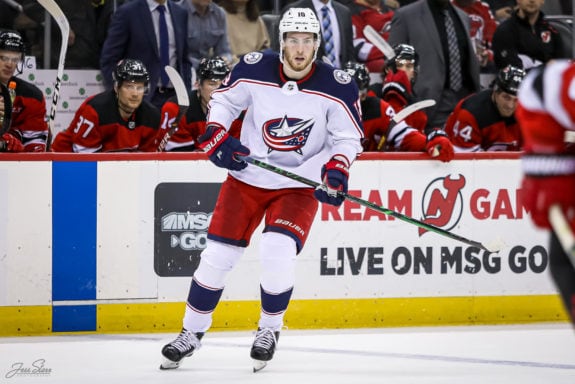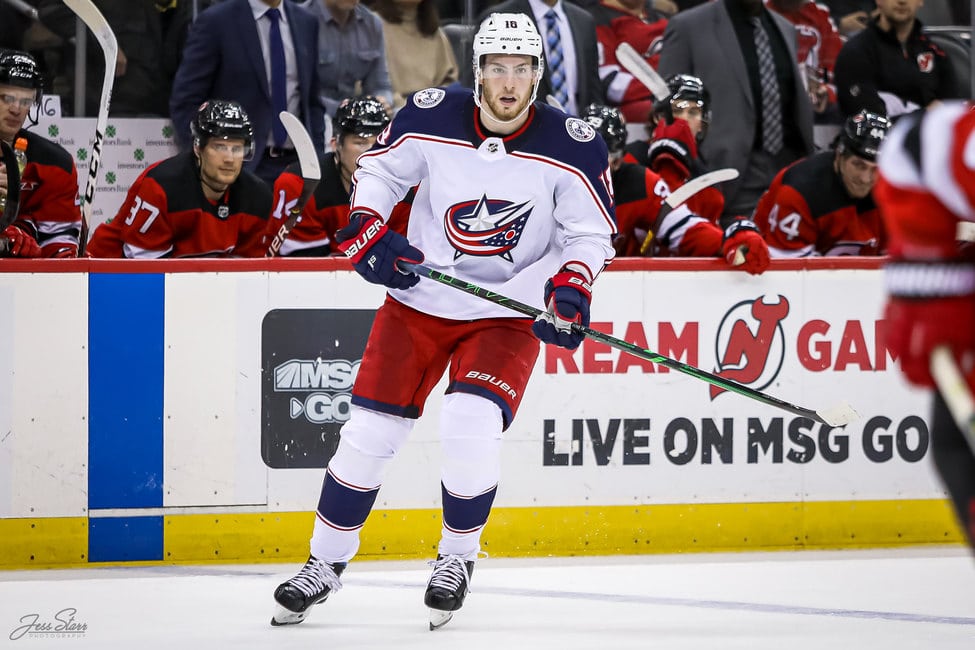 Instead, if there is a trade between Anaheim and Columbus, it will likely involve the Ducks' wealth of prospects, exactly what Columbus needs. Lebrun asked anonymous team executives from around the NHL what it might take, and one of them hit the nail on the head.
"They unloaded a lot of picks for those guys who all flew the coop. His cupboard is fairly bare, and his team is getting old, believe it or not. So if I'm Jarmo, I'm looking for picks and prospects, probably not what some of the older players there want to hear." 

(From 'LeBrun: Patrik Laine, Pierre-Luc Dubois situations will put GMs to test).' The Athletic, 01/04/21).
That executive refers to the slew of 2019 trades that Columbus made around the trade deadline in a (successful) attempt to make the playoffs. Those transactions landed the Blue Jackets Matt Duchene and Ryan Dzingel. They gave up a 2019 first-round pick, a 2020 second-round pick, and a 2021 second-round pick. They also traded two other prospects and Anthony Duclair in those two trades. 
If you include their acquisition of defenseman Adam McQuaid, they also lost a fourth- and seventh-round pick in 2019. That was the majority of their 2019 draft capital, with some 2020 and 2021 picks included. The Blue Jackets only made three picks in 2019, two fourth-rounders and a seventh-rounder. In 2020 they only made five picks.
Duchene and Dzingel did not re-sign with Columbus, and McQuaid did not play after the 2018-19 season. The Blue Jackets need to restock their pantry, and the Ducks could be the grocery store. 
Comparable Trades
It's hard to find comparable trades with one team trading a potential franchise center, under contract, at only 22 years old. The Boston Bruins' trade of Tyler Seguin to the Dallas Stars or the Edmonton Oilers' trade of Taylor Hall to the New Jersey Devils are close in terms of age and talent level. However, they were so lopsided that the man who had a major role in both of them, Peter Chiarelli, hasn't worked as a general manager in close to two years, even with a Stanley Cup on his resume.
Even the Ottawa Senators' trade of Mika Zibanejad to the New York Rangers, which would also be similar to a Dubois trade, seems one-sided in hindsight. 
Ducks Could Look to Duchene and Stone Trades
Two closer comparables would be the Duchene trade from Ottawa to Columbus or Mark Stone's trade from Ottawa to the Vegas Golden Knights. While both players were older and entering free agency, they are the closest comparable in terms of production.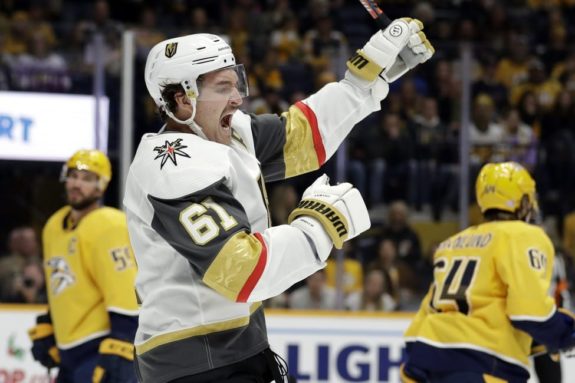 When the Senators traded Stone to the Golden Knights in 2019, they also sent a career AHL player and received Oscar Lindberg, Erik Brannstrom and a second-round pick back. Lindberg was a fringe NHL player more likely to play in the AHL. Brannstrom was a 2017 first-round pick who had success in his first AHL experience. They also included a second-round pick in the 2020 Draft. 
The Blue Jackets acquired Duchene in a similar package. Along with the talented center, they received an AHL-level player in Julius Bergman. They had to give up a 2019 first-round pick and a conditional 2020 first-round pick (which did not happen because Duchene did not re-sign with Columbus). They also gave up Vitaly Abramov, a third-round pick in 2016 who had success in his first 52 AHL games and Jonathan Davidsson, a late-round selection out of Sweden.
Ducks Are a One-Stop Shop
The Ducks have precisely what the Blue Jackets need, but one thing needs to be clear. If the Blue Jackets require Trevor Zegras, Jamie Drysdale or Jacob Perreault in return for Dubois, that is a non-starter, at least for now. Still, that's not a death sentence for a trade. 
Judging by comparable trades and Dubois' age, the Ducks will have to give up a lot. Let's say the Ducks have to give up two draft picks and two young players out of their system. Let's start at Sam Steel. 
Sam Steel was a first-rounder in 2016, he's young and continuing his development, but he still has a lot of potential. He's also a center, so he could fill the hole that Dubois leaves in Columbus. They could also add former first-round pick, Max Jones, to help partially fill the void Josh Anderson left when Columbus traded him to Montreal. 
If the Blue Jackets wanted either Max Comtois or Troy Terry instead of Jones, that's fine, too.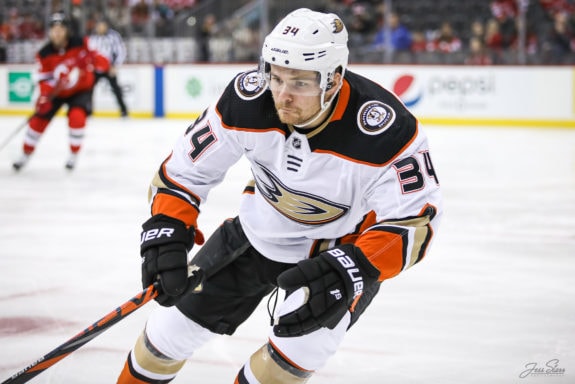 If I were Ducks general manager Bob Murray, I would avoid trading a 2021 first-round pick outright. The uncertainty surrounding the season and the added difficulty within their division makes it likely Anaheim's 2021 first-round pick will once again be in the top-10 of the draft. 
However, with Dubois still so young and under contract for two seasons including this one, it's hard to believe the Blue Jackets would accept a trade that doesn't include a first-round pick. 
Conditional Pick Tricks
Maybe the Blue Jackets would accept a conditional first-round pick and the Ducks' 2022 second-round pick. If Anaheim sent a first-rounder to the Blue Jackets under the condition that if the selection fell in the top-10 at the 2021 Draft, the pick would become an unprotected first-rounder in 2022, they might accept that.
It is a huge price to pay for the Ducks, but it's not prohibitive. They would avoid losing Zegras, Perreault or Drysdale while essentially replacing Steel with a player who might be capable of scoring 30 goals and has already surpassed 60 points in a season. 
When it comes to acquiring Dubois from the Blue Jackets, the Ducks might have the most to offer of anyone in the league. The price might feel steep at first glance, but Dubois is a player the Ducks could instantly plug in to boost their offense and help make them more competitive quickly.
All contract information courtesy of CapFriendly.com
---
---