Randy Carlyle will be the next head coach of the Anaheim Ducks. The man who guided Anaheim to its first and only Stanley Cup in franchise history will get a second chance at bringing the Cup to Orange County.
Carlyle, largely known as a disciplinarian, will be expected to give a veteran-laden team the kick-in-the-rear that it supposedly needs. General manager Bob Murray, in his end-of-season press conference, made sure to let reporters know that his star players would be held accountable for their latest shortcomings. Their punishment comes in the form of Carlyle,  a man that Ryan Getzlaf and Corey Perry reportedly grew weary of in the tail end of his first Anaheim tenure. Bruce Boudreau was known as a "player's coach", someone whose office door was always open. The heir to his throne is not exactly cut from the same cloth, to put it mildly.
Perhaps there will be more angry tirades following Anaheim losses in 2016-17. Maybe there will be a few more tongue-lashings to go around. Hell, there may even be more bag skates at the Ducks' practice facility. That'll get the players in line, right?
Or will it? Since his Cup win in 2007, Carlyle's tactics have yielded mediocre results at best. In the four seasons that followed Anaheim's championship, they only managed to get out of the first round once, and failed to make the playoffs altogether in 2009-10.
Those post-Cup Ducks teams averaged a .581 winning percentage in the regular season, which might lead one to think that Carlyle was at least doing something right. The numbers suggest, however, that his teams may have been winning in spite of him.
Not once did Anaheim record a positive possession rating from the 2007-08 season to the day Carlyle was fired in 2011-12. They weren't even close to breaking even, averaging a paltry 47.71 percent mark. Since the lockout, teams that have won the Cup have typically been among the league's elite in winning the shot attempt battle: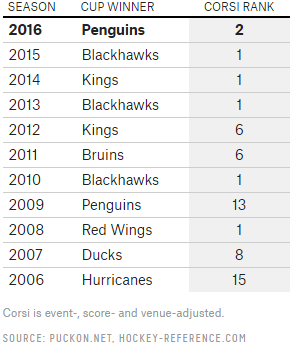 The Ducks finished eighth in that category when they won in 2007. Not elite, but certainly a lot better than their putrid output in the four years that ensued. All the while, Getzlaf and Perry were absolutely tearing it up, recording career highs in points. Tough to fathom that those teams would have even sniffed the playoffs without two legitimate superstars in their primes.
It Gets Worse From Here
http://gty.im/459207352
Carlyle had no such superstars to lean on in his Toronto stint. His ineffective coaching style was laid bare, as the Leafs seemingly never had the puck during his three and a half seasons there. The shining moment of Carlyle's Leafs was the franchise's first trip to the postseason in nearly a decade. They were bounced in the first round.
Phil Kessel, a star in his own right, also ended up clashing with Caryle, much like Getzlaf and Perry had in the past. The Leafs played a game that was objectively antithetical to creating offense, which diminished Kessel's impact on the game. A head coach's job entails bringing the best out of his players, and Carlyle has historically failed in that regard. There's no telling how many more points Kessel, Getzlaf, and Perry would have all put up if they played in a system that encouraged offense, not dump-and-chase.
Which brings us to this moment. In an era where championship teams are defined by their ability to possess the puck, Murray has hired a coach whose teams have been historically incompetent in that regard. Anaheim was an excellent possession team in 15-16, but much of that was thanks to Boudreau's coaching. Even so, they struggled to generate scoring chances. Caryle isn't the guy to solve that problem.
Murray had an opportunity to go bold here. He could have hired a number of more progressive candidates. Instead, he romanticized what made the Ducks successful in 2007. He ignored the much more significant four-year sample that ensued. Carlyle won a Cup nine years ago, with two Hall of Famers in Chris Pronger and Scott Niedermayer patrolling the blueline. Since then, he's never made it past the second round without that tandem.
That should tell you everything you need to know about his coaching chops, and yet Murray couldn't connect those seemingly obvious dots. The former GM of the Year has shown flashes of competence in the past, but this latest hiring will be the one that eventually renders him, as well as this team, irrelevant.
Felix Sicard is the Anaheim Ducks' Lead Writer for The Hockey Writers. Now in his third season of covering the team, he writes previews and recaps for all Ducks' home games, as well as weekly analysis pieces.
In addition to covering the Ducks at THW, Felix co-hosts SB Nation's Anaheim Calling: The Podcast, as well as hosting The Garage Hockey Podcast.
For consistent Ducks' content, be sure to check out his Twitter @Felix_Sicard.