To get this out of the way right from the start: the Penguins wouldn't be participating in the 2016 NHL playoffs if it wasn't for many stellar performances by Marc-André Fleury. The same goes for the 2015 postseason, when he gave his team a realistic chance to win each one of the five games against a superior New York Rangers team in Round 1.
Deep inside, however, he doesn't likely consider this championship his achievement, nor does he bleat about how difficult this season was for him.
The Makeup of a True Leader
If it wasn't for Fleury's formidable personality, the Penguins would have never hoisted the Stanley Cup on June 12, 2016. Fleury could have let Murray do his thing, not supporting him along the way. Instead, he was always there for the rookie, giving advice, settling him down in the heat of a moment and being as supportive as anyone could wish for.
There were two things, which were strange about Fleury on Sunday, though. His skate with the chalice of dreams was the shortest of any Penguin and during the locker room celebration, Fleury reportedly was outside of the dressing room. It seemed as if he couldn't wholeheartedly celebrate the Cup, although he hid his emotions very well in front of the camera:
Even when he blew his chance in Game 5 of the Eastern Conference Finals, Fleury wasn't going anywhere. Disappointment, injustice, bad luck, tragedy — all kinds of terms have described the unfortunate situation in which the longest tenured Penguin found himself this spring.
A second concussion kept the Flower sidelined for the first two playoff rounds and when he was back and ready to go, there was nowhere to go for him. One can only imagine what psychological battles Fleury must have fought over the better part of these last ten weeks.
It speaks volumes of the kind of teammate and person Fleury is to keep mentoring the guy who stole his job and ran with it in his absence. Don't you dare question the character underneath that mask and behind that boyish smile. Fleury proved to be a true leader, once again.
A Narrow Road Ahead for Fleury
Could you be mad at him if he no longer wanted to be playing for the Pittsburgh Penguins? You obviously couldn't. Besides, you wouldn't even have the right to be. For what Fleury's done for this organization, words simply don't measure up.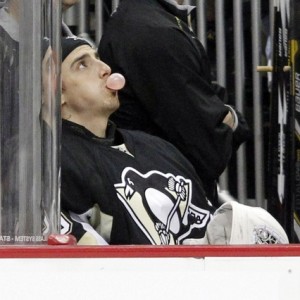 The Flower is a lock to go down as a Hall-of-Fame goaltender at some point after his career and deservedly so. His 357 wins make him the winningest goalie in Penguins history; he's also won two Stanley Cups.
The following weeks, however, will be the toughest of his career and that's saying something! He will have to decide on his future and a lot of factors play into that decision:
There is an expansion draft on the horizon for the Las Vegas team.
Matt Murray is playing stellar and has won a Stanley Cup as a starting goalie.
Murray is also 9 years younger and will play another season for under $1 million against the salary cap.
The perspective of sharing a cage that's undoubtedly been his for so many years is hardly what the veteran Fleury envisions for himself. He has earned the expectation to be an NHL starting goaltender at this point in his career.
His options, then, aren't even a handful:
waive his NMC and ask for a trade out of Pittsburgh
stay with the Pens, keep mentoring Murray and share the net
stay with the Pens and battle out the youngster.
Whatever choice he makes will be the defining one for at least the next three years, until Fleury hits unrestricted free-agency again.
Defining, and Not Just for Fleury
The Penguins owe it to Fleury to let him decide whether he wants to stay with the Penguins or if he wants to try his luck somewhere else. He could easily be the guy who turns a struggling team's fate around.
As career-defining as the decision will be for the goaltender himself, it might even be more important for the Penguins – not mainly in the books (although $5 million spent elsewhere could make the team even more dangerous), and not as much on the ice (although a change would hardly be considered peanuts) but, above everything mentioned, in the franchise's public perception.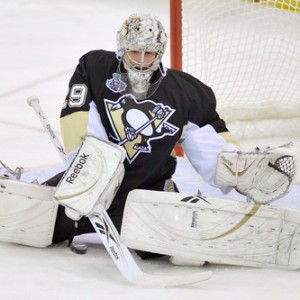 It's crucial to handle this situation right if you're the Pens, mainly in light of the recent Dan Bylsma debacle a couple of summers ago.
The Penguins can't afford to look unthankful and unprofessional again, especially now that they've climbed on top of the hockey world, again. The spotlight will be on them for the next year and the media will dissect every little move they make.
The Penguins and Fleury will have to get this right.
Imminent Trade Unlikely
If you think a trade is happening around the draft, think again. It's not impossible, but unlikely. Such decisions, as well as negotiations, take a lot of time and unless they've been clandestinely made already, ten days will simply not be enough to make the right move for everybody involved.
During the offseason? There is a good chance. It depends on the expected return and potential buyers, obviously. The buyers' picks at the draft and their eventual free-agent signings will define whether there's a market for a goalie move out of Pittsburgh or not.
During the next season? If a Penguins goalie trade is happening, I consider this a very likely time frame, as well. Firstly, a traded goalie would have enough time to get accustomed to a new environment without the risk of dooming that team's playoff aspirations when things don't go well in the beginning. Secondly, there is enough time to arrange a deal that benefits all parties, there's no hurry.
At the deadline? Unless negotiations take so long and asking prices – for whatever reason – considerably drop for a trade, I simply don't see this as a deadline deal. It's not a decision you make out of any sort of desperation, if you're the Penguins. The risk of not getting the reward you ask for is simply too high. The Penguins should want the goalie dilemma sorted out before they'll be pressed to pick their poison: Make a less rewarding deal at the deadline or go for the gamble during the expansion draft, with Fleury (NMC) protected and Murray up for grabs for no return.
No trade at all? Rutherford said in an interview with DKPittsburghSports.com's Josh Yohe, that the Penguins aren't going to lose a goaltender during the expansion draft.
He's just too smart to lose an asset for nothing, come on. He's also Jim Rutherford.
Whatever happens in Pittsburgh's net will continue to be the topic of conversation par excellence for the near future, just as it has been during these very successful playoffs.
Hi, I'm a 27-year-old hockey maniac from Switzerland who's studying Communication with a major in journalism at Zurich's college of applied sciences. When I'm not busy learning about the game or from books, I like cooking, watching films and going out or jamming with friends in my little home-studio.