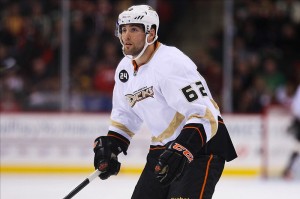 The Anaheim Ducks are down two games to none after losing their second straight game at the Honda Center last night. The Ducks drop to .500 in the postseason, while the Kings are on an upswing with a six-game winning streak.
Some thoughts from last night's game:
—————
Game two started the same way game one ended: off the stick of Marian Gaborik. The Slovakian star opened the scoring under a minute into the game off a 3-on-2 rush.
Gaborik was easily the best skater in the game a few years ago and seems to have rediscovered that extra gear. He easily burned Ben Lovejoy, one of the Ducks' better defenders, to continue his scoring spree.
He's really exposing the Ducks' lack of a number one defenceman. There's just no one on the backend to shutdown Gaborik…imagine if Jeff Carter gets rolling.
Carter has two goals so far this postseason.
Anaheim had a great response to the early goal, outplaying the Kings in the early going and had the better scoring chances. Really tough to get going with Jonathan Quick in Conn Smythe form though.
After getting lit up for 16 goals in three games against San Jose, Quick has been lights out – just eight goals against in the past six games, all wins.
Alec Martinez just keeps producing. He's seen more ice time with the Kings' loss of defensive stalwarts Willie Mitchell and Robyn Regehr and doesn't look out of place.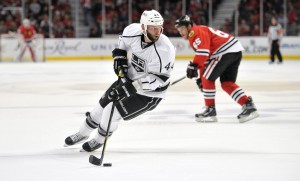 Are the Kings better with this younger, more mobile back end? I'd say so. The Kings look sharper without Mitchell and Regehr. Blessing in disguise, like when a few Red Wing vets went down allowing kids like Gustave Nyquist and Tomas Tatar to take over.
Jonas Hiller allowed two goals on his first five shots. He barely saw any rubber, facing less than half his netminding counterpart faced. Really surprised how little confidence he has. Hard to believe it's the same guy that won 14-straight in the regular season this year.
Corey Perry is doing everything besides scoring. He's doing something to be relevant in every game. He leads the Ducks in hits this series, and played a pest last night; he cheekily sprayed water in Carter's glove for…whatever reason.
Perry crashed into Quick in the second, prompting the King's goalie to give him a shot and take a roughing penalty. Hey, whatever works to get the Kings' star off his game.
Patrick Maroon is one of the reasons the Ducks could move Dustin Penner (besides Penner's maddening inconsistency) at the deadline. He's a huge body who's slowly developing his offensive game. Like most power forwards, he's progressing gradually, but the 26-year-old has the ability.
The Ducks' blue line have combined for two goals so far this spring. None have come from Cam Fowler or Francois Beauchemin.
The Kings' Mike Richards has as many goals as both Fowler and Beauchemin. Looks like his gritty style and wear-and-tear have finally caught up to him. The former Flyers captain hasn't looked the same in almost three years now.
Anze Kopitar extended his playoff point streak to nine games. How much could this guy score if he wasn't so defensively conscience?
Anaheim was much better on the dot last night, edging the Kings 33-28 on the draw.
The Ducks definitely need to shake things up next game, as they won't come back from a 3-0 deficit like the Kings did last series. They need some scoring – maybe Kyle Palmieri draws back into the lineup?
—————
The series shifts to the Staples Center for game three Thursday night.