Despite inconsistent play, the Anaheim Ducks have made it more than a quarter of the way through the NHL season and are still in the hunt for a playoff spot. When they signed Kevin Shattenkirk, general manager Bob Murray indicated the Ducks are in "win-now" mode, but when the trade deadline arrives April 12, if the Ducks are not in the hunt anymore, he will again need to face the music and sell. Murray's best asset is probably Rickard Rakell, and according to Elliotte Friedman, there is a team looking for a player like Rakell.
His contract and skillset make him a perfect match for the Toronto Maple Leafs, but trading perhaps their most skilled offensive player would be a hard pill to swallow for an offensively disabled team. If the Ducks did trade Rakell to the Maple Leafs, Murray should leverage Toronto's salary cap situation to acquire players that can make his team better by next season, not in a couple of years.
Rakell Is an Enigma
Rakell is an enigma. After achieving two 30-goal seasons in his first four NHL campaigns, he looked to be the next Ducks sniper to follow in Corey Perry's footsteps. Since then, Rakell has dropped below 20 goals in his previous two seasons. He's scored just a single goal so far this season.
That doesn't mean Rakell isn't generating chances or getting opportunities to score. A lot of it has to do with the lack of other weapons the Ducks have. Looking at his career, it would seem that Anaheim would be selling low on Rakell, but if they were to trade him to Toronto specifically, they could pry away NHL-ready players who can help them soon.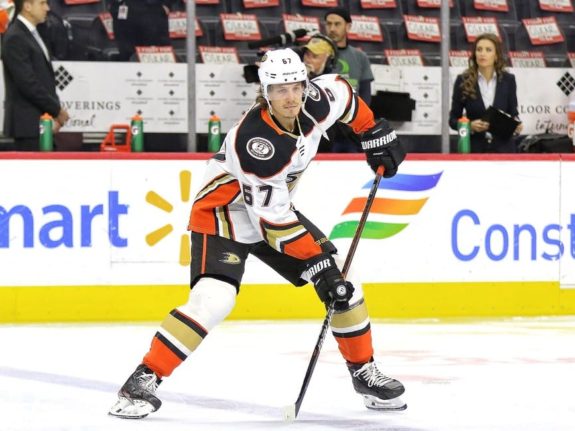 Toronto is stacked with offensive weapons. Selling him to Toronto as a 25-30 goal scorer rather than a sub-20 goal scorer isn't a pipe dream. Playing on a line with John Tavares and William Nylander or Mitch Marner and Auston Matthews would be a welcome change for Rakell and his flagging offensive production. One needs to look no further than Nick Ritchie in Boston to understand what a player like Rakell could do with more talented linemates.
Rakell might not be a 20-goal scorer in Anaheim, but if Murry decides to trade Rakell to Toronto, he should sell the Swede like the 25-30 goal, 60-plus point player he could be and was once.
Rakell Is a Perfect Fit for Toronto's Cap
Toronto's forward talent is a dream situation for their offensive output, but it's a nightmare for their salary cap. The Maple Leafs have over $40 million of their salary cap tied up in four players, Matthews, Tavares, Marner and Nylander.
They need more offensive depth with a cheap price tag, and there might not be a more affordable option in the league than Rakell. If they trade a couple of players off their roster, the Maple Leafs should be able to fit his $3,789,444 salary cap hit into their books. On top of that, they'd have him for more than just a season as his contract runs through next season.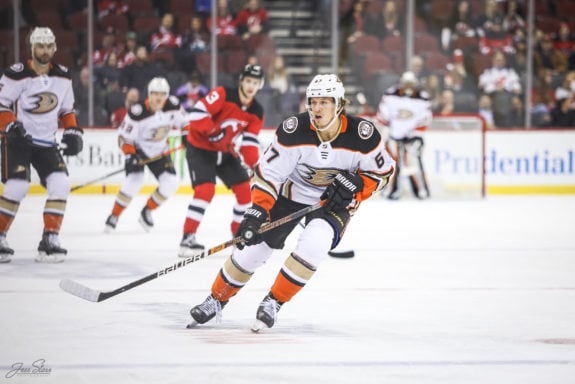 That's also a beneficial situation for Murray. The Maple Leafs do not have the space to take on nearly $3.8 million simply by trading draft picks. They need to trade NHL players with significant contracts and the Ducks can take advantage of that by getting productive players in return.
Ducks Might Still Be Rebuilding, But the Future Is Coming
The Ducks should be looking for young, NHL-level players who can impact the roster as soon as next season. Maple Leafs fans probably know where this is heading and might not like it, but if you want a player like Rakell, there is a price to pay.
Those two players are Pierre Engvall and Nick Robertson. Engvall is a good third liner, and with a $1.25 million cap hit, he's a player that would help the Maple Leafs make space for Rakell. He's also a player who could really help the Ducks this season.
He's a 6-foot-4 forward who has already been productive in his young career. He notched eight goals and seven assists through 48 games last year but only has one assist through five games this season. Though his advanced statistics aren't eye-popping, Engvall is a strong two-way player who uses his size to forecheck effectively and can be an effective penalty killer.
Robertson Is the Prize
While Engvall could help the Ducks in the near term, Robertson would be the real prize in this deal. The No.53 overall pick in the 2019 NHL draft burst onto the scene last year when he scored his first NHL goal in the Maple Leafs' playoff series versus the Columbus Blue Jackets.
Robertson is one of Toronto's coveted prospects, so fans and management aren't going to be happy to see him leave, but without a return like that to the Ducks for Rakell, Murray would just be giving him away, which isn't likely considering he's still one of their best players.
Robertson is small, but scouting reports say he's a relentless forechecker with mesmerizing stick handling skills, a heavy shot and good playmaking ability.
Though he might not quite be NHL ready yet, he's right on the precipice and could be a full-time NHL player as soon as next season. He would be yet another young player to join Trevor Zegras, Jacob Perreault, Brayden Tracey and Jamie Drysdale as the potential core of the next competitive Ducks team.
It shouldn't play a significant factor in Robertson's fit for the Ducks, but he is also Southern California native, having spent his childhood in Arcadia, California, before moving to Michigan. If Robertson were to become a key player for the Ducks, he'd be another potential way to help grow the sport of hockey in Southern California.
While Rakell is still a valuable piece for a Ducks team that is currently in the thick of a playoff hunt, should Anaheim fall out of the race, he would be one of their best assets at the trade deadline. He would be an excellent fit for the Maple Leafs, and the Ducks could get two promising young players in Robertson and Engvall, to help the team as soon as possible.
All stats and contract information from hockey-reference.com and capfriendly.com
---
---
Anthony Ciardelli grew up in Vermont and New Hampshire but now lives in Los Angeles. Though he was raised a Bruins fan, he quickly came to enjoy the hockey culture in Southern California and the rivalry between the Kings and Ducks. He covered USC Athletics while pursuing his journalism masters there. He also enjoys doing play-by-play for USC Trojan Hockey.