After picking up an assist in the Edmonton Oilers 3-0 victory over the Montreal Canadiens on Thursday, Connor McDavid now has 497 points in 367 career games.
If he can record three points when Edmonton hosts the Winnipeg Jets on Monday, McDavid will become the eighth fastest player to reach 500 points in National Hockey League history, just ahead of Sidney Crosby, who hit the milestone in 369 games.
The ninth and tenth ranked players are Bryan Trottier (372 games to 500 points) and Alex Ovechkin (373), so unless McDavid's otherworldly offensive touch abandons him over the next few games, the Oilers superstar will take a spot among the 10 quickest to 500 list.
If any doubt remained that McDavid is a generational talent, membership in this club erases it; The 24-year-old is doing things that are simply not of this era.
Seven of the 10 fastest players to hit 500 points (Mike Bossy, Wayne Gretzky, Jari Kurri, Mario Lemieux, Kent Nilsson, Peter Stastny, Trottier) did so during the 1980s, when scoring was at an all-time high. Lindros notched No. 500 in 1998, while Crosby and Ovechkin both got there in 2010.
McDavid will become the eighth player with at least 500 points in the franchise's NHL history, joining Gretzky (1,669), Kurri (1,043), Mark Messier (1,034) Glenn Anderson (906), Paul Coffey (669), Ryan Smyth (631) and Doug Weight (577).
Edmonton forward Leon Draisaitl is also closing in on 500 points with the team. He has 448, including 26 in 16 games this season. If he continues to produce points at a 1.625 average, he will need 32 more games to hit 500.
With 454 points, Oilers veteran Ryan Nugent-Hopkins would need to rack up points at the highest rate of his career to reach 500 this season. He likely won't get there until 2021-22, and there's no guarantee he'll be in Edmonton then.
Trio Among Team's Greatest Goal Scorers
Meanwhile, Draisaitl (176 career goals), Nugent-Hopkins (174), and McDavid (171) are all poised to overtake Craig Simpson (185), and Esa Tikkanen (178), who currently rank seventh and eighth, respectively, on the Oilers all-time goals leader list.
If they play in every one of the remaining 40 games on Edmonton's schedule and score at their current career averages, Draisaitl would have 192, McDavid 190, and Nugent-Hopkins 185. That would place them seventh through nine, respectively.
Such would represent the biggest shakeup to the Oilers career goals leaderboard in a generation: Smyth is the only player inside the top eight who has worn an Edmonton jersey in the last 25 years. Gretzky (583 goals) was traded in 1988; Kurri (474) played his last game as an Oiler in 1990; Messier (392) departed in 1991; Coffey (209) left town in 1987; and Simpson (185) and Tikkanen (178) both saw their time in Edmonton come to an end in 1993. Anderson (417) originally was traded away in 1991, then returned to the Oilers briefly for 16 games in 1996.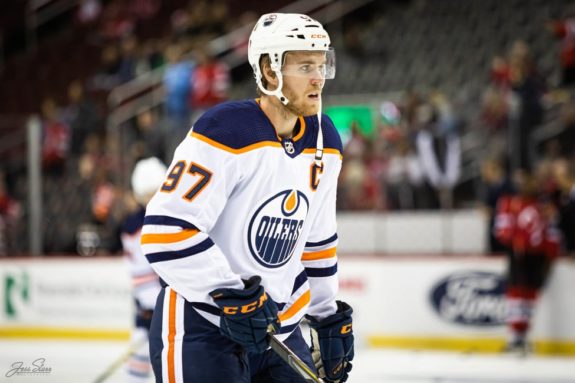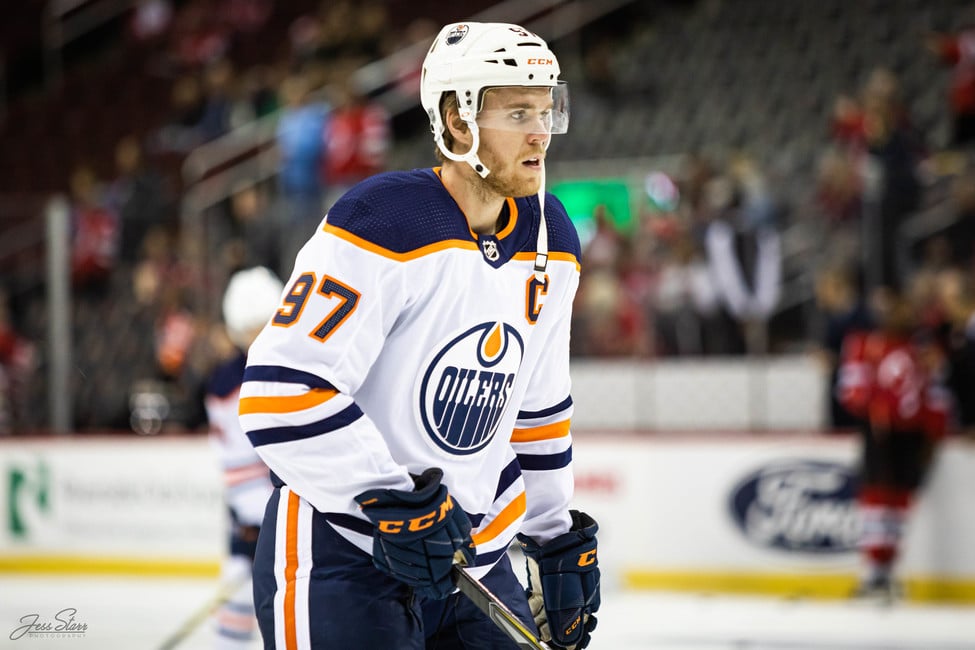 With 326 apples, McDavid continues to climb the Oilers all-time assist leaderboard. After moving in front of Kevin Lowe (309 career assists) for ninth place early this season, he will soon pass Ales Hemsky and Ryan Smyth (tied with 335 assists) into the seventh spot. That would give Edmonton's captain the most assists of any player to suit up for the Oilers in almost 20 years, since Weight, who last played for Edmonton in 2001 and occupies sixth place with 420 helpers. Nugent-Hopkins (280) and Draisaitl (272) are both nearing the 300-assist club.
Beyond McDavid, Draisaitl and Nugent-Hopkins, there are no other players on Edmonton's current roster that have recorded even 50 goals or 100 assists with the franchise.
It could be another decade – perhaps a generation – before Oilers fans see these statistical benchmarks achieved again.
---
---