The Anaheim Ducks officially closed out the first half of their 2022-23 season last week when they beat the Arizona Coyotes for the second time in four games, in overtime by a score of 2-1. Trevor Zegras, who is getting better with every passing game, scored the game-winner that sent the Ducks into the All-Star Break. Before they return to action on Monday (Feb. 6) with their season-series finale against the Dallas Stars, let's look at some of their more electric goals, assists, and saves from the season so far.
Henrique Toe-Drags Past Sharks Defender for a Backhanded Finish
Adam Henrique, one of the Ducks' best players this season, made an incredible individual effort on this play after picking up a nifty backhand saucer pass by Zegras at center ice.
Skating into the offensive zone, he fakes the shot to commit the defender, before toe-dragging past him. He fends off San Jose back checkers, dekes to his backhand, and chips the puck upstairs to cap off an unbelievable play. While we don't typically see Henrique make solo efforts like this, he reminds us every once in a while that he is capable of exhibiting the patience, strength, and puck-handling skill required to make such a play. Beautiful moves by a savvy veteran.
Zegras' Elite Vision and Passing Ability Leads to McTavish Power Play Tally
This season, we've seen glimpses of the power play unit's potential to thrive. They move the puck quickly and shoot the puck often. It's by far more skillful than the power play of recent years, and one look at this play explains why. It's full of youth, skill, elite playmaking, and finishing ability. The skill required to perfectly saucer pass the puck across the ice, through multiple defenders, so that it lands flat for a one-timer is elite and hard to find in the NHL. Then, there's the finish. That was the only place Mason McTavish could place it to score, given the goaltender was sliding over, and he put it right where he needed to. Elite playmaking, elite finishing, thrilling to watch.
This was an absolute beauty of a connection, and one fans and management hope to see many times in the coming years. One of those plays that make you shake your head in amazement. The offense as a whole might not scare a lot of people right now, but that narrative might easily change if we continue to see plays like this.
John Gibson Makes Acrobatic Save Against Arizona
To no one's surprise, John Gibson's herculean goaltending efforts land him on the Ducks' list of top plays from their first 50 games. Facing as many shots as he did, he's bound to make some highlight reel ones. And while his goaltending statistics might not suggest it, his play is the reason that this team stays competitive and ultimately has a chance to win games. There's just no two ways about it.
Related: Ducks' Potential Trade Partners Ahead of the 2023 Deadline
---
Latest News & Highlights
---
Take this play for instance. In this recent hectic overtime session, the Arizona Coyotes raced in on an odd-man rush against Gibson. With the game on the line and Gibson down and presumably beat, he sells out, gets the arm extended, and makes a stop that brought everyone out of their seat. As crazy as it is to say, fans have become accustomed to these types of saves from the 29-year-old veteran. This is just another example of a crucial, acrobatic, game-saving stop that has come to define his 10-season and counting career in Anaheim.
Gibson Stops MacKinnon on the Breakaway
Here we are again with Gibson, this time staring down Nathan MacKinnon, the second-most dynamic, powerful, and skillful player in the Western Conference after Connor McDavid. On a breakaway at full speed, no less. MacKinnon puts forth a convincing move to his backhand, but Gibson is able to get his right pad on it by stretching out in a last effort to stop the puck. The combination of strength, flexibility, and athleticism required to make a stop like this is exceptional.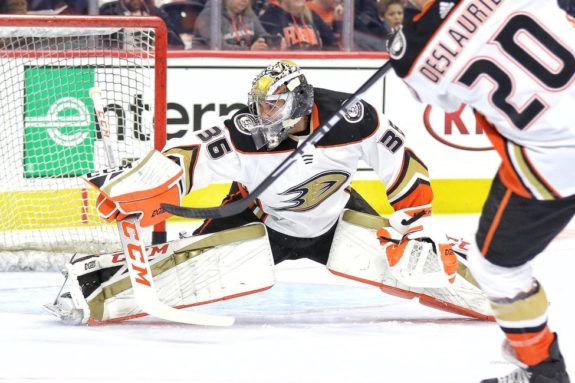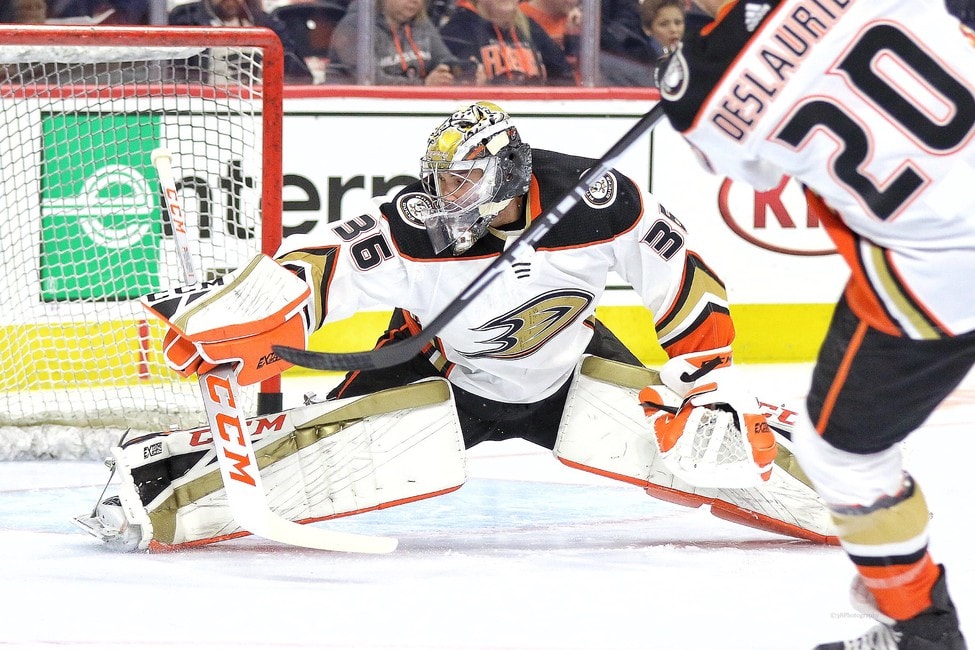 Given the Ducks' defensive woes, Gibson, Anthony Stolarz, and even Lukas Dostal, to some degree, are used to an onslaught of offense on a nightly basis. Each goalie has made saves that belong on this list, but these two by Gibson are simply outstanding.
Troy Terry Goes Through Four Coyotes for Stellar Solo Effort
Terry, who just made his second straight All-Star appearance in South Florida this weekend, has made highlight-reel plays all season courtesy of smooth skating, elite puck handling, and an excellent shot. On this play, he carried the puck from his own end, gathered speed through the neutral zone, and weaved in and out of Coyotes defenders to beat the goaltender short side. He saw an opportunity to attack, and he took it.
This attacking and offensive mindset by Terry is what's enabled him to develop into an offensive force for the Ducks and a well-respected player across the league in the last two seasons. He's scored 50 times in that span, and logged over 300 shots. He's due for a massive raise this summer when he becomes a free agent, and Ducks management shouldn't hesitate to re-sign him. He's an integral piece to their offensive future.
Quick Passing Leads to Zegras One-Time Blast
Speaking of pieces to Anaheim's offensive future, here is another one of those key players contributing to a highlight reel tally during their matchup against the Boston Bruins in January (their only highlight on the night). John Klingberg gained the zone and dumped the puck to Frank Vatrano before sagging a Bruins defender with a center lane drive. That opened Frank Vatrano's north-south passing lane to Ryan Strome in the opposite corner, who put the puck on a tee for Zegras to hammer in the one-timer.
Looking Ahead at the Final 32 Games
Not coincidentally, many of the Ducks' top plays of the season so far have come during their recent stretch of strong play. They responded well to a six-game losing streak by winning four of their last five, including three in a row. A fair share of electric individual moments should leave fans in awe of the talent on display and optimistic about the future of the team.
Still, the team has underperformed on their expectations for the season, which will make their immediate future interesting to follow. With the Ducks firmly out of the playoff mix, veterans could be traded, and young players will receive more opportunities to make plays and have success. This might mean more mistakes also, but we can be sure that the Ducks will deliver some exciting moments as the season continues. It all starts with their matchup against the Stars at American Airlines Center.