Chicago Blackhawks @ Arizona Coyotes
Team Records: CHI (39-21-6, 84 PTS) AZ (21-38-8, 50 PTS)
Time: 9:00pm CST
Series Record: 1-1
The Chicago Blackhawks take the best sweater in sports out west this week, embarking on a two game road trip.
For the Blackhawks, who are coming off a 1-0 OT loss to the New York Rangers, their game in the desert hopes to be a bounce back game. Arizona on the other hand has lost twelve of its last thirteen, and thirteen of its last fifteen dating back to their win over Chicago 3-2 on February 9th. Chicago is coming off of 4 days rest so we should see Corey Crawford in net for this one, which would mark the first time Arizona has seen him this year. Backup goaltender Antti Raanta was in net for the two previous match ups which both teams split.
The big story in this game is the return of Antoine Vermette, who notched 53 Goals, 58 Assists, and 111 Points in his close to 4 years in the desert. Since arriving in Chicago, he has found himself playing on the second line but has yet to get a single point, something I'm sure he would love to get against his former team. In the game against New York, Vermette, Brandon Saad and Teuvo Teravainen were arguably the best line on the ice for Chicago, and I wouldn't be surprised if that line stayed intact for the foreseeable future.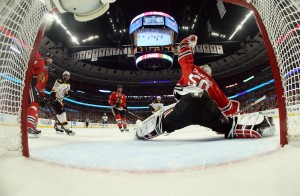 THREE THINGS TO WATCH:
Can Chicago overcome its Power Play woes? The last Hawks PP goal came on February 24th against Florida. Since that goal, the team has gone 0-15 [on power plays] and has shown very little offense on any of their chances.
Can Corey Crawford keep standing on his head? If there has been one constant in the Hawks last few games, it has been their outstanding goalie. In his last three outings, Crawford has allowed 4 goals while making an astounding 109 saves.
Will Brian Bickell be motivated? After being scratched in the team's last game, Bickell may be playing with a chip on his shoulder, but is it too little too late? With the rise of Teravainen, Bickell could find himself playing the press box swap with Joakim Nordstrom if he doesn't turn it around.
SEASON SERIES NOTES:
Chicago has outshot (89 to 65) and outscored (8 to 3) Arizona in the series match up so far.
Andrew Shaw and Marian Hossa have each scored two goals against the Coyotes this year.
In the Coyotes victory over Chicago on Feb.9th, Current Hawk and Former Coyote Antoine Vermette netted the game winning goal.
Matthew Bowen has been covering the Chicago Blackhawks for 5+ years. He has covered the team for websites such as ChiCitySports, Bleacher Report and Blackhawksondemand.