This weekend, the top-ranked University of North Dakota takes on the Colorado College Tigers in the first round of the NCHC playoffs. This will be the third series of the season between the two teams. UND has a 4-0 record against the Tigers and has outscored them 17-7.
It's win or go home for the Tigers who need to win the conference tournament to advance to the NCAA playoffs. Although not official, UND has already qualified for the tourney as an at-large bid based on their Pairwise Rankings.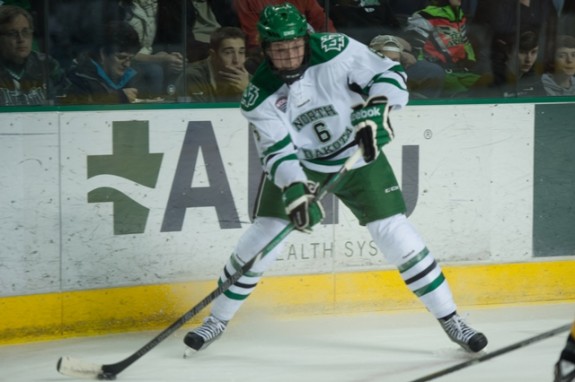 Series history
All-time, UND leads the series against C.C. 147-80-10 (.641). In Grand Forks, UND leads the series 89-21-6 (.793). In Colorado Springs, UND trails 50-57-4 (.468). At neutral sites, UND leads 8-2-0 (.800). Under head coach Dave Hakstol, UND leads 24-13-1 (.645). In the last 10 games against the Tigers, UND leads 8-2-0 (.700).
Tale of the tape
#1North Dakota (25-3-3) vs. Colorado College Tigers (6-24-3)
Date: March, 13-15, 2015
Game Time: Friday 7:38p.m. CT, Saturday 7:08 p.m. CT, if necessary Sunday 7:08 p.m. CT.
Location: Ralph Engelstad Arena, Grand Forks, ND
Last time out: C.C. lost and tied against UNO (2-2 T, 2-4 L)
Last time out: UND spit with Miami (2-1 W, 3-6 L)
C.C. Offense: 49th Nationally
C.C.  Defense: 56th Nationally
C.C.  PWR: 50th
C.C.  Last 10 games: 1-7-2 (.200)
UND Offense: 10th Nationally
UND Defense: 8th Nationally
UND PWR: 1st
UND Last 10 games: 7-2-1 (.750)
TV: Friday: Midco Sports Network
Live Streaming: NCHC.TV
TV: Saturday:   Midco Sports Network
Live Streaming: NCHC.TV
Key Players to watch
North Dakota – Forwards: Drake Caggiula (16g-17a—33pts), Michael Parks (12g-19a—31pts, Nick Schmaltz (5g-20a—25pts), Luke Johnson (8g-12a—20pts), Brendan O'Donnell (11g-6a—17pts). Defense: Jordan Schmaltz (3g-22a—26pts), Paul LaDue (4g-15a—19pts), Nick Mattson (3g-13a—16pts), Tucker Poolman (6g-6a—12pts), Troy Stecher (2g-8a—10pts), Keaton Thompson (2g-8a—10pts). Goalies: Zane McIntyre (25-7-3, 1.99 GAA, .931 SV%), Cam Johnson (0-0-0, 5.54 GAA, .765SV%).
UND Injuries: Mark MacMillan (16g-9a—25pts) out indefinitely lower-body injury.
Colorado College – Forwards: Cody Bradley (10g-19a—29pts), Scott Wamsqanz (8g-11—19pts), Hunter Fejes (5g-13a—18pts), Sam Rothstein (6g-8a—14pts). Defense: Jacob Slavin (5g-12a—17pts), Peter Stoykewych (3g-7a—10pts), Teemu Kivihalme (4g-6a—10pts), Aaron Harstad (5g-4a—9pts). Goalies: Tyler Marble (5-16-2, 3.39 GAA, .899 SV%), Chase Perry (1-8-1, 4.05 GAA, .873 SV%).
Special teams
Colorado College – The Tigers penalty kill is ranked 51th in the nation (100/129, 77.5%). The Tigers power play is ranked 11th in the nation (26/124 19.3%).
North Dakota – UND's penalty kill is ranked 26rd in the nation (122/146, 83.6%). UND's power play is ranked 17th in the nation (30/146, 20.5%).
Congrats to All-NCHC honorees McIntyre, MacMillan, Caggiula, Schmaltz and Schmaltz. http://t.co/hH9oZBpEV8 #UNDproud pic.twitter.com/wUlefHJfu7

— North Dakota MHockey (@UNDmhockey) March 11, 2015
UND on the Tigers
"I think they went through a transition," UND head coach Dave Hakstol said. "Coming into the series in January, we threw that out the window. You've got to evaluate what they've been doing the last several months and that's playing real good hockey, all the way through last weekend in Omaha."
"Obviously, we had some success this year (against them)," sophomore defenseman Paul LaDue said.  "But you've got to look at every game. I think at least three out of the four have been one or two goal games and they've been tough every time that we've played them. They're a hard-nosed team. They like to throw the pucks at the net. Anything can happen. They have good forwards and pretty skilled D back there. We can't overlook them at all. Everyone is this league is good, they're record doesn't show how good of a team they are."
Series prediction
I will use my prediction from another post, it applies here as well. There's no debating that the NCHC is a great league. Seriously, there are no bye weeks in this league. But let's be real. The Tigers aren't a very good hockey team and they're having a bad season. The Tigers have won three games in 2015 (3-13-2) and didn't get their first league win until January 16, 2015. During that same time, UND is (12-3-1). Losing this series isn't an option for UND. I am going with the safe bet, a series sweep.
Friday: North Dakota 5 – 2 Colorado College
Saturday: North Dakota 4– 1 Colorado College