The Pittsburgh Penguins kicked off their preseason last night in Columbus, falling 5-4 in overtime to the Blue Jackets.
Chuck Kobasew, in town on a professional tryout contract, tallied twice (once on the power play) for the Penguins, while James Neal and Dustin Jeffrey added the other two goals.
Marc-Andre Fleury played well enough in two periods of action, allowing two goals on 12 shots, while Jeff Zatkoff played the third period, giving up three goals on 13 shots.
So the Penguins have been at it now since last Thursday (officially Wednesday, but no hockey took place that opening day). Let's take a look at some of the developing story lines, along with who stood out in last night's game.
Shining in Columbus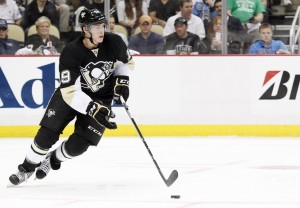 The most notable standout to me was Beau Bennett. I have yet to see him in person, but the rumor around camp is that he's bulked up to nearly 210lbs. On Sunday evening, he looked more like a grizzled NHL veteran than a baby-faced 21-year old kid from California. He set up James Neal's opening marker just 47 seconds into the game. After a pretty big run-in with a member of the Blue Jackets, he was able to gather himself and the puck and feed it over to the Penguins' sniper. He played well on the top power play with linemates Neal and Evgeni Malkin, and was all over the ice on the back-check.
Next up would be newcomer Chuck Kobasew. The Pens brought in the 10-year veteran on a professional tryout contract, and he certainly did not disappoint.
Kobasew banged home a loose puck just after a power play had expired to put the Pens back up by a goal. Then in the third period, from nearly the same spot on the ice , scored nearly the exact same goal to tie the game at 4 apiece.
Another guy who played well last night is Tom Kuhnhackl. The big German made his presence felt every time he was on the ice in the Blue Jackets' end of the ice. He had the primary assists on both of Kobasew's goals, and seemed to park himself of the Columbus netminders with relative ease all evening long.
Suffice it to say that if Kuhnhackl can stay healthy this season in Wilkes-Barre/Scranton, he has a very good chance of having a cup of coffee in Pittsburgh at some point this year. The Penguins may have found their long-awaited "net-front presence" on the power play in the form of the 6'2″ Kuhnhackl.
Getting Defensive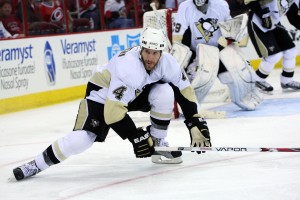 Without a doubt, the deepest and most talented area within the Penguins' organization is their defense. On Sunday evening, the only regulars to skate were Rob Scuderi and Matt Niskanen. Highly touted d-men Brian Dumoulin, Scott Harrington, Derrick Pouliot, and Philip Samuelsson were the other members of the Pens' blue line. Dumoulin played well enough, I thought, but left the game in the third period after taking a vicious hit behind his own net. He appeared to be favoring his shoulder.
Of the four younger d-men, I'd have to say that Pouliot and Samuelsson looked the best out there. Former first round (8th overall) draft pick Pouliot ran the power play at times with Dustin Jeffrey as his partner at the top of zone. His shots and passes found every lane available, which is a good thing. Samuelsson, it is widely speculated, has shot up the organizational depth chart between the prospects camp back in mid-July, and now here at training camp. I thought he played a very solid defensive game, being in the right places positionally and making smart, crisp passes up the ice on the breakout.
Harrington and Dumoulin were paired together at the beginning of the contest, but head coach Dan Bylsma decided to experiment a little as the game wore on with his defense pairings. The two seemed to be in sync with one another early, but as the game wore on, some of the pressure that Columbus was applying seemed to rattle the two youngsters. Harrington finished a -1, while Dumoulin actually finished as a +1.
Pouliot led the four young defenders in ice time with 21:09. Samuelsson (19:30), Harrington (19:05) and Dumoulin (18:42) rounded it off. Keep in mind hough that Dumoulin's number is skewed because of injury.
Other Camp Musings
The line of Sidney Crosby, Chris Kunitz and Pascal Dupuis, by all accounts, looks to be in mid-season form already. I'm wondering if they even took any time away from the game.
Derrick Pouliot and Olli Maatta, both products of the first round of the 2012 entry draft held here in Pittsburgh, have impressed the most. Their performances so far have some around the Penguins wondering if those two won't stay with the big club for the first 9-10 games of the regular season.
The third line will be completely new this season. Gone are Jordan Staal, Tyler Kennedy and Matt Cooke. In is Brandon Sutter. It remains to be seen who makes their case the best to play alongside Sutter. The smart money right now is on Jussi Jokinen and Matt D'Agostini. Although, call me crazy, but I have a feeling (and I had it before last night's game in Columbus) that Chuck Kobasew may make a very strong case for a spot. I'd like to see him get a chance alongside Sutter, perhaps even with Kuhnhackl on the other wing. Ahhhhh wishful thinking.
It was said last Wednesday and Thursday that Simon Despres had shown up to camp INCREDIBLY out of shape. As Josh Yohe of the Pittsburgh-Tribune Review pointed out on his Twitter feed, Despres had fallen ill before the conditioning tests. He later said that Despres definitely looked like one of the Penguins' top six defensemen.
For what it's worth to those wondering, I do believe that most every Penguins preseason game is being televised in the Pittsburgh area. All but two of those games are on ROOT Sports, while the two games against the Red Wings (I believe) are on the CW.
Finally, new assistant coach Jacques Martin is said to have a profound impact on the Penguins' systems so far. Martin is a defensive-minded guy, which is what this coaching staff needed. Along with bringing that mentality, he has also brought a few new wrinkles in terms of the breakout from the defensive zone. After the debacle against the Bruins in the playoffs last season, no complaints with a new breakout system from me!
One Last Thing
I'd like to get a Penguins' Mailbag going here on THW. Simply email me at TDTorraoTHW@gmail.com and submit your question. Be sure to include your first name and where you're from. Your email address will be kept private, and every Wednesday I'll post my answers to the most intriguing questions. We'll give the first mailbag the final two weeks  of training camp and preseason games before we kick it off. If we can get this thing off the ground, then look for the first installment on Wednesday October 2.
Tannor can be reached at TDTorraoTHW@gmail.com
Follow him on Twitter:
The NHL regular season schedule was released on Friday. Check out our partners at TiqIQ for the best deals on Pittsburgh Penguins tickets for all 2013-14 games.
Pittsburgh, Pa. Class of 2000 graduate from Robert Morris University with a B.A. in Mass Communications. Full-time objective sports fan.