Making predictions when it comes to the New Jersey Devils, is a tenuous proposition.  You don't have to take my word for it.  All one has to do is harken back to the summer of 2013 and all of the moving parts with the roster.  From the Cory Schneider deal to Ilya Kovalchuk's "retirement" and everything in-between, you'd be hard pressed to find a Devils fan without their head on a swivel.
So with that, I will attempt to forecast what may come for New Jersey this season.
1.) Cory Schneider plays more games than Martin Brodeur: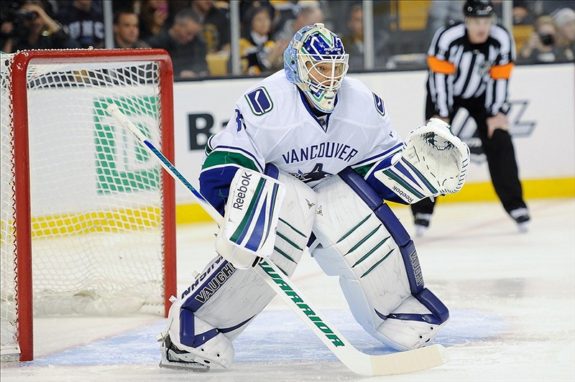 Yes I went with the most sacrilegious one first.  No controversy here, I'd never doubt Brodeur and I'd still take him in net to lead my team to a Cup in a heartbeat.  That being said, the Devils didn't just swap a first rounder for Schneider for the heck of it.  Mind you last year was a shortened season but in the past five years, Brodeur has only eclipsed the 60 game mark once, playing 77 contests in 2009-10.
Granted Schneider's high in an NHL season is 33 but he is only 27.  The Devils do play 22 games back-to-back on the schedule.  If you're splitting those up, that's eleven games already right there.  Considering how Johan Hedberg played 19 games in a shortened season, one has to believe that the younger Schneider will be called upon even more in an elongated regular season.
2.) Jon Merrill cracks the top six on the blue line:
We'll see what the Devils think about Merrill's readiness from a maturity standpoint but from a hockey perspective, he's ready.  Merrill is as big and solid as they come and has the highest ceiling of any Devils defensive prospects.  From a selfish point of view, I'd love to watch him harness his game a little more in Albany.  That being said, even in a small sample size at the AHL level, I'm a believer.
One could also make the case that Alexander Urbom was the A-Devils best overall defenceman last season and Eric Gelinas could give a boost to the second power play unit.  However, Merrill has the size, physicality and a solid shot, worthy of earning a spot in the Devils top six defensive pairings.
3.) Michael Ryder will lead the team in goals: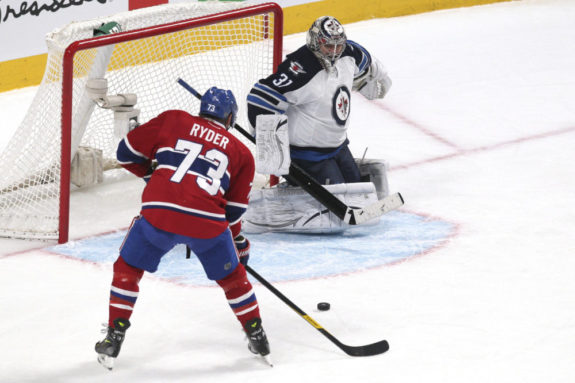 With all of the talk about Schneider, Kovalchuk, Jaromir Jagr, David Clarkson and Ryane Clowe, one player who has slipped below the radar is Ryder.  Ryder may provide the biggest impact for a Devils offense that is craving goals.  Hence, why I believe he will invariably pace the club in tallies.
Last season between the Dallas Stars and Montreal Canadiens, Ryder potted 16-goals.  In the last full NHL campaign, Ryder put away 35 markers  for the Stars.  Ryder will be a boon to the power play as well, having netted 86 such goals in his career.  If he has setup guys like Jagr, Patrik Elias and Dainius Zubrus feeding him, it could be quite a feast of twine for Ryder.
4.) Adam Larsson will be traded: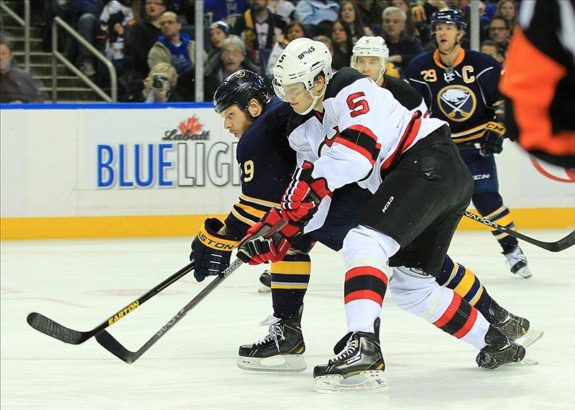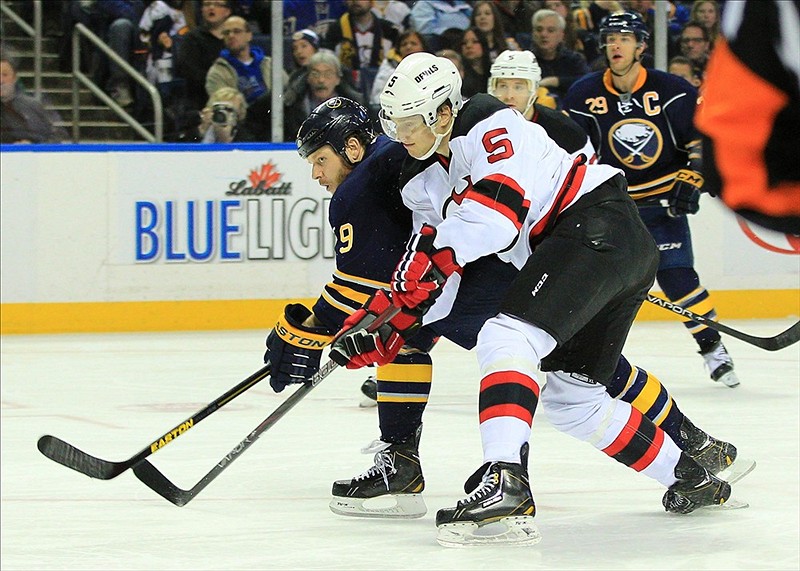 I hate even writing this because I came away very impressed watching Larsson up close at Albany last season.  If he brings that added toughness and assertiveness to his game, there is no excuse for Larsson not being in the lineup virtually every night.  Whether in New Jersey or Albany, Larsson needs to be playing period.  Larsson won't gain anything by sitting and it would behoove the Devils to decipher if he's a cornerstone defenceman going forward.
Therefore the old "play me or trade me" adage comes into play.  Larsson's value is only being hurt by not playing regularly and honestly as one of the younger and faster defencemen, he needs to be a regular in the top six or flipped for a young offensive chip or two.  That scenario wouldn't be the worst either, especially when the farm system is yearning for scoring beyond perhaps Stefan Matteau, Reid Boucher, Joe Whitney, Harri Pesonen and Mike Sislo.
Again, I'm not saying it should happen but given the Devils plans of having eight defencemen again and a plethora of depth in the system, it wouldn't be shocking if a deal was swung at some point.
5.) Jaromir Jagr will play in more than 70 games: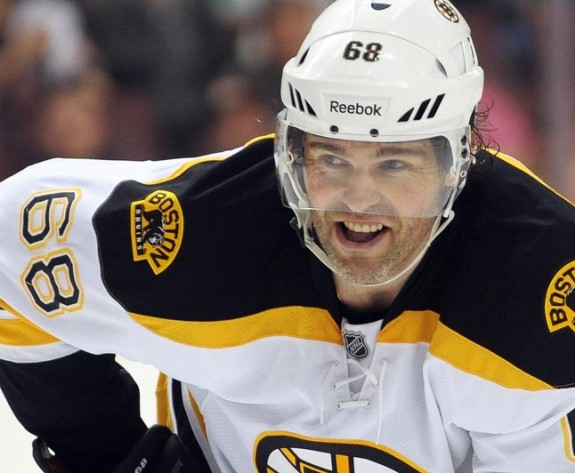 Yes the Devils are already being tender and cautious with him in training camp but barring some nagging injury that he just can't shake, I see Jagr suiting up for the majority of games this season for New Jersey.  I believe that so long as the Devils maximize his minutes and don't ask him to carry the load like Kovalchuk, he'll be in line for a relatively healthy and productive season.
Plus Jagr managed to hold up for 45 regular season contests and 22 more in the playoffs last season.  Not since the 2001-02 campaign, has Jagr failed to play in at least 70 games in a full season.