The Edmonton Oilers will be opening training camp soon ahead of their 40th anniversary season. This is going to be a pivotal year for the franchise as they look to get back into the playoffs rather than miss them for the 12th time in 13 years. Another misstep in 2018-19 could be the straw that breaks the camel's back and sends a ripple effect throughout the roster and front office.
It goes without saying that general manager Peter Chiarelli and head coach Todd McLellan are both on the hot seat. Both are under immense pressure within the market to deliver results. This is a team that was one win away from the Western Conference Final in May 2017. Fast forward a year, and Edmonton missed the playoffs by 17 points.
So part of this is a question of what team are the Oilers closer to; the team that was one win away, or the non-playoff pretender? For Chiarelli, McLellan, CEO and vice-chair Bob Nicholson, and owner Daryl Katz, the hope is the former rather than the latter. There's a lot of work that went into righting the ship this summer. A new coaching staff was constructed around McLellan. Mikko Koskinen was signed to a lucrative deal for a backup.
Related – Predicting Oilers Opening Night Roster: Goalies & Defense
The hope and prayer is that the combination of a bounce-back year from Cam Talbot and a steady backup in Koskinen gives Edmonton 82 games of solid goaltending, something they didn't have in 2017-18. On defense, the team snagged a stud prospect in Evan Bouchard, and he will challenge for a job whether some fans like it or not.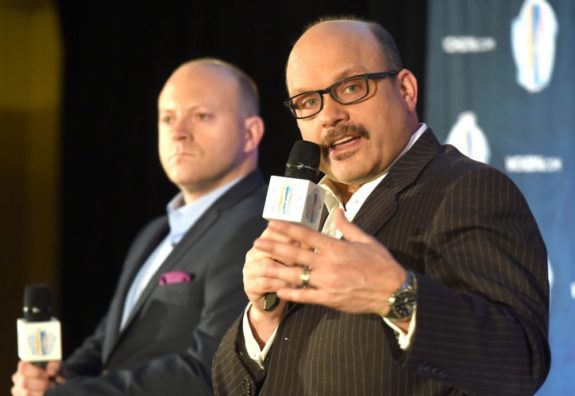 Last year when Andrej Sekera went down, Chiarelli banked on his internal group to cover his bet. It didn't work out as expected, and when faced with the same issue this summer, Chiarelli went out and signed Jakub Jerabek to an NHL deal, and Jason Garrison to a professional tryout (PTO). They'll compete with Kevin Gravel (another free agent signing), and Keegan Lowe for the No. 6-7 jobs in camp.
Related: Oilers Options to Replace Andrej Sekera
Upfront the club didn't sign a bonafide top-six scoring option. Instead, Chiarelli is doubling down his bets (again) in hopes that players on cost-effective deals provide results. Ty Rattie and Jesse Puljujarvi are the two perched atop the right wing depth chart, with Kailer Yamamoto circling the wagons. If one or two of them can score 20-plus goals in 2018-19, it'll get the club that much closer to a playoff position.
Peter Chiarelli: Oilers GM Doubling Down on His Bets
Still, Chiarelli is on the hot seat as the season opens, at least with the fans in the market. He started his time in Edmonton off with a bang being in the enviable position of being the architect behind a squad built around Connor McDavid. However, it hasn't been as easy as it sounds. The club has made the playoffs just once during Chiarelli's time behind the reigns.
Related: 5 Predictions for Oilers 2018-19 Season
If the club falters for the third time in four years, you can bet the higher-ups within the organization might serve him his walking papers. There's plenty of good that's happened under Chiarelli's watch though. The prospect pipeline might not be flourishing, but it's more representative of an NHL club's prospect pool than it was in years prior. Kailer Yamamoto, Evan Bouchard, Stuart Skinner, Ethan Bear, and Tyler Benson give plenty of hope for the future.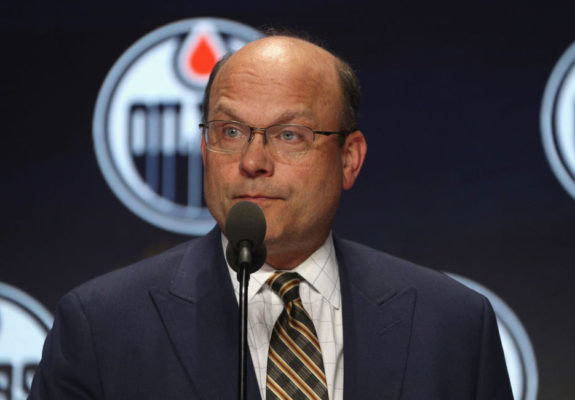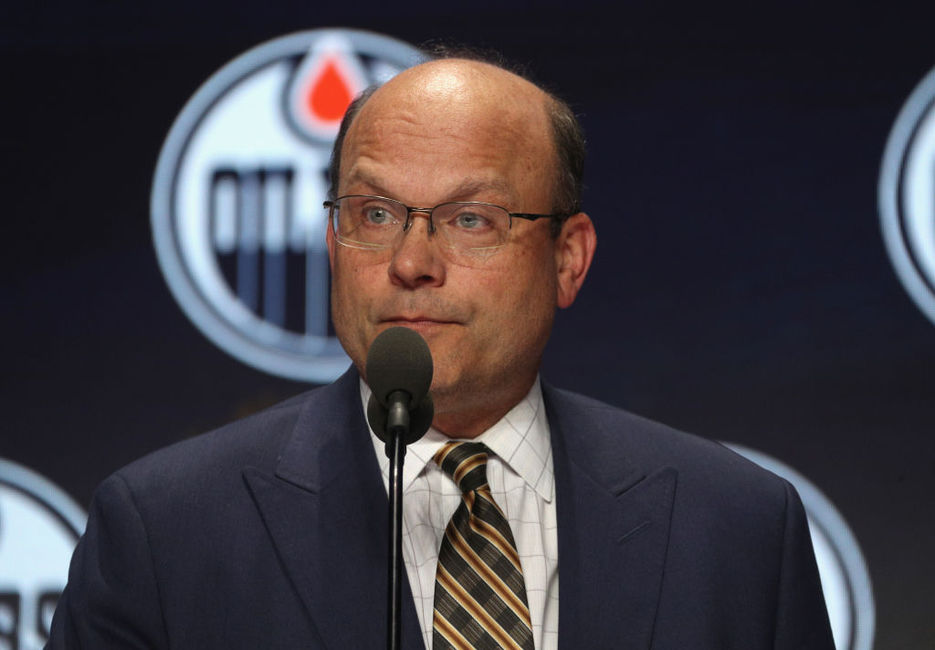 In the meantime, Chiarelli has strengthened Edmonton's depth down the middle, with Leon Draisaitl, Ryan Strome, and Kyle Brodziak all suiting up behind No. 97. Aside from that, Chiarelli has a lot of unanswered questions around the rest of the roster. Will Cam Talbot bounce back? Is Mikko Koskinen a true NHL-caliber backup that can potentially push Talbot? Can Darnell Nurse take another step forward?
Related: 5 Oilers Prospects to Watch in 2018-19
Will Oscar Klefbom and Adam Larsson rebound from their setbacks in 2017-18? How about the scoring depth on the wings? Is that mishmash of hopeful dreams going to equal results come puck drop? It's a precarious situation, and part of the blame has been Chiarelli's mismanagement of the Oilers total salary cap situation. It led to the club trading out favorites like Taylor Hall and Jordan Eberle.
It's led to fans souring on Milan Lucic who arguably had the worst year of his career last season. To fill all the gaps in between, Chiarelli has had to search through bargain bins trying to shore up certain spots on his roster. Part of the onus is on the players to deliver results, but a large part of that onus is on the man constructing that roster. There's a lot of hope that this, this, and that happens with this roster versus having some certainty.
Todd Mclellan: Searching for Answers
Where Chiarelli has held blame for the club's failures, so has McLellan. Some resounding faith from the organization has him back this season with a whole new coaching staff this year. Glen Gulutzan, Trent Yawney, and Manny Viveiros were hired this summer in varying capacities to assist McLellan. The real question is what is the real problem here. Is it McLellan's poor bench management, or is this a case a general manager handcuffing his coach and not giving him the right horses to stay in the race?
Related: Edmonton Oilers Top 10 Prospects
The first 20 games of this season will be pivotal in the McLellan narrative. If he falters and the Oilers are on the lesser side of a .500 winning percentage through those first 20 games, is the hot water under his seat going to reach a boiling point? It's clear Edmonton's special teams need some work. The hiring of Yawney should ideally help the penalty kill (PK), whereas Viveiros' hiring should do the same for the power play.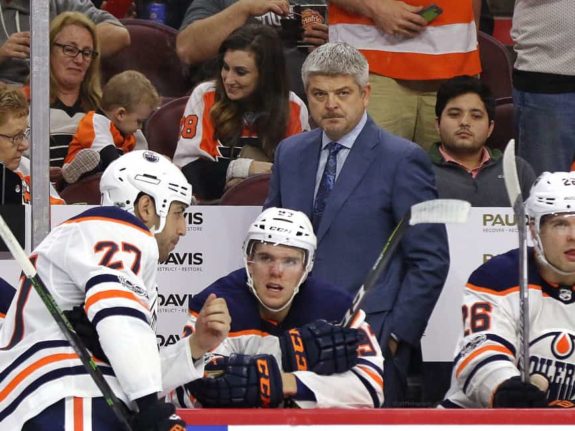 In five years with the Anaheim Ducks, they had the second-best PK at 83.7%. They had two different head coaches, but Yawney was a constant while overseeing the PK. Viveiros held the title for the best PP in the WHL last season at 29.7% with the Swift Current Broncos. On paper, the Oilers found two of the top candidates out there to correct the problems. Now, will we see tangible results?
Related: The Oilers New Coaching Staff
In the end, it's all about what McLellan does, how much he leans on his new coaching staff, and how much he's willing the bend to some of these new visions. It's McLellan's bench at the end of the day, and he'll do what he feels is right. It's predominantly taken an average of 93.2 points to get into the playoffs over the past five years. With that math, McLellan needs to find a way to make up a difference of 15 points or more to get his club back into the playoffs.
If he can't carry that pace through the year, especially if they once again stumble out the gate, the club might have to go in another direction behind the bench. Matter of factly, if this club doesn't find themselves in the playoffs this spring; both Chiarelli and McLellan will likely be seeking employment elsewhere.
Edmonton Oilers regular contributor providing insight on all things Oilers including club history, prospect profiles, trade breakdowns, and everything else in between. Check back regularly for new and exciting content. Follow on Twitter @SanderTHW.