In 2016-17 the Edmonton Oilers made the playoffs for the first time in 11 years, finished second in the Pacific Division, and came within one win of the Western Conference Final. In 2017-18 they were projected to be Stanley Cup contenders but ultimately missed the playoffs by 17 points. So in 2017-18, the big question is what are the Oilers? Are they a playoff contender that failed to live up to expectations last year, or are they a bubble team that overachieved the year prior?
Related: Five Predictions for the Oilers in 2018-19
It's tough to say when you factor in the injury troubles this club ran through in 2017-18 versus the healthy year they had in 2016-17. Consider Edmonton's core group to be the following; Cam Talbot, Oscar Klefbom, Adam Larsson, Darnell Nurse, Andrej Sekera, Connor McDavid, Leon Draisaitl, Ryan Nugent-Hopkins, and (like it or not) Milan Lucic. The year they went to the Pacific Division Final, the core group missed a grand total of 43 man games due to injuries.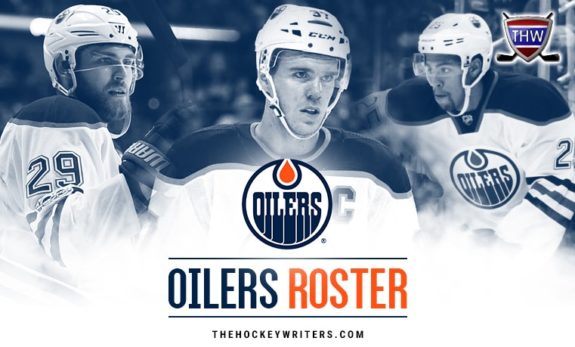 Nurse missed 38 of those 43 games, while the rest of that core group missed just five games. That's a pretty good run of health. Last season that same group missed 117 man games. That broke down to look like this; Talbot (7), Klefbom (16), Larsson (19), Sekera (51), Draisaitl (4), Nugent-Hopkins (20). We're talking a difference of 74 man games lost to injury. Dump that on any team in the NHL and you can be sure to see a regression in their statistical performance.
So when forecasting the 2018-19 season health is going to be a key factor. That's already being tested after it was announced Sekera would be out for indefinitely with a torn Achilles tendon. Some patient's with similar injuries can be back to a "full recovery" within six months. Then again, how much of a "full recovery" can a professional hockey player with two significant lower-body injuries in back-to-back years make?
Related: Oilers Options for Replacing Andrej Sekera
The other part that goes hand in hand with injuries is depth. This club was already in a precarious spot prior to the prior to the Sekera announcement, and that depth is being called into question. So when figuring out what the opening night roster is, keep that in mind. Here's a prediction of what the Oilers roster could look like to start the 2018-19 season and some factors at play.
Projecting Oilers Goaltending
It's not really a prediction since it's well known that Edmonton will start the year with Cam Talbot and Mikko Koskinen. The real question is how much will each of them play? Talbot, 31, is coming off a rough year that saw him post the worst numbers of his career. If he doesn't improve upon his 3.02 goals against average (GAA) and .908 save percentage (SV%), the playoffs will be out of the question.
Related: Mikko Koskinen & Five Thoughts
Talbot is entering a contract year and has unrestricted free agent (UFA) status heading into next summer. A big bounce-back year means big money, money the Oilers might not necessarily have. A bad year and Edmonton is back to the drawing board trying to find a capable starter to carry this franchise. Enter the Koskinen factor. The 30-year-old signed a one year deal after a strong showing in the KHL and should be an improvement on the Oilers backup situation from last season.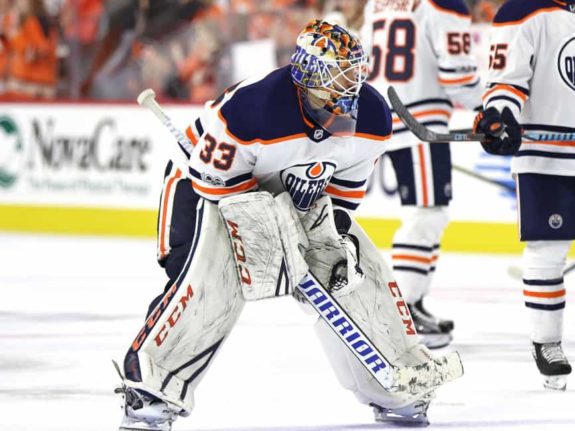 With a $2.5 million cap hit, it's clear Chiarelli isn't expecting Koskinen to sit on the bench and model ball caps for the viewing audience. Talbot's played an average of 65.3 games per season in Edmonton's crease, meaning his backups have averaged just 16.7 appearances over the past three years. Is that a trend that will continue or will McLellan show some leniency and utilize his backup a little more this year?
Projecting Oilers Goaltending
Cam Talbot
Mikko Koskinen
McLellan has a history of riding his No. 1 hard and to have had very little faith in his backups. Going back through the past ten seasons, backups playing for McLellan have got into 21.5 games during the regular season. That numbers a little inflated considering a portion of those games are from coming in as relief as opposed to the number of actual games they've started. That's a deep dive that can be done in another piece later.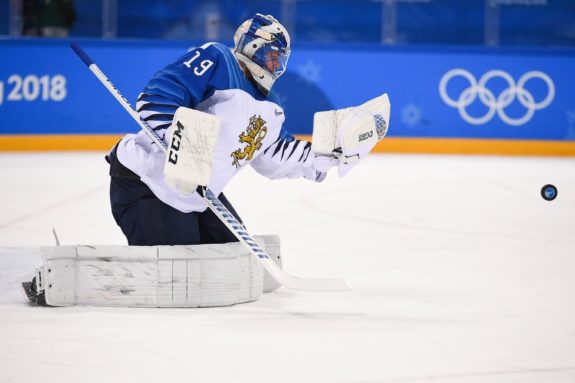 Contract aside, one thing is clear; the goal is to give the Oilers 82 games of competent goaltending. A betting man would bet on Talbot regaining his form and getting close to his career average numbers of a 2.50 GAA and a .918 SV%. That could mean approximately 20 fewer goals when looking into the math. That cuts the Oilers goals differential from 29 to nine. On paper Koskinen is an improvement over Al Montoya and Laurent Brossoit, so watch for a better performance (hopefully) from the backup this year.
On the Bubble in Goal
Al Montoya is the club's No. 3 coming into camp. The likely plan is for the Oilers to place him on waivers, hoping he clears, and that once he's down with the Bakersfield Condors he can mentor young Stuart Skinner. The 20-year-old is coming off a Memorial Cup run and looks to be Edmonton's heir apparent down the road. If Montoya doesn't clear and gets claimed, expect Chiarelli to be aggressive in trying to find a suitable option on the market.
Related: Five Oilers Prospects to Watch in 2018-19
It's unlikely guys like Kari Lehtonen, Steve Mason, or Ondrej Pavelec will jump at a No. 3 job that requires them to spend much of the year in the AHL. So let's rule those guys out. Michael Leighton, Dustin Tokarski, and Anders Lindback all posted decent numbers in the AHL last season and all are without an NHL contract at the moment. If Montoya is on the way out, maybe the club reaches out to shore up the No. 3 spot, instead of giving up an asset in a trade.
Projecting Oilers Defense Pairings
Once Darnell Nurse's bridge deal is signed, the club will have their defense more or less set. That deal could land in the realm of $3-3.5 million per season (two years likely). Nurse, 23, emerged as one of the Oilers' better rearguards in 2017-18 while averaging 22:15 in ice-time (second amongst team blueliners). If he wants to truly cement himself as a legitimate top three defender, he'll have to build upon his 26 point season. Is it unreasonable to expect Nurse to score ten goals and more than 30 points? Probably not.
With the Sekera injury, Nurse will be expected to pick up a large portion of minutes in all situations. Having both Klefbom and Nurse in the top two spots on the left side depth chart looks good on paper. So who's the best guy to play with Nurse? According to Corsica Hockey's pairing stats (at five on five) that best partner might be Matt Benning.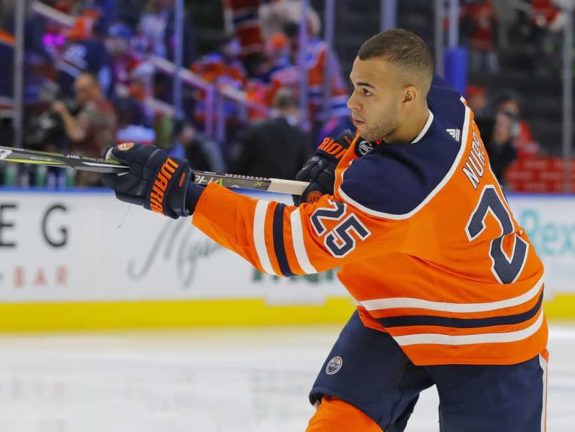 The two had a Corsi For percentage (CF%) of 58.5 last season, and that sits best amongst the remaining blueliners from last season. The next best match for Nurse according to that same stat is Adam Larsson (50.9). The guy you least want Nurse playing with according to CF% is Kris Russell (47.7).
The question now is what happens with that Sekera hole. Prior to the Sekera injury, the club looked to have three capable puck-movers on three different five-on-five (5v5) pairings. Now there's a concern and a glaring need to shore up that spot on the roster, especially if Sekera's injury is worse than expected and he's out for the year.
Projecting Oilers 5v5 Defense Pairings

Left Defense

Right Defense

Oscar Klefbom

Adam Larsson

Darnell Nurse

Matt Benning

Kris Russell

Evan Bouchard

Jakub Jerabek*
That leaves Oscar Klefbom and Adam Larsson (52.9) as a pairing according to the same stat. Now the question is what the club does with Russell and that apparent No. 6 spot. Do they go ahead and try utilizing the 18-year-old Evan Bouchard out of necessity? It's highly likely now more than ever that he ends up starting the year with a nine-game audition to cement himself as a full-time NHL'er this season.
The only defenseman from the 2017 NHL Draft that earned an extended look last year was New York Islanders defenseman Sebastian Aho (139th overall). He played 22 games for the Isles. From the 2016 NHL Draft, Mikael Sergachev (8th) and Jacob Chychrun (10th) played in the regular season after being drafted, while Charlie McAvoy (14th) joined in the playoffs. Fewer rearguards are playing right out of the draft over the past two years. Thus training camp will be interesting to say the least in seeing how young Bouchard adjusts.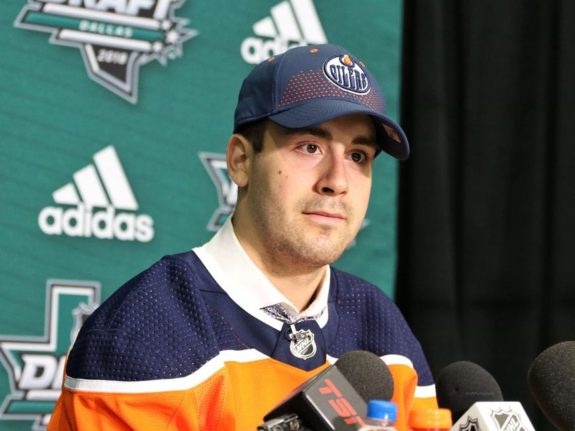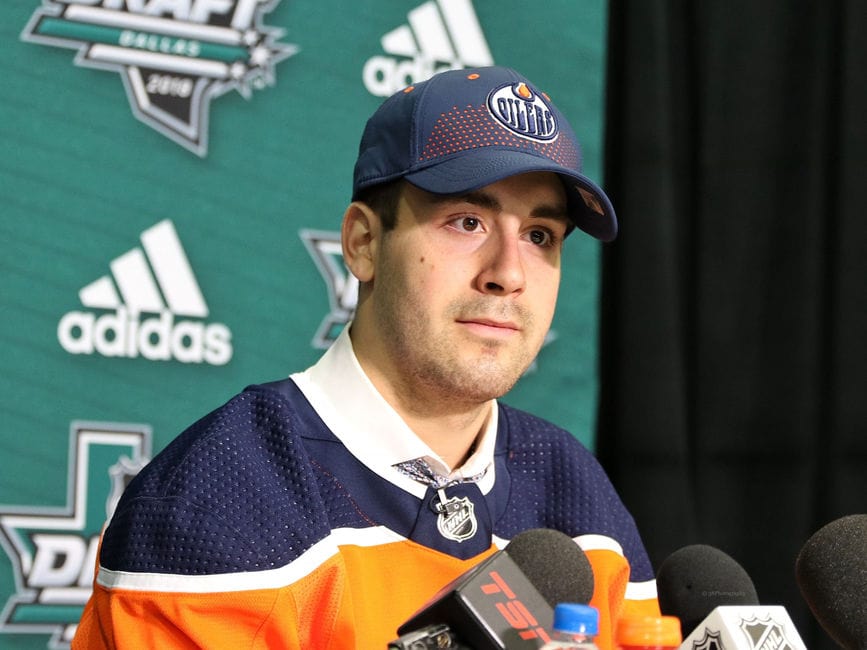 Edmonton was rumored to be testing the waters on a few professional tryout (PTO) opportunities. One of them was speculated to be former Oiler Brandon Davidson. He's since reportedly turned down his offer. During the same timeline, the Oilers were successful in signing Jakub Jerabek who plays a similar style to Yohann Auvitu but could have more upside. The 27-year-old has the inside track on the No. 7 and potentially No. 6 job if the Bouchard experiment doesn't work out.
On the Bubble on Defense
Kevin Gravel was signed this summer as well. He's a defensive defenseman with 70 NHL games under his belt, while splitting the last three seasons in the NHL and AHL. The 26-year-old should pencil in nicely as the No. 8 on the depth chart. Depending on which way the Oilers go in constructing their 23-man roster, he could start the year with the Oilers.
For the purposes of this exercise (spoiler alert), I have Edmonton starting the year with two goaltenders, seven defenders, and 14 forwards. Suffice to say, Bouchard has a domino effect on the rest of the roster moves on defense.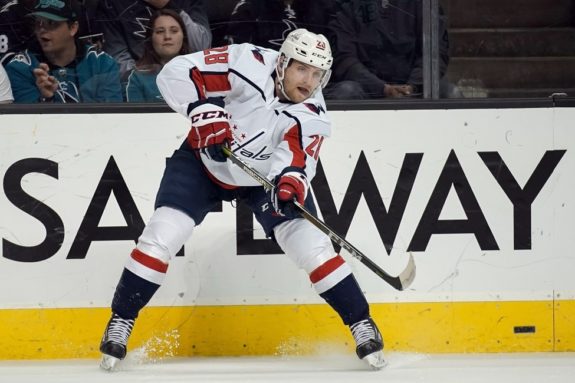 Keegan Lowe, Ethan Bear, Caleb Jones, and William Lagesson all have an outside shot at making the team, but it would be more appropriate for them to start the year with the AHL's Bakersfield Condors. The Oilers do have re-call rights with SHL blueliner Joel Persson, but it's expected he stays with the Vaxjo Lakers for the 2018-19 season instead. Persson scored 34 points in 51 games for the league champions last season and could be a useful hand on the power play.
With this first part complete, be sure to check back for part two where we'll take a deep dive into the Oilers forward depth and what McLellan could be running as his lines to start the 2018-19 season. Do you agree with the makeup of this roster? How would you tinker with this lineup? Let us know in the comment section below.